Mitigating Environmental Impacts
Energy and Resource Conservation
ECOVE continues to install LED lighting in the administration buildings, process areas, and street lights at all plants every year. In 2019, Southern Taoyuan Plant turned on ventilation fans by zone (scheduled time) and adopted energy-free drain equipment for air compressors; Wurih Plant replaced cooling tower fan units; Tainan Plant adjusted the angle of the ACC fan blades and replaced the submersible pumps of external pumping wells. Approximately 525 metric tons of CO2e was reduced in 2019.
▼ ECOVE ESC Energy-saving Measures and Performance in 2019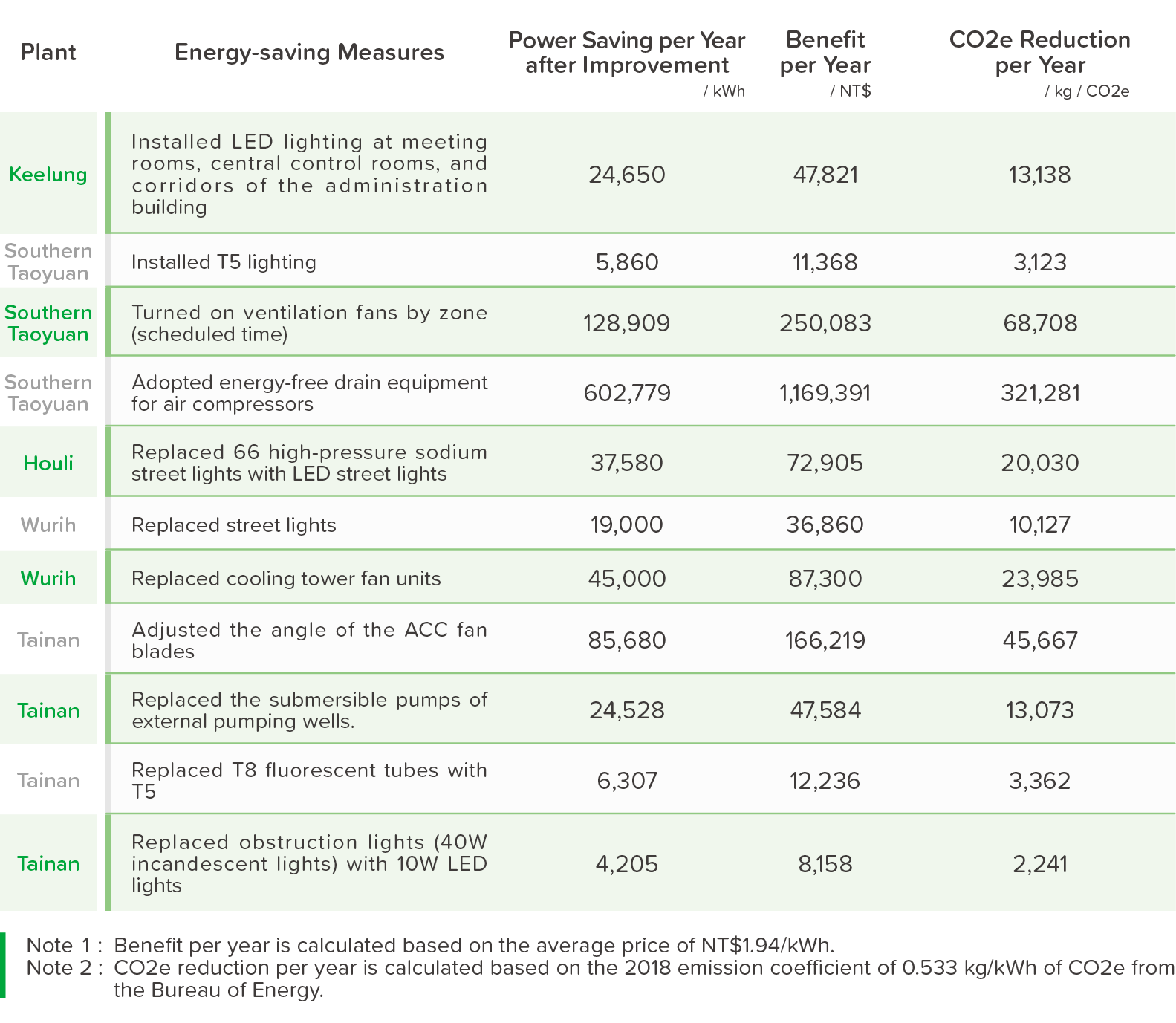 To optimize the entire transport process, ECOVE WMC achieves the performance of GHG reductions by planning the optimal routes. ECOVE WMC has 24 types of vehicles in total. ECOVE WMC has planned to purchase Emission Standard 5 eco- friendly vehicles since 2012. As of 2019, 13 eco-friendly vehicles were purchased. ECOVE WMC expects to purchase two more eco-friendly vehicles in 2020. According to the statistics in 2019, the fuel consumed by Emission Standard 5 vehicles accounted for 71% of the annual fuel consumption, reducing black smoke emissions by approximately 29%.
▼ Performance of ECOVE WMC's Eco-friendly Vehicles in Environmental Impact Reduction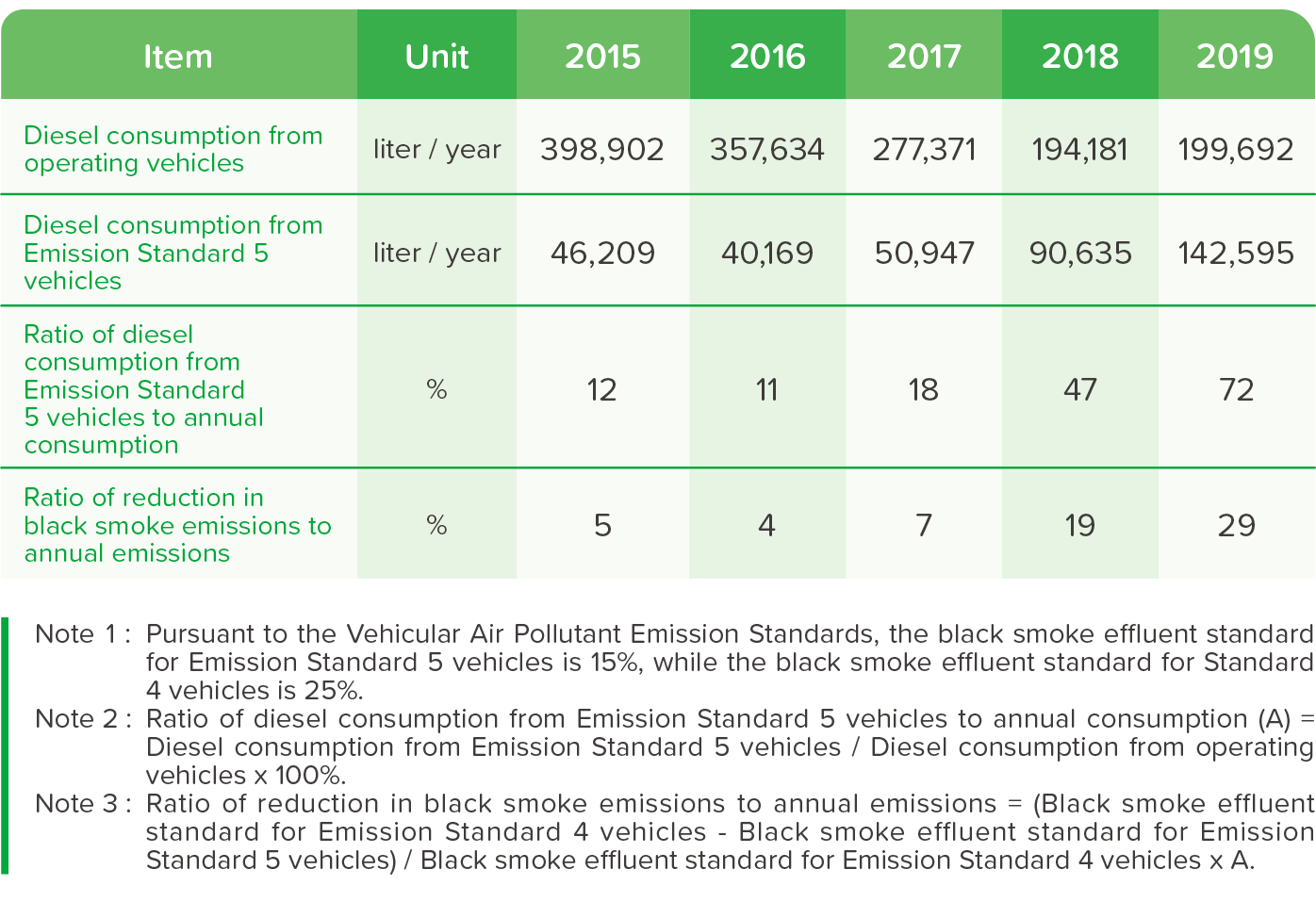 In the scope of ECOVE ESC Operations and Management, all sources of water consumption are tap water, and therefore no water source is significantly impacted. In terms of wastewater treatment, all water from boilers, processing, cleaning, general consumption, or car washing was reintroduced to the recycling system at the plant. All water was recycled and reused after physico-chemical, biological, and tier-3 treatment procedures, achieving "zero wastewater emissions."
▼ Circular Water Consumption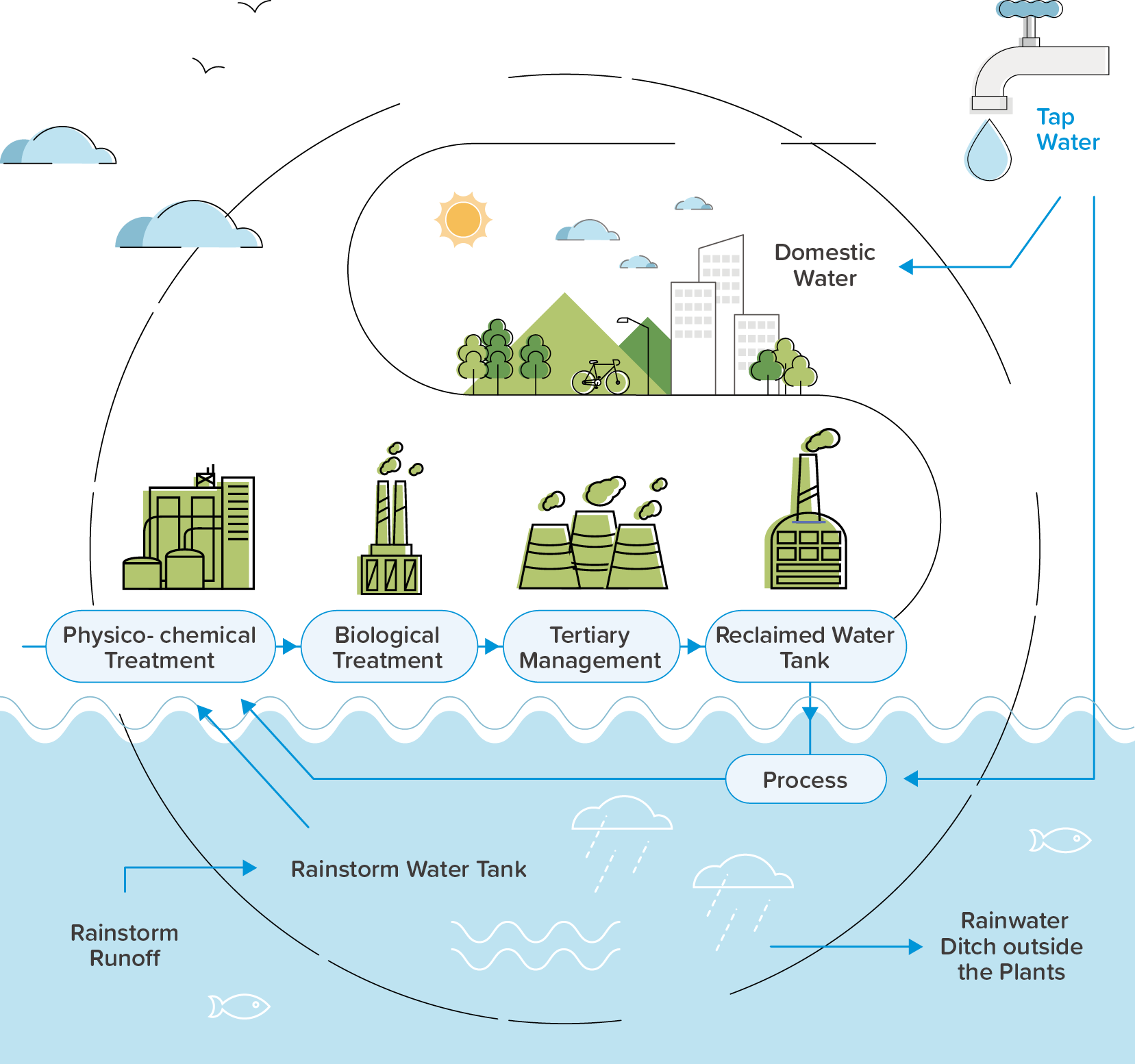 Participation in Public Infrastructure
As the leader in waste treatment throughout Taiwan, ECOVE ESC continues to properly treat general waste and general industrial waste for the Taiwanese society. The waste incineration plants managed by ECOVE ESC perform well in waste treatment. Thermal energy produced from waste incineration can also be sold back to Taipower Company to contribute toward energy conservation and carbon reduction for the planet. In addition to energy from waste (EfW), ECOVE ESC applies its core technologies to the following maintenance services for public facilities, including public transportation, air transport, and water resources and wastewater treatment.
▼ Public Service Projects in 2019