Sustainability Management
ECOVE is committed to fulfilling corporate social responsibility with its business strength. We keep abreast of domestic and overseas trends in sustainable development while responding to the UN Sustainable Development Goals (SDGs) on our own initiative. While maintaining the steady growth of business Operations and Management, ECOVE ensures the CSR practices through a sound sustainability management structure; by listening to and cooperating with our stakeholders, we create sustainable value and fulfill corporate citizenship with our business strength.
CSR Policy and Management Structure
CSR Policy and Vision
As the most reliable provider of industry-leading 'resource cycling' services, ECOVE sees fulfilling corporate social responsibility as an important part while carrying out Operations and Management. In addition to pursuing the best interests for shareholders, ECOVE takes the rights and interests of other stakeholders into account in hopes of building a sustainable, wonderful living environment together with all stakeholders. To build a sound sustainability management structure, ECOVE has sustainable development strategies that cover environmental, social, and governance (ESG) criteria in place to stay committed to the following three goals: strengthening the Company's management structure, fulfilling the responsibilities as a corporate citizen, and striving to carry out environmental preservation in practice.
▼ Sustainable Development Strategies

To further strengthen the philosophy of corporate sustainability, the "ECOVE Corporate Social Responsibility Best Practice Principles" were established as the basis of addressing ESG issues in course of pursuing sustainable development and profitability.
▼ Four Pillars of ECOVE Corporate Social Responsibility Best Practice Principles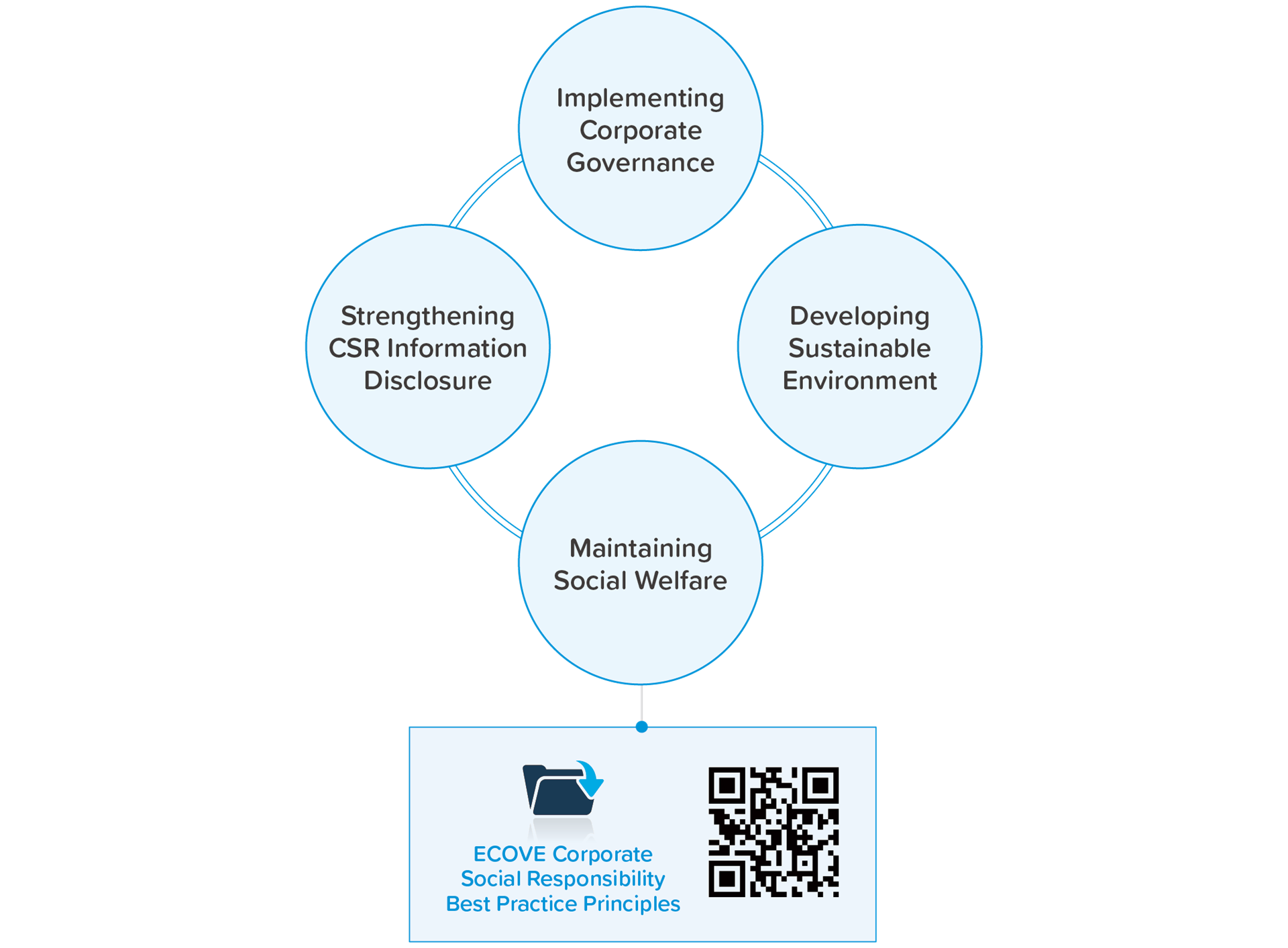 ▼ Organizational Structure of CSR Committee

CSR Management Structure
Established in 2014, the CSR Committee is the main decision-making and promotion unit of ECOVE's corporate social responsibility practices. Group Shared Services is responsible for coordinating the work groups under the Committee and convening work group meetings to keep track of the results.

The Chairman of the Company serves as the Chairman of the Committee and the highest- ranking executives as the members of the Committee. The CSR Committee meets regularly each year or as needed. The regular meeting is held in the fourth quarter of each year to review the CSR activities of the current year and to discuss major CSR topics for the next year. Meetings are also held as needed. To fully execute sustainable development activities, three work groups were set up under the Committee for Business Management, Social Participation, and Environmental Protection, and the groups were formed by personnel from related departments.

In addition, the Committee reports the effectiveness of CSR-related activities to the Board of Directors regularly in the fourth quarter of each year. The effectiveness of CSR-related activities in 2019 and future action plans have been reported to the Board of Directors. The Committee will carry out CSR-related activities as planned; in addition, it has resolved to link the sustainability performance and executives' key performance indicators (KPIs) in 2020 to follow out the spirit of sustainable development. KPIs include leadership (e.g., publications), innovation (e.g., digitization or patent applications), positive caring (e.g., volunteer hours), and brand elevation (e.g., awards).
▼ Priorities of ECOVE Corporate Social Responsibility Best Practice Principles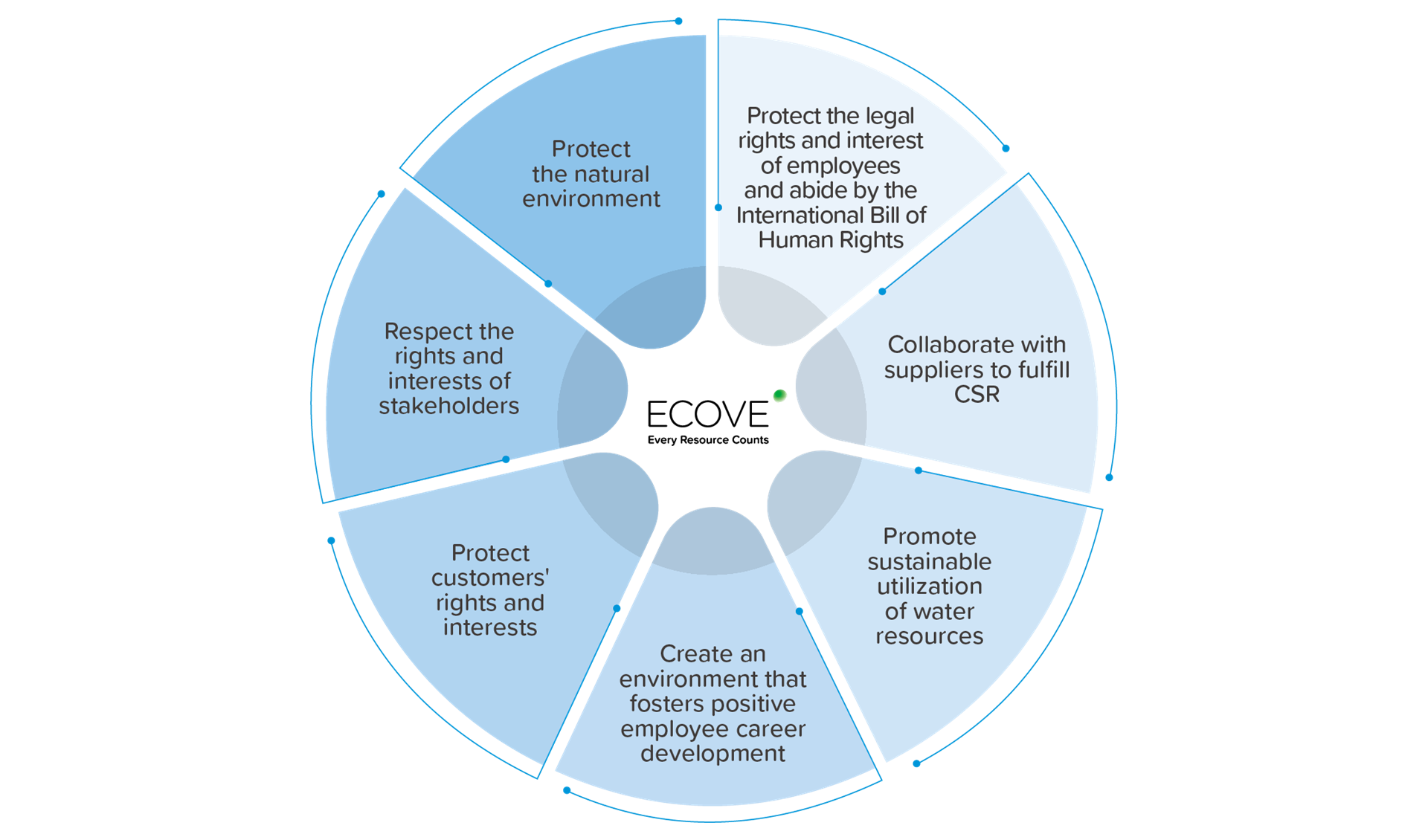 Materiality Analysis
To identify the degree of stakeholders' concern and the impact on Operations and Management with regard to sustainability issues, we conduct the materiality analysis through participation and discussions from the CSR Committee in line with the GRI Standards and AA 1000 SES. In 2019, we identified 21 sustainable issues related to our Operations and Management by encompassing international standards and principles such as the GRI Standards and its Electric Utilities Sector Disclosures, the United Nations Global Compact (UNGC), International Labour Organization Conventions and Recommendations (ILO), and Sustainable Development Goals (SDGs), while referencing global competitors, contents of communication with stakeholders, and issues recommended by external institutions.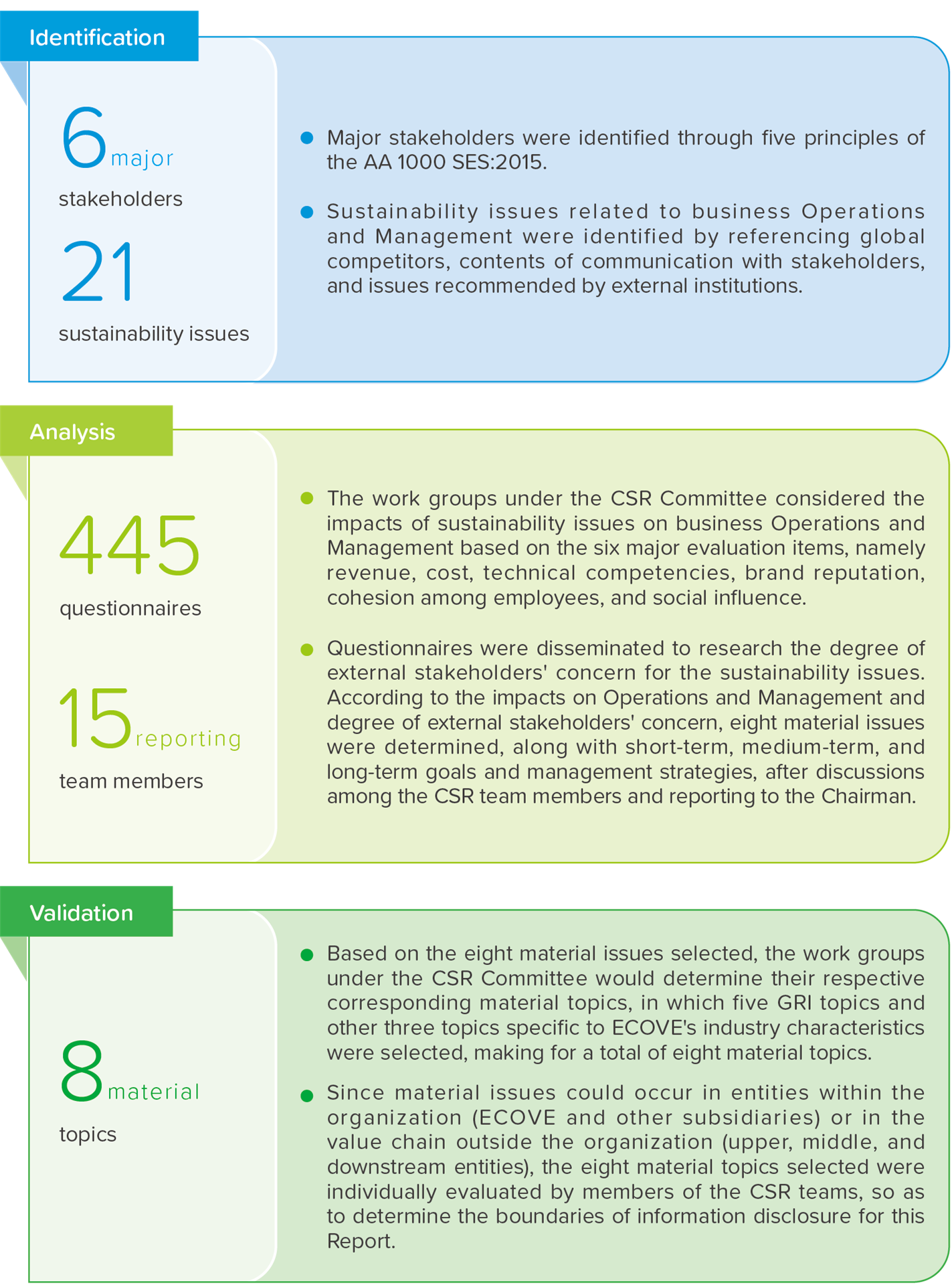 Stakeholder Communication and Feedback
By communicating with stakeholders through diversified mechanisms and listening to their recommendations, we understand our stakeholders' aspirations and concerns, which serves as the driving force behind our improvements and enhancements. In 2019, we evaluated the levels of influence from stakeholders on our business Operations and Management based on the five major principles of the quantitative methods under AccountAbility 1000 Stakeholder Engagement Standard:2015 (AA 1000 SES:2015), namely, Dependency, Responsibility, Influence, Tension, and Diverse Perspective. Finally, our CSR team members collectively identified a total of six major stakeholders: employees, shareholders, communities, suppliers, customers, and government.
Stakeholder communication management : 
Employee - Tel(02)2162-1688#56112  Ms. Tsai、Email : HR@ecove.com
Government - Tel(02)2162-1688#13037  Ms. Yao、Email : spokesman@ecove.com
Customer - Tel(02)2162-1688#56162  Mr. Chu、Email : mike@ecove.com
Shareholder - Tel(02)2162-1688#13037  Ms. Yao、Email : spokesman@ecove.com
Supplier - Tel(02)2162-1688#56157  Ms. Lee、Email : leehf@ecove.com
Community - Tel(02)2162-1688#56607  Mr. Lee、Email : ecovecsr@ecove.com

The status of stakeholders communication is reported to the board of directors once a year, which was reported at the 17th session of the 7th board of directors on December 9, 2019.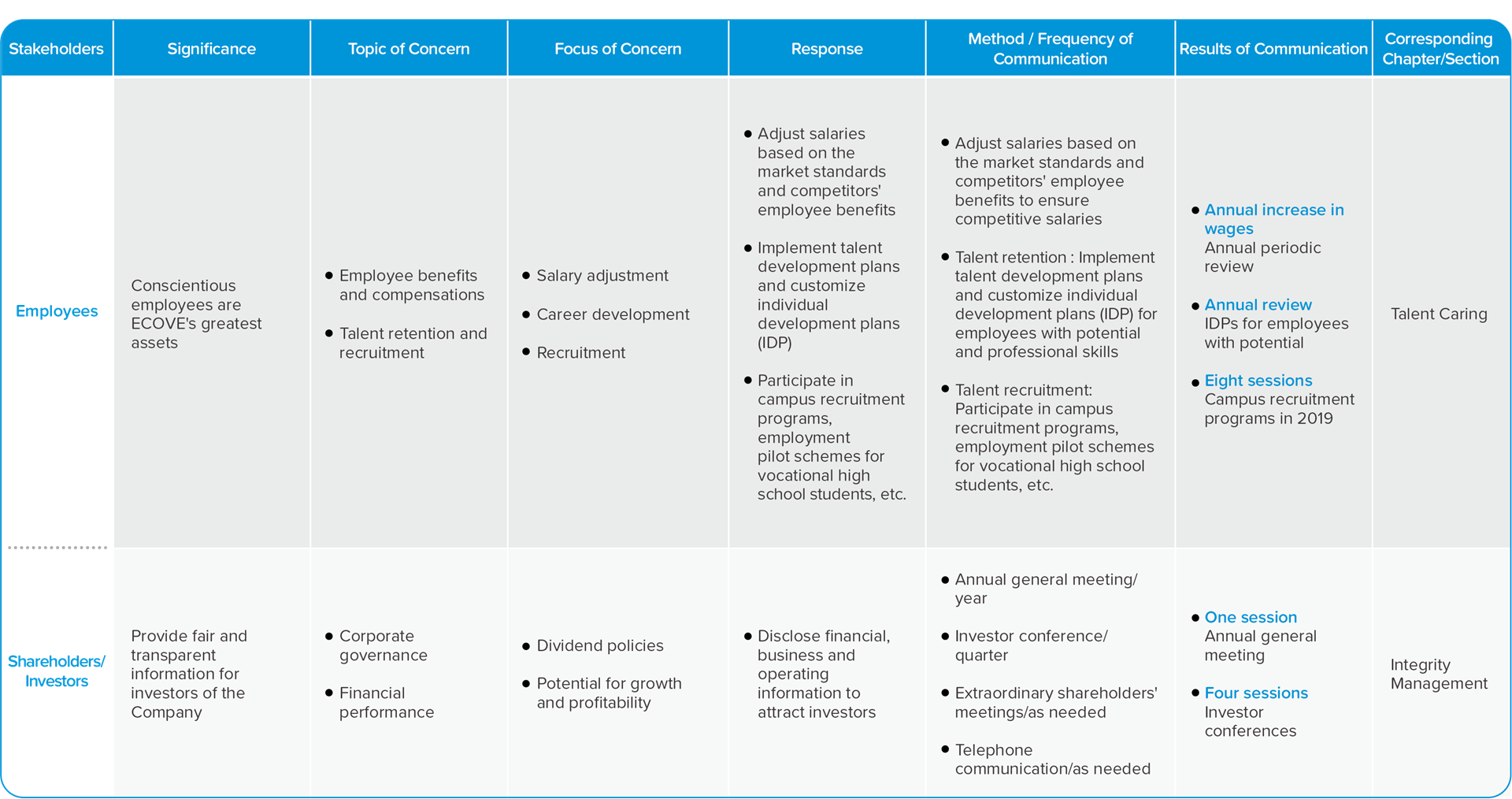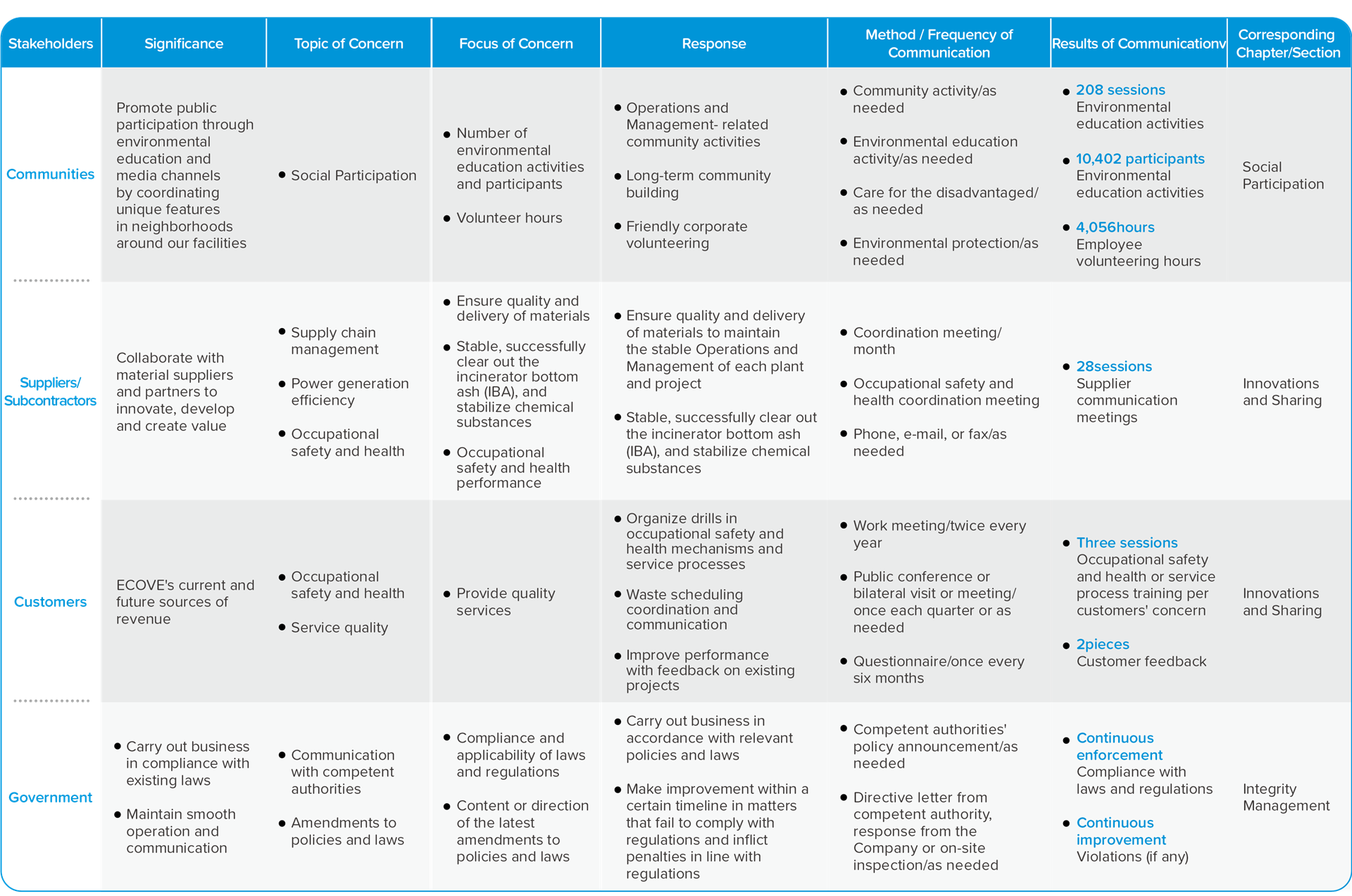 ▼ Materiality Analysis Matrix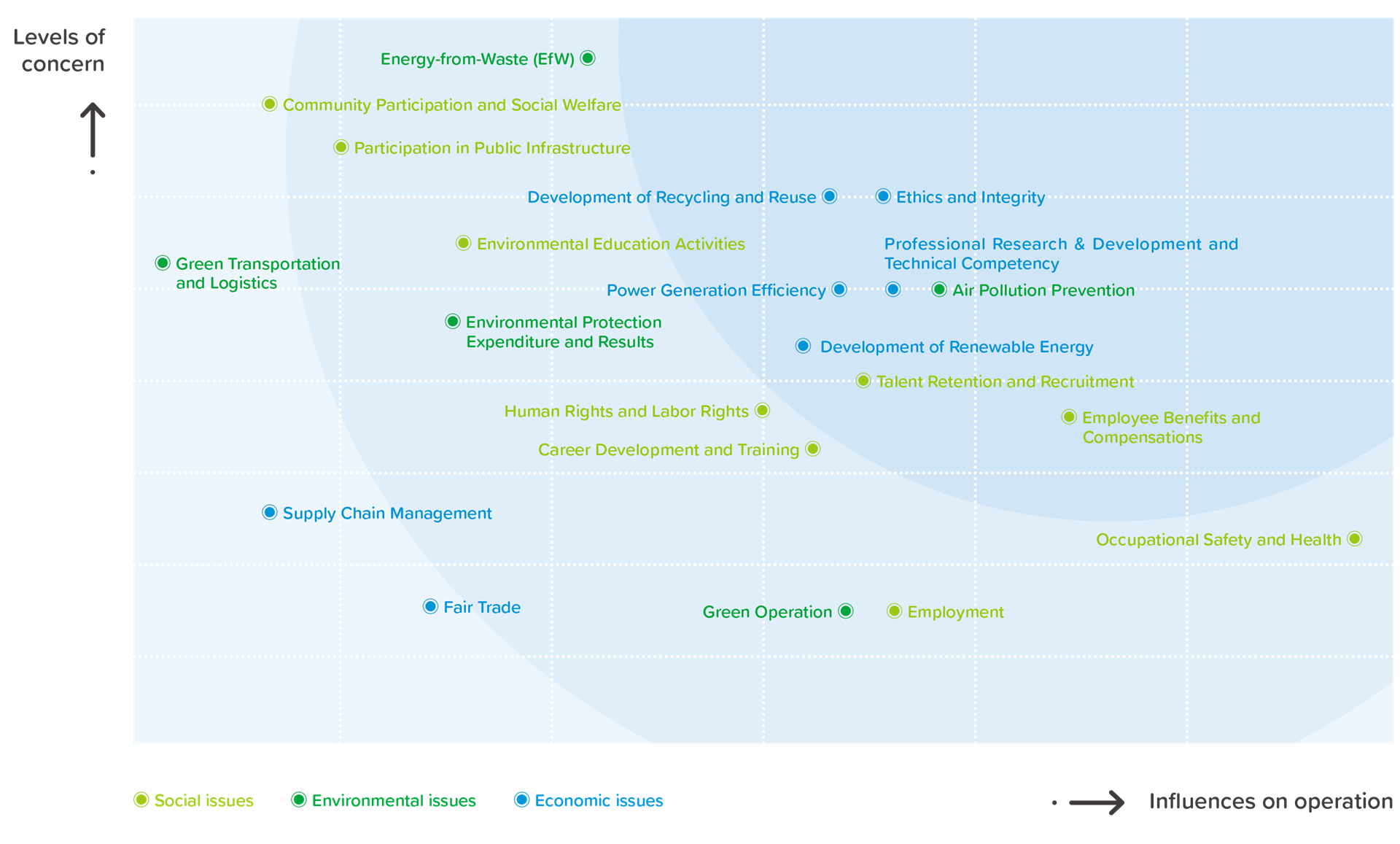 ▼ Short-term, medium-term, and long-term goals for material issues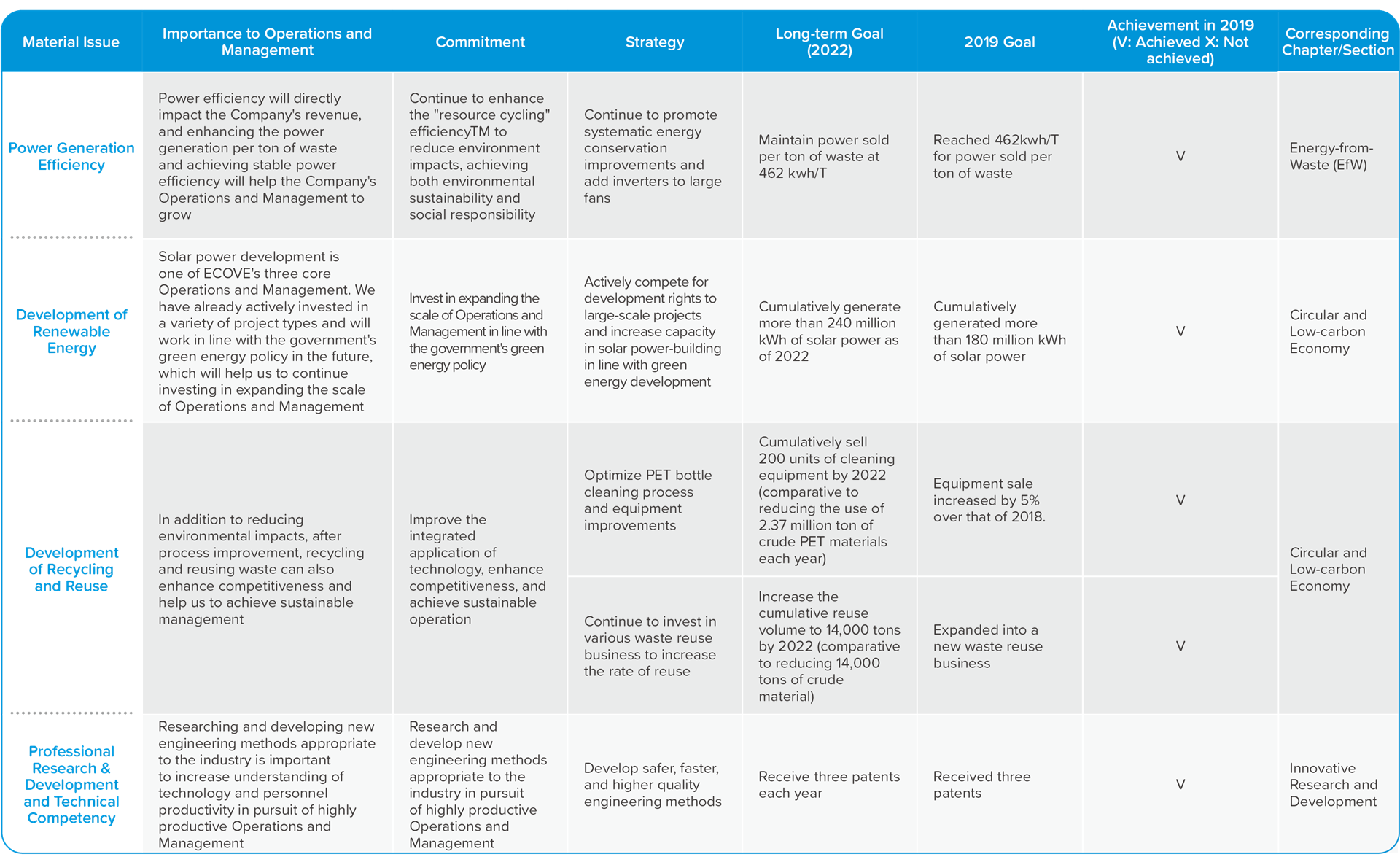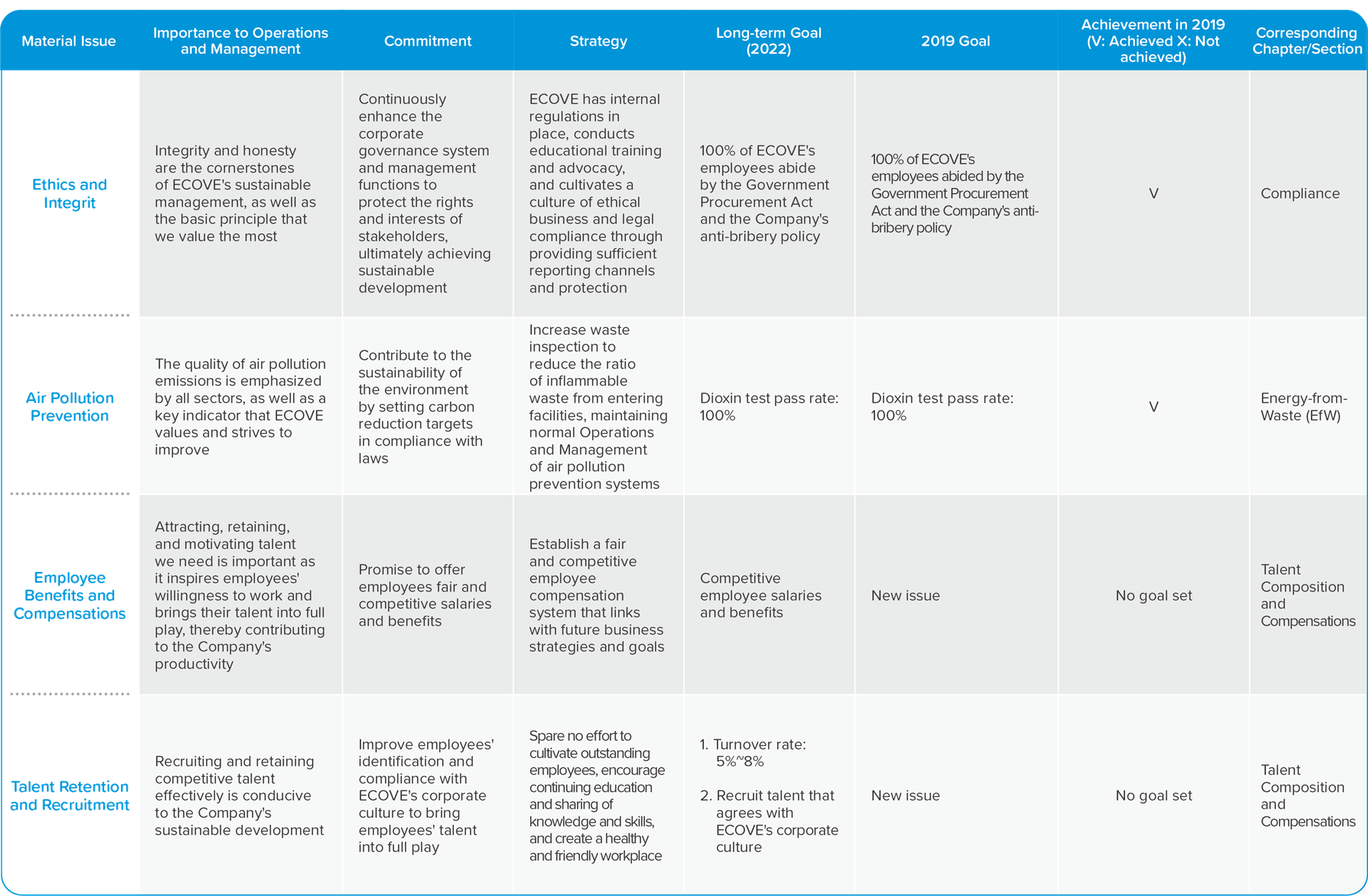 Response to the United Nations' Sustainable Development Goals
ECOVE integrates the UN Sustainable Development Goals (SDGs) into goals and actions that are tied in with its business strength. By internalizing SDGs into business activities, we grasp an opportunity to further our sustainable development with mitigated impacts on the environment.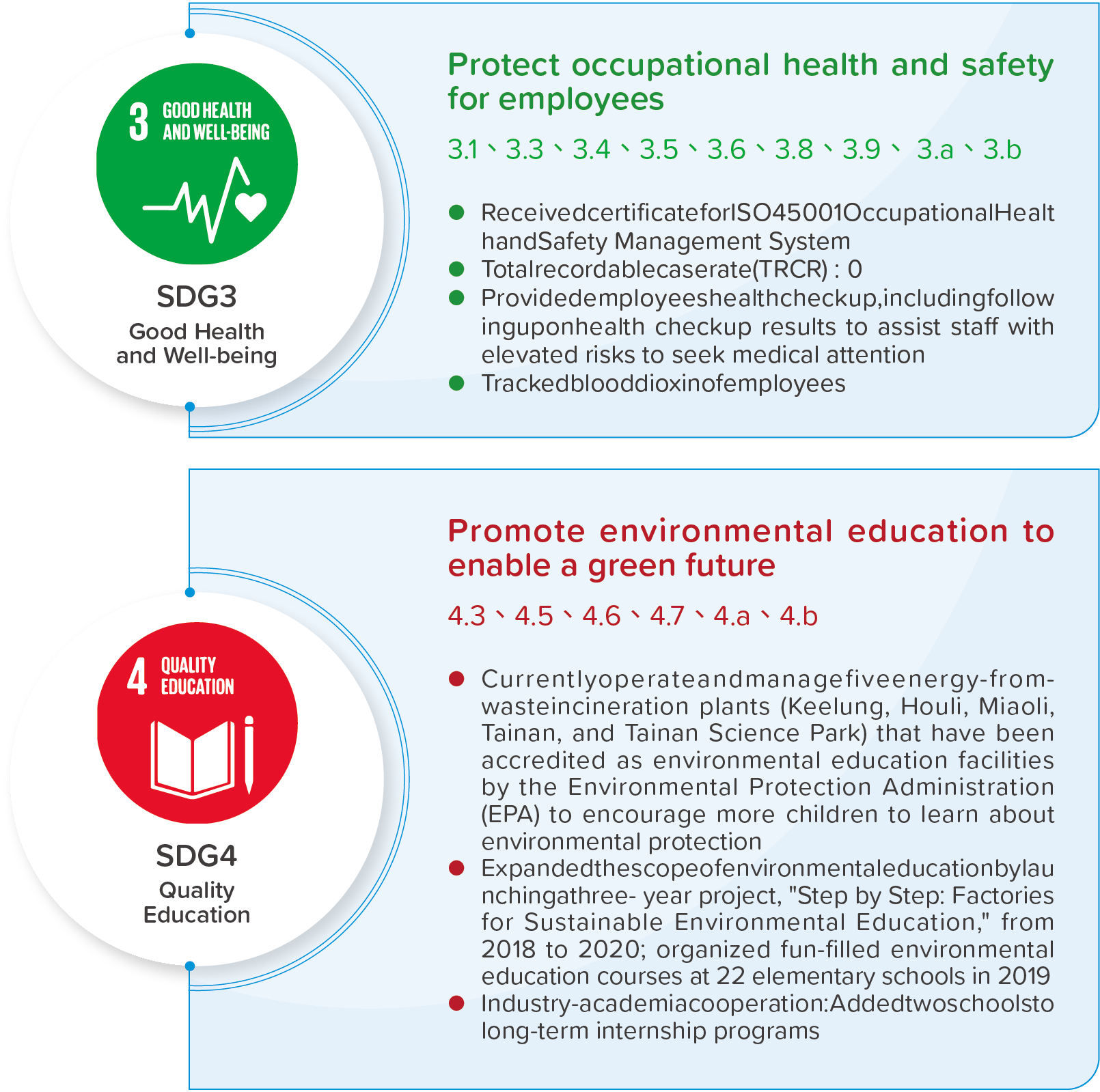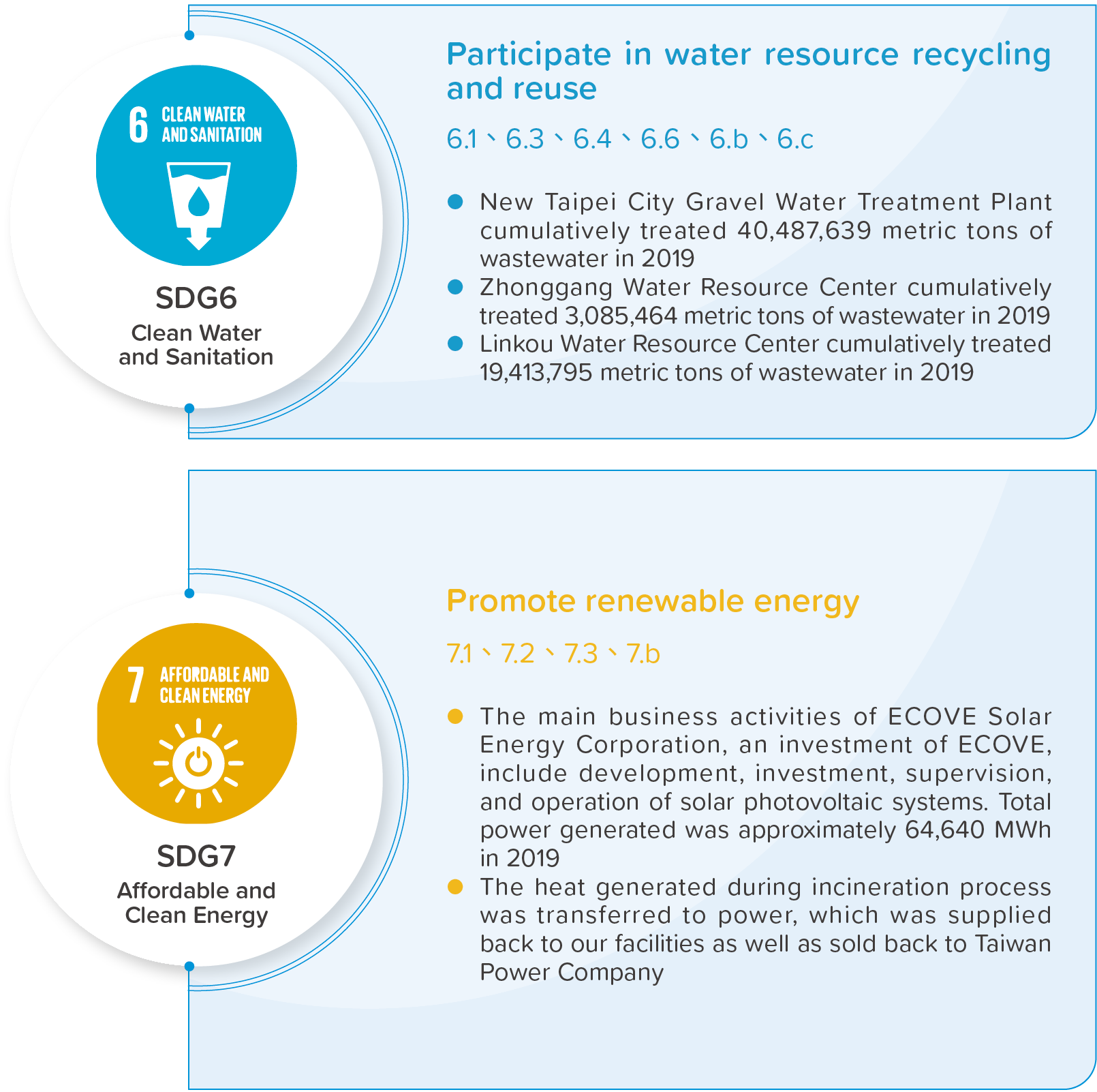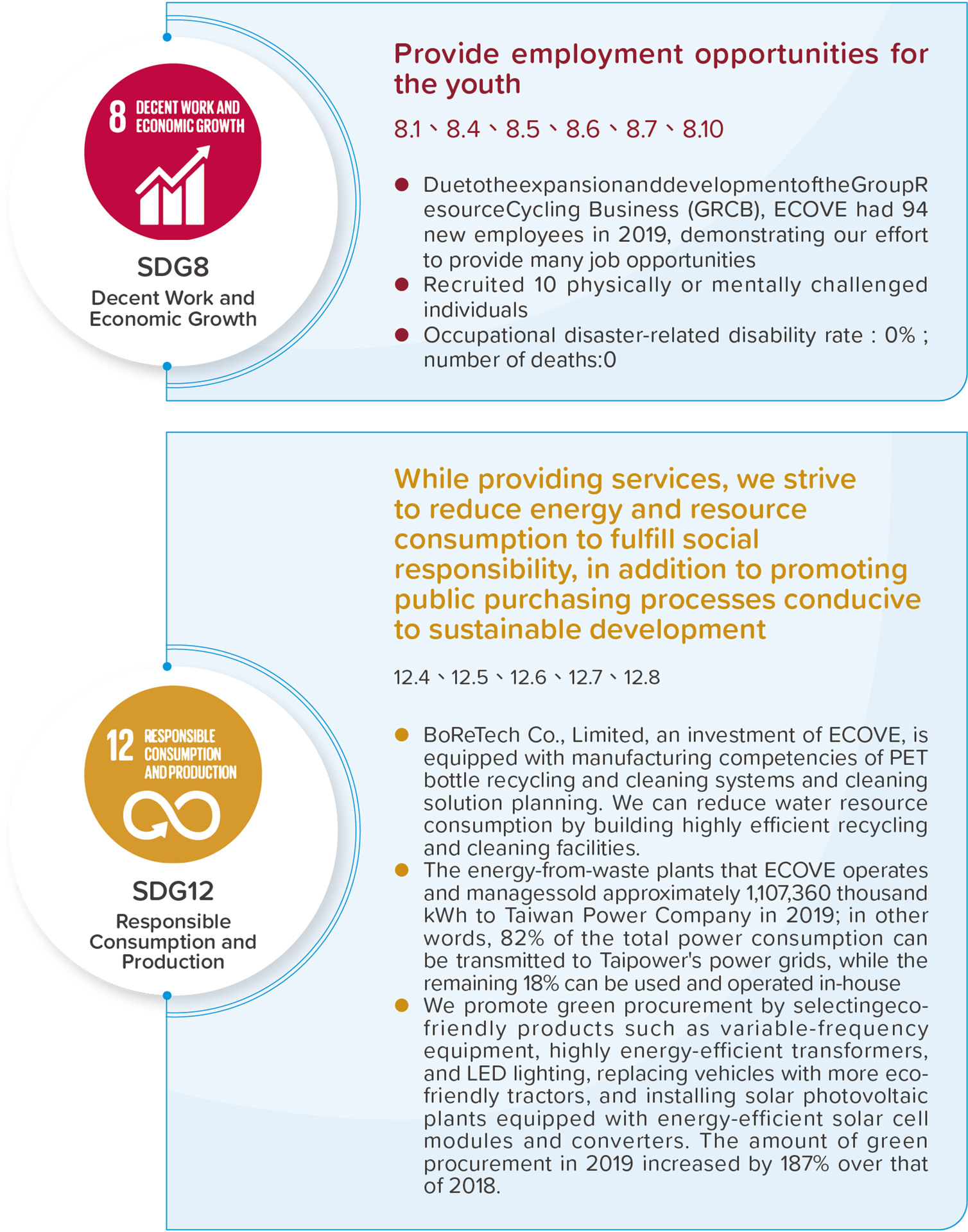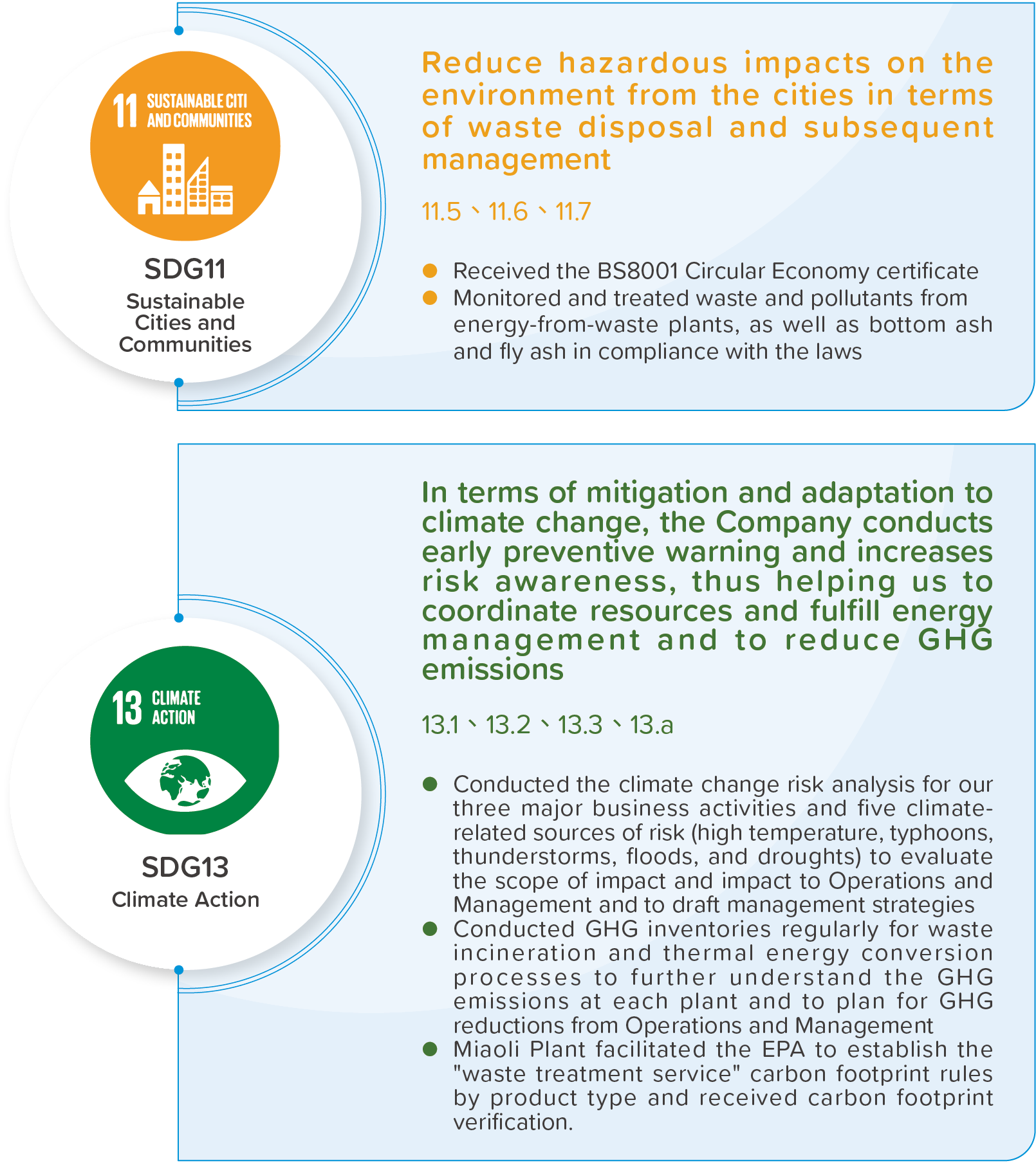 Membership in Associations
By participating in various associations and organizations related to industry development, we can strengthen our ties with the industry and the latest technologies. On top of enhancing service competitiveness and realizing industry influence, we can also increase the opportunities to form strategic alliances to create opportunities for business growth.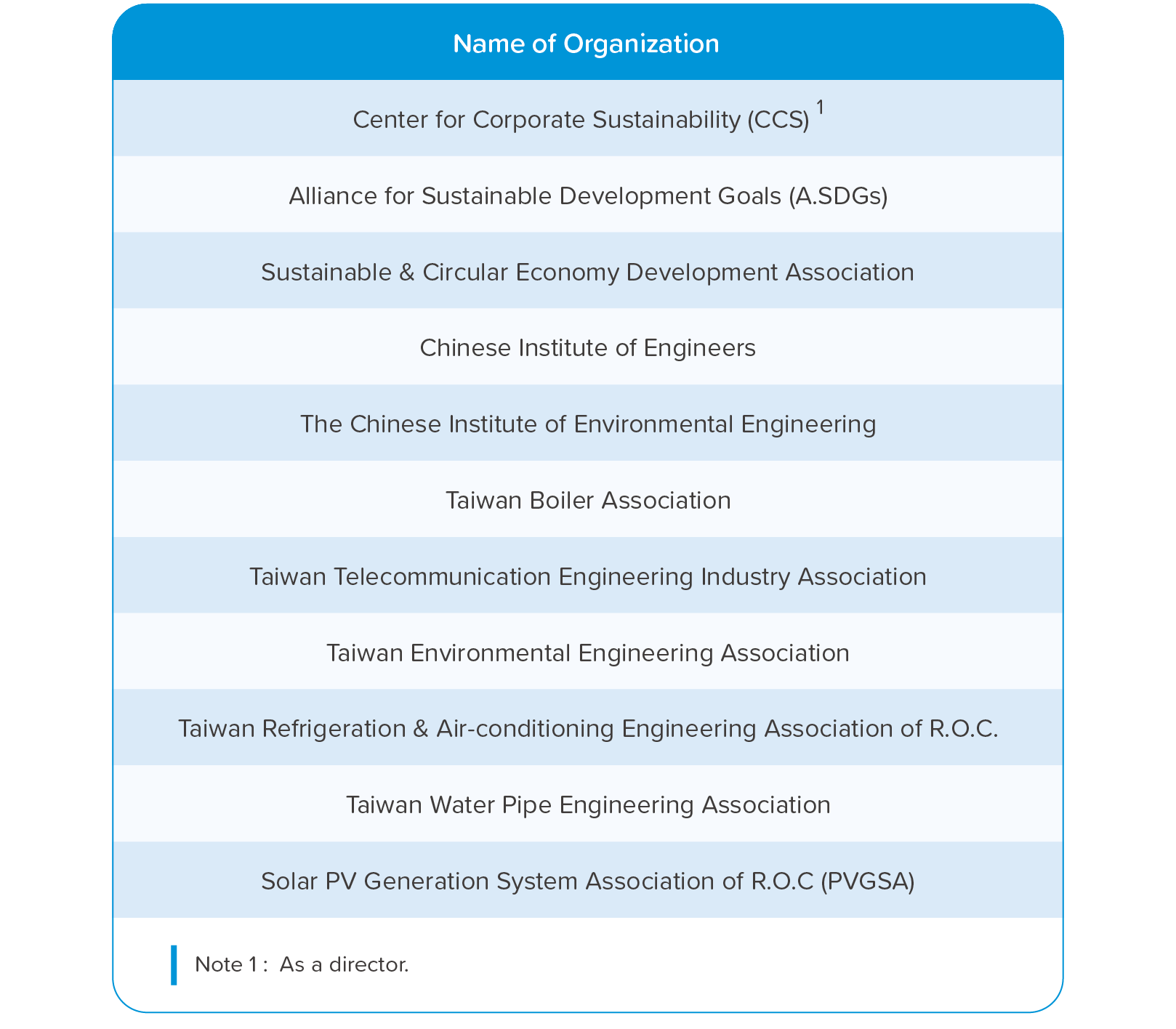 ● Participation in Seminars or Forums
ECOVE actively participates in national and regional environmental policies and issues. Through forums or print media, we have been invited by domestic and overseas government or non-governmental organizations to share more than 20 years of our experience in resource cycling industry development and operating strategies with public and private groups from the government, industry, and the academia, as well as the public. This helps to build cornerstones in resource cycling economy and to ensure that we stay on top of the trends.