Innovations and Sharing
ECOVE believes that cooperation can create additional value. Having held true to the corporate culture of Professionalism, Integrity, Teamwork, Innovation over the years, ECOVE has become a tightly-connected team with the support of all stakeholders. We help each other to achieve synergistic growth and to deliver premium products and service quality; in addition, we have maintained positive partnership with our suppliers. Through continuous communication and cooperation with our suppliers, we are confident of achieving a sustainable supply chain where the long-term viability of upstream, midstream, and downstream suppliers is reinforced.
Innovative Research and Development
In response to the Industry 4.0 trends in global technology, ECOVE also actively integrates technologies to develop intelligent management, control, and maintenance, and introduces more advanced management tools (e.g., remote central control room, repair incident review, high-temperature camera for furnace inspection, advanced combustion control system, robotic slag removal, fixed-type shock wave ash-cleaning, and personnel safety positioning system). The important operation Index (IOI) such as emissions, abnormal equipment, and site inspection data can be accessed anytime, anywhere via mobile devices (e.g., ECOVE ESC IOI and LINE notification) to enhance the effectiveness of operation and management; moreover, we can also enhance the employee training and teaching effectiveness (e.g., 3D models virtual reality (VR) training, guiding and teaching, and expert systems).
R&D Results - Proprietary Technology
In 2019, ECOVE obtained five new patents, namely, "low isopropyl alcohol concentration distillation tower combined with the supergravity centrifugal distillation system," "flatbed truck net safety covering device," "factory operation and maintenance expert system," "UAV factory inspection system," and "ratchet wheel." As of 2019, we have received 33 technical patents from Taiwan and 11 from China. Most of these proprietary technologies have been put into practice. ECOVE also focuses on environmental sustainability and promoting occupational safety and health. Out of all R&D results, 27 of our proprietary technologies can reduce environmental pollution as well as secure our competitive niche.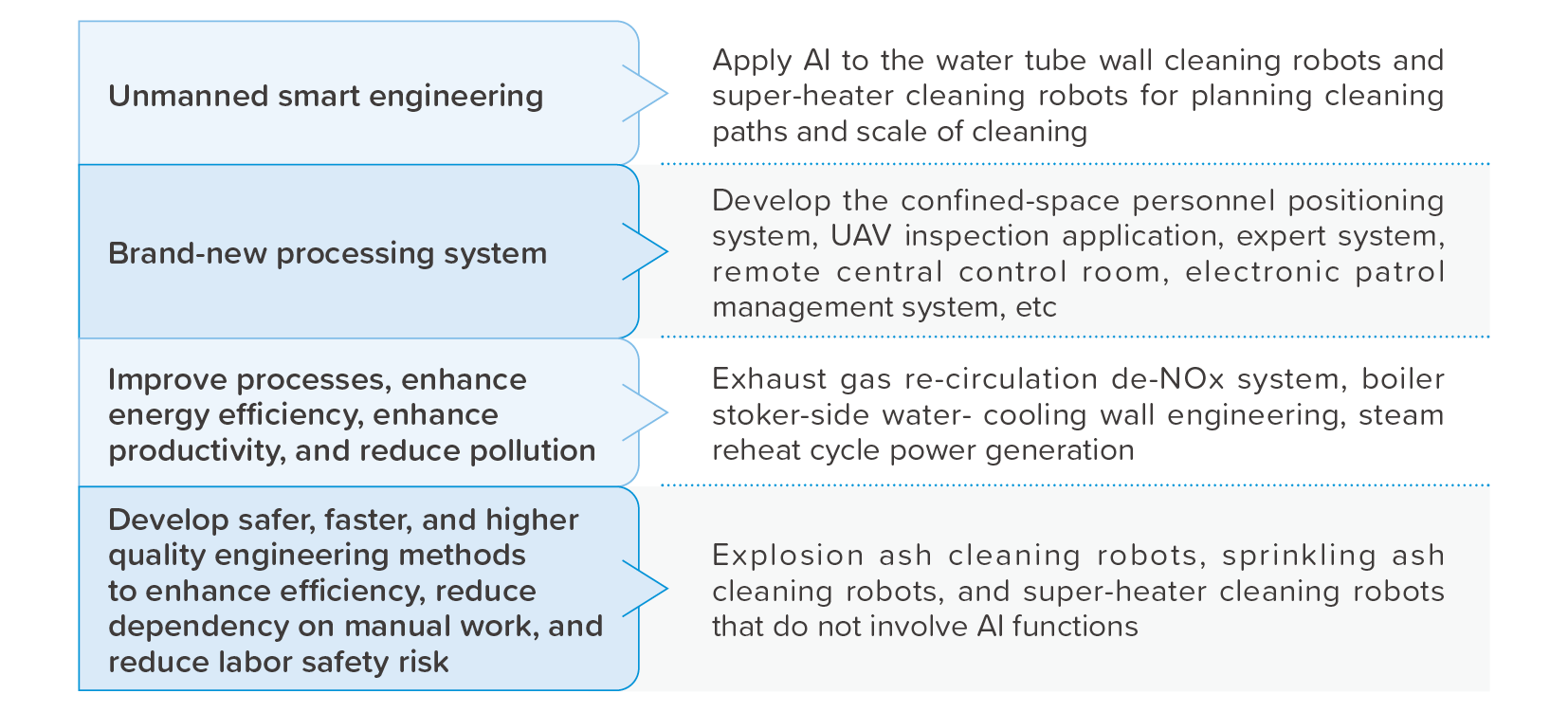 ▼ Patents Applied

Service Quality
Closely working with the government, industries, and communities, ECOVE provides diversified services through professional techniques and a spirit of excellence. We provide customers various fluent channels for feedback and conduct surveys to seek customers' advice. When receiving opinions from our customers, we have comprehensive processes designed to handle customers' opinions and respond immediately while requesting responsible departments to prudently and precisely analyze the causes of problems and to draft improvement plans and processes for better service quality.
▼ Customer Communication Channels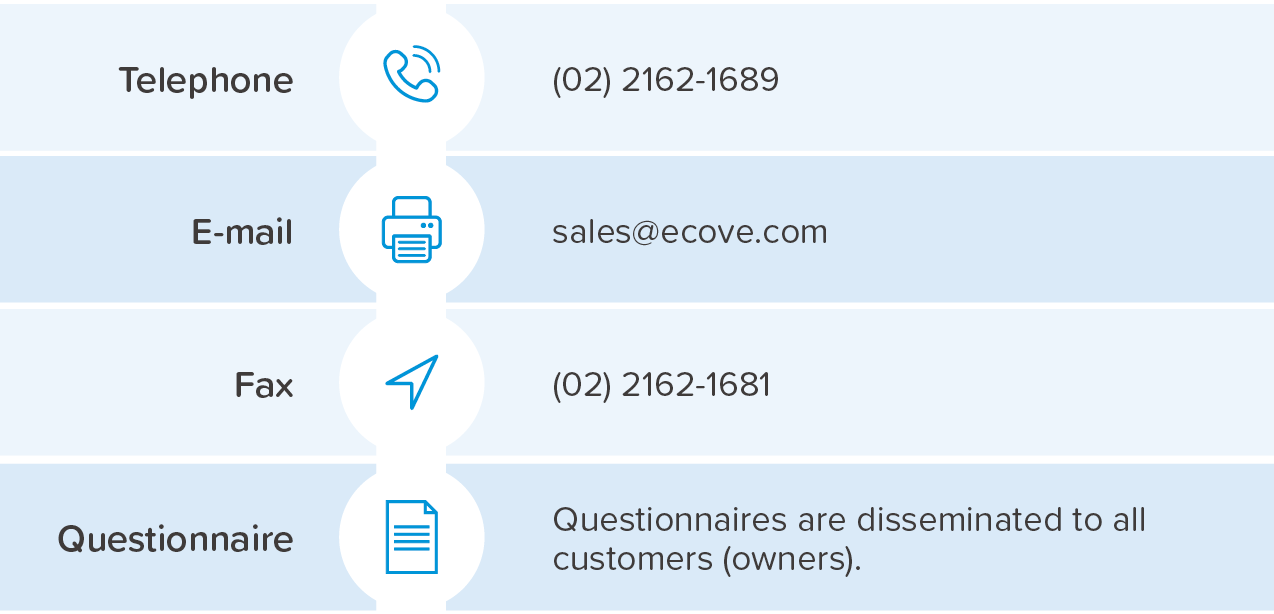 Surveys of Customer Satisfaction
To ensure that our service quality can satisfy customers' expectations and requirements, we carry out the customer satisfaction survey every year as a basis for improvement in service quality. The customer satisfaction survey includes six major categories, namely, occupational safety and health, quality of work, implementation efficiency, communication and mediation, attitude at work, and professional skills. In 2019, we received an average score of 9.4 points out of 10, the highest in the past five years. Points for all six categories exceeded 9. In the future, we will continue to improve, and we will see a total average score of 9 points as the minimum standard in order to provide better quality and perfect service.
▼ Results of Customer Satisfaction Survey in the Past Five Years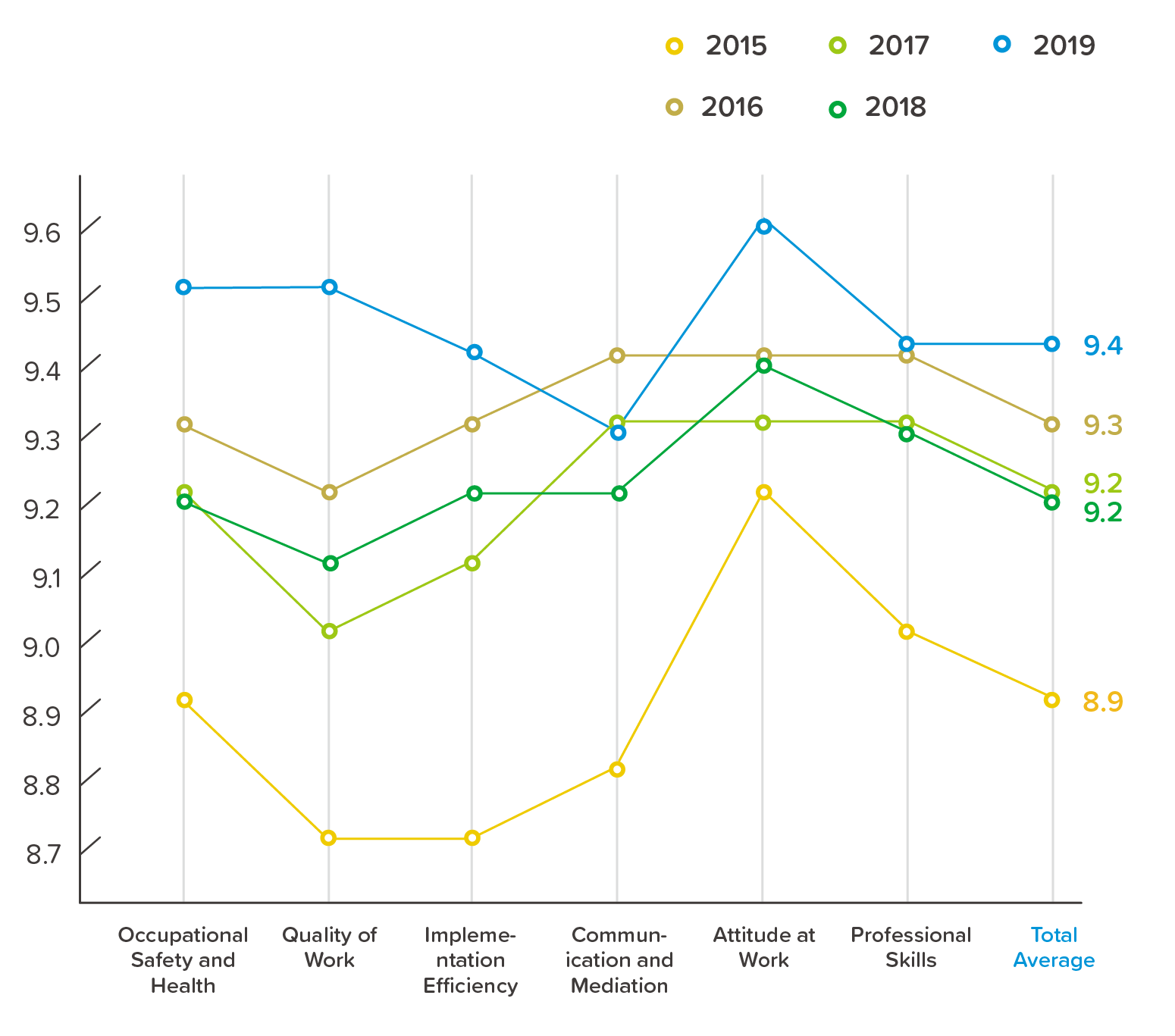 Sustainable Supply Chain Management
ECOVE has set "the most reliable provider of industry-leading " resource cycling " services" as a vision. As the largest resource management company in Taiwan, ECOVE exerts its influence on the supply chain to work toward sustainability by promoting and fulfilling supply chain sustainability management. This helps us to handle future risks and opportunities and to increase resilience.
Overview of Supply Chain
ECOVE's suppliers include suppliers of machinery components and consumables (including chemical and consumable products), as well as contractors that provide professional services, including annual repair, emergency repair, equipment inspection, and labor. Our suppliers can be divided into three categories: materials suppliers, engineering contractors, and labor contractors.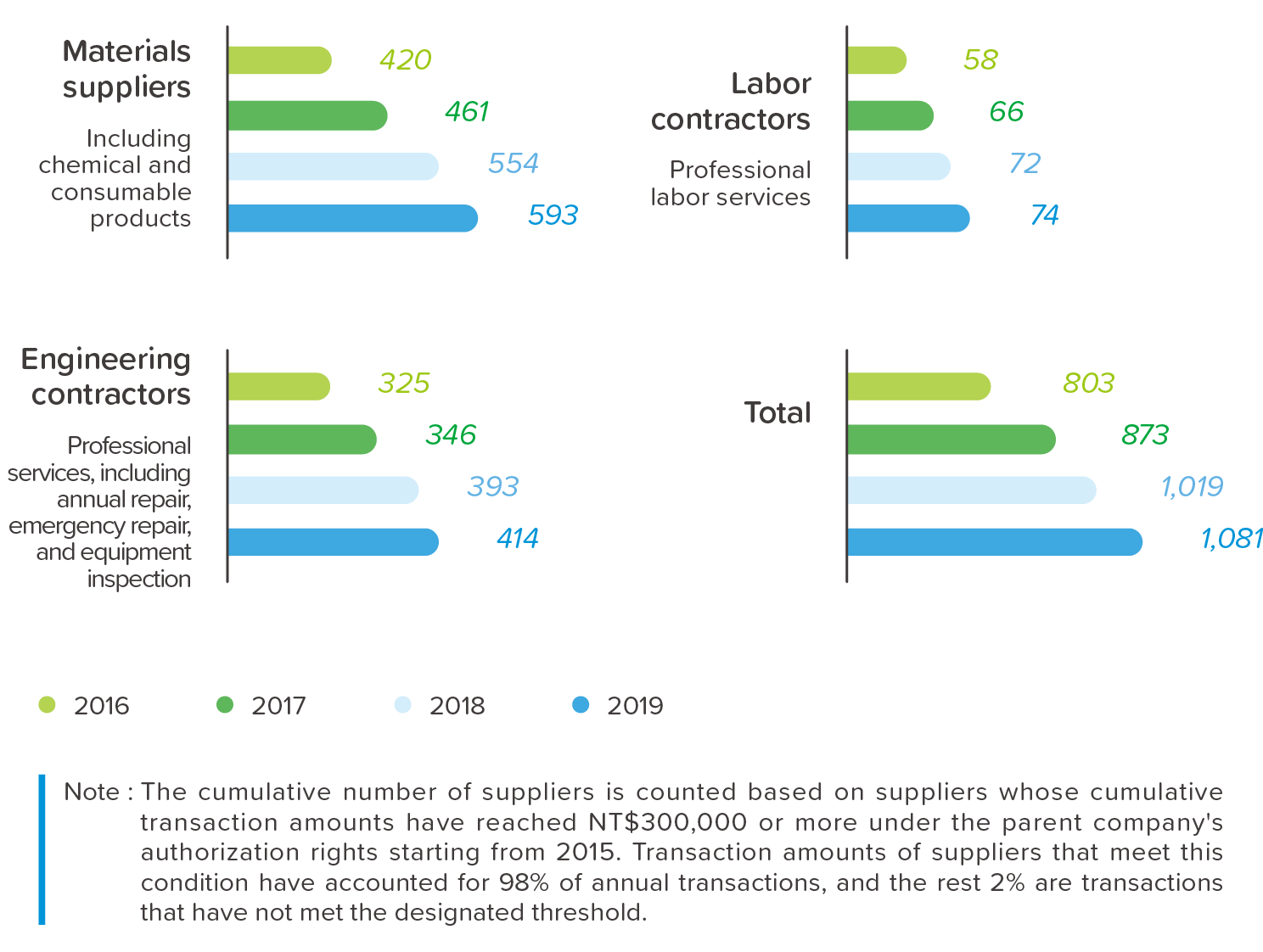 Sustainable Supply Chain Development Strategy
Following the sustainable supply chain development strategy of our parent company, CTCI, which mainly includes "zero tolerance for unethical conduct," "full protection of employee rights," "safety first" and "local procurement," we invite our suppliers to join in this strategy. We manage supplier data through the CTCI's Suppliers & Subcontractors section and provide a sound communication system, including a reporting website, to communicate with suppliers.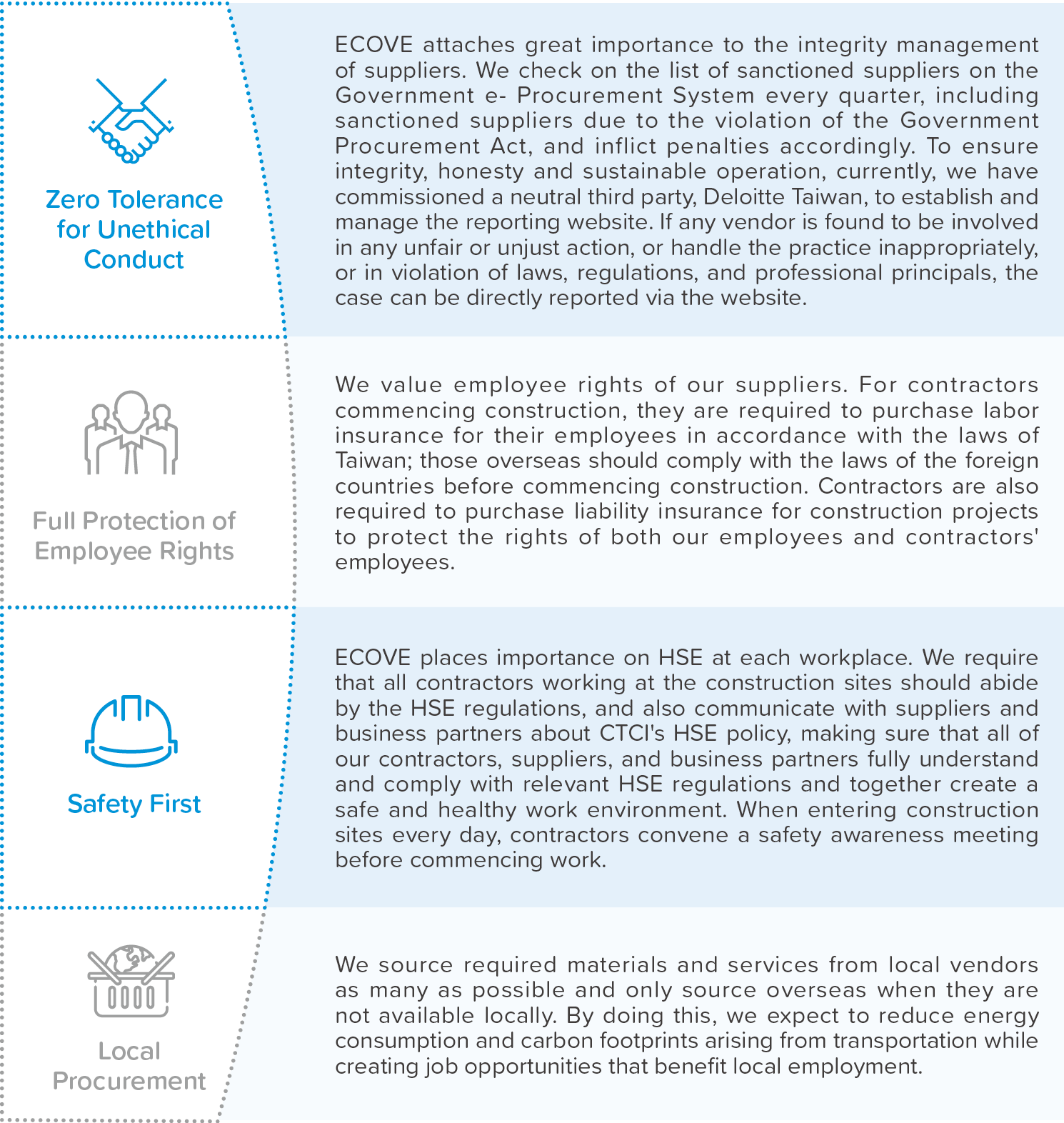 Sustainable Supply Chain Development Policy
● Supplier / Contractor Social Responsibility Policy
ECOVE believes that the consensus and partnership throughout the overall supply chain for sustainable development will be the key to reach sustainability for the entire industry. Therefore, ECOVE continues to require suppliers and contractors for complete compliance to all local laws and regulations. Hence, the "Supplier/Contractor Social Responsibility Policy" was established to request our supply chain to understand and comply with related social responsibilities. Priorities that we have always been advocating and demanding include the ban on child labor, protection of human rights, non-discrimination, fair treatment, legal working hours and pay, and friendly environmental management. As for the requirement for labor rights, environmental protection, safety and health risk control on our supply chain, we adopt various measures to facilitate the suppliers and contractors to improve and to enhance service quality and management standards. This helps to reduce the management risks and operating costs of ECOVE, suppliers, and contractors, and thereby forging solid, reliable partnerships that promote sustainable growth.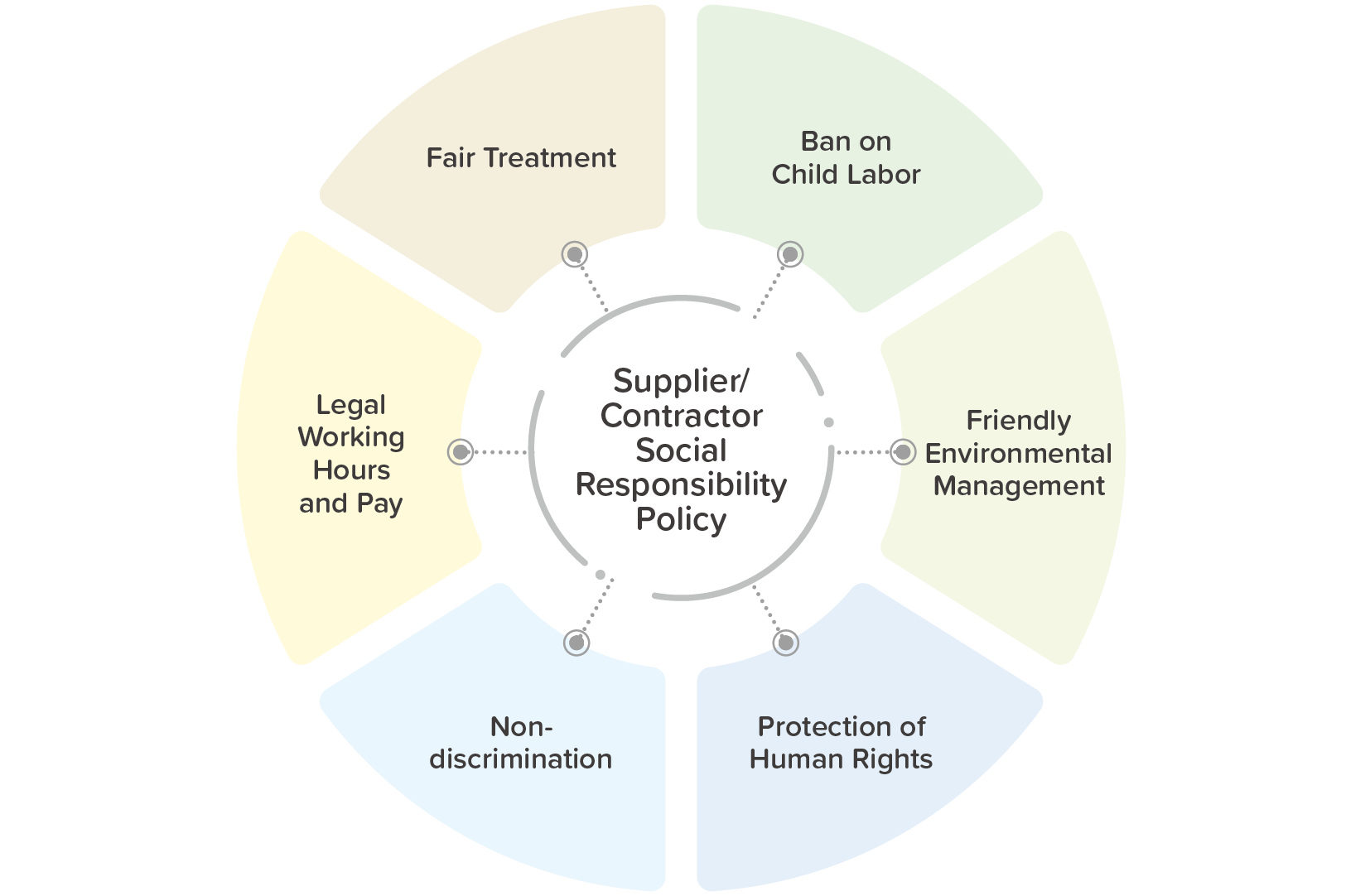 ● Supplier Code of Conduct
ECOVE is committed to promoting CSR and business partnerships. Therefore, we have established the "Supplier Code of Conduct" by referencing human rights, labor and environmental regulations and standards, and anti-corruption regulations under the international principles such as the UN Global Compact, Universal Declaration of Human Rights, and The UN Framework and Guiding Principles on Business and Human Right. This code is applicable to all vendors who provide products or services for ECOVE, including suppliers and their subsidiaries, related companies, and contractors. All business activities of ECOVE's suppliers are required to completely comply with this code and the local laws and regulations of their operating sites.
▼ ECOVE's Supplier Code of Conduct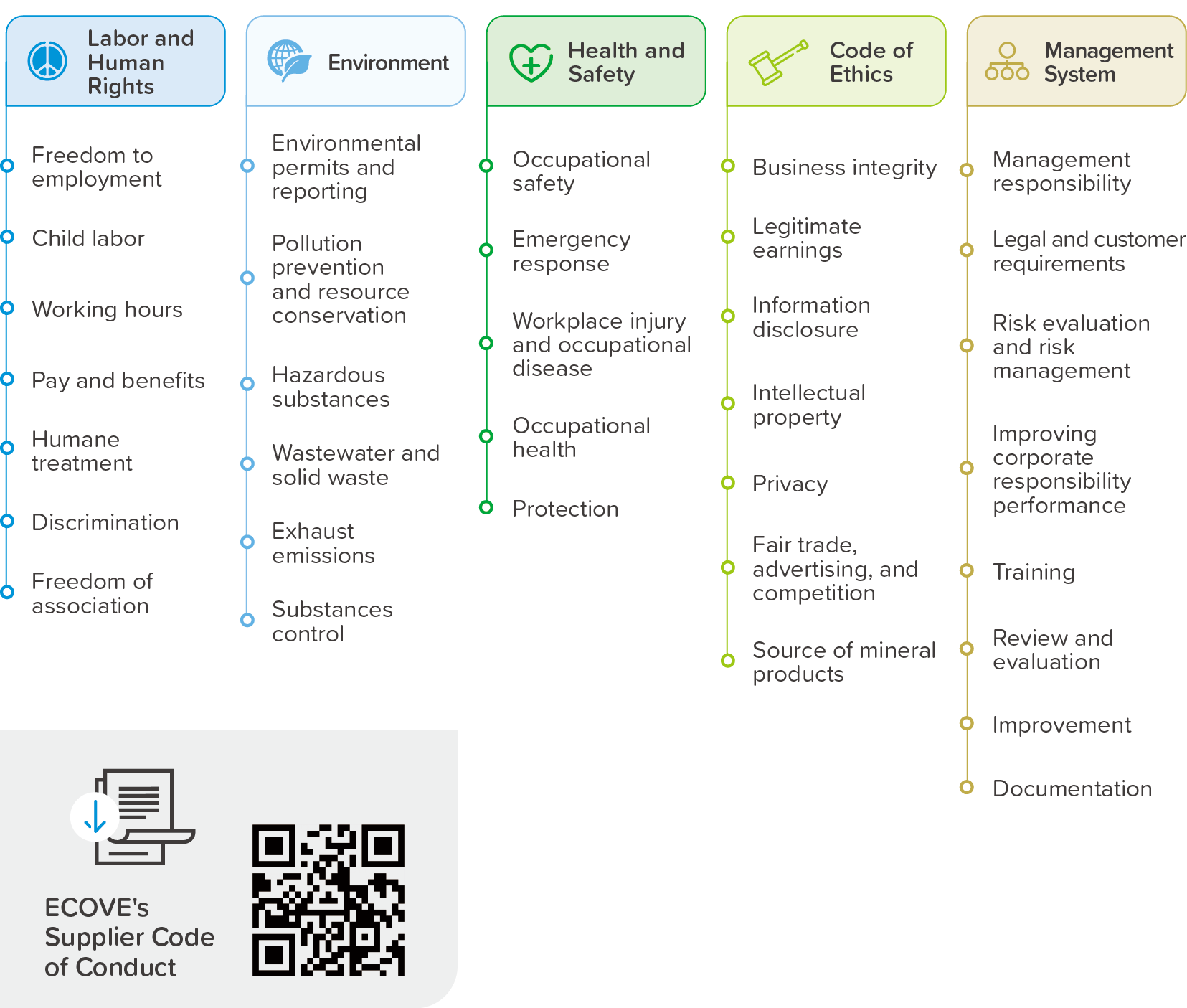 ● Strengthening Business Integrity
In response to the Group's advocacy for reinforcing the business integrity with suppliers, when interacting with suppliers such as asking for quotations, or participating in tender meetings or ordering procedures, we will advocate for CTCI and ECOVE's determination for integrity using written or spoken statements and explanations addressed to employees and vendors. Prior to the tender meetings, we will conduct Integrity Moment actions, and explain about the Supplier Code of Contract to vendors and to announce the prohibition of private interests and the information on whistle-blowing mailbox. We have also added the integrity statement clause on vendor ordering forms and engineering contracts.
Sustainable Supply Chain Management Mechanisms
● Supplier Social Responsibility Commitment
To further fulfill CSR with suppliers, ECOVE encourages suppliers to comply with relevant CSR and environmental issues, and has asked suppliers to sign the "Social Responsibility Commitment," which is established based on the International Labour Organization (ILO) and the Social Accountability International 8000 (SA 8000) standard. The aspects of the objectives include ethical conduct, human rights protection, and environmental protection, and both parties will commit not to interfere with the employees' freedom of association, do not use child labor, do not infringe upon the rights of indigenous people, and do not undertake any matters that will harm human rights. Since the completion of the statement in 2014, we have actively invited suppliers and contractors to sign the statement. As of 2019, as many as 891 suppliers and contractors have signed the commitment. Each year, we request new suppliers to sign and also urge existing suppliers to become signatories. The number continues to increase. By 2022, we expect to make 100% of our suppliers signatories of the commitment. This helps to promote suppliers and contractors to mutually acknowledge corporate social responsibility, and requires suppliers to develop awareness and to collaborate with us in terms of sustainable development of the supply chain, on top of being committed to social responsibility.
▼ Signing Social Responsibility Commitment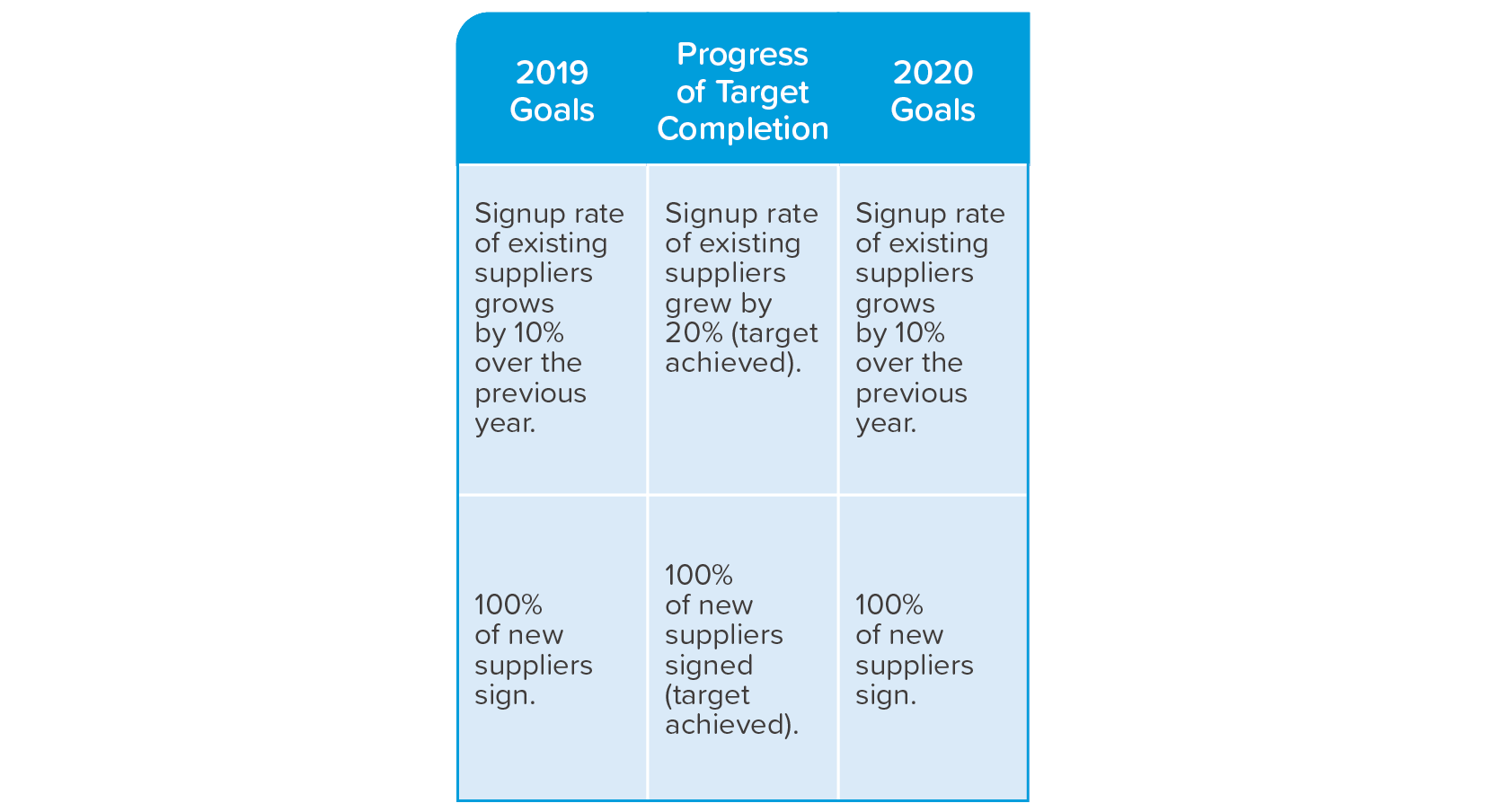 ● Supplier Audit and Coaching
To understand the risks and competitiveness of the supply chain, ECOVE has set up audit and coaching mechanism for suppliers. The Purchasing Center, Quality Assurance, Safety and Health Office, and various project sites will undertake inter-departmental evaluation and audit for suppliers and contractors. Besides listing supplier/contractor quality, costs, service standards, environmental protection, work safety and health, and technologies into the evaluation items to ensure their quality and safety and health, we also require suppliers and contractors to make improvements on deficiencies in the spirit of P-D-C-A. In addition, we also provide necessary guidance to make ECOVE's supply chain stay at optimized competitiveness to mitigate the risk of operational disruption.
▼ Supplier Assessment and Audit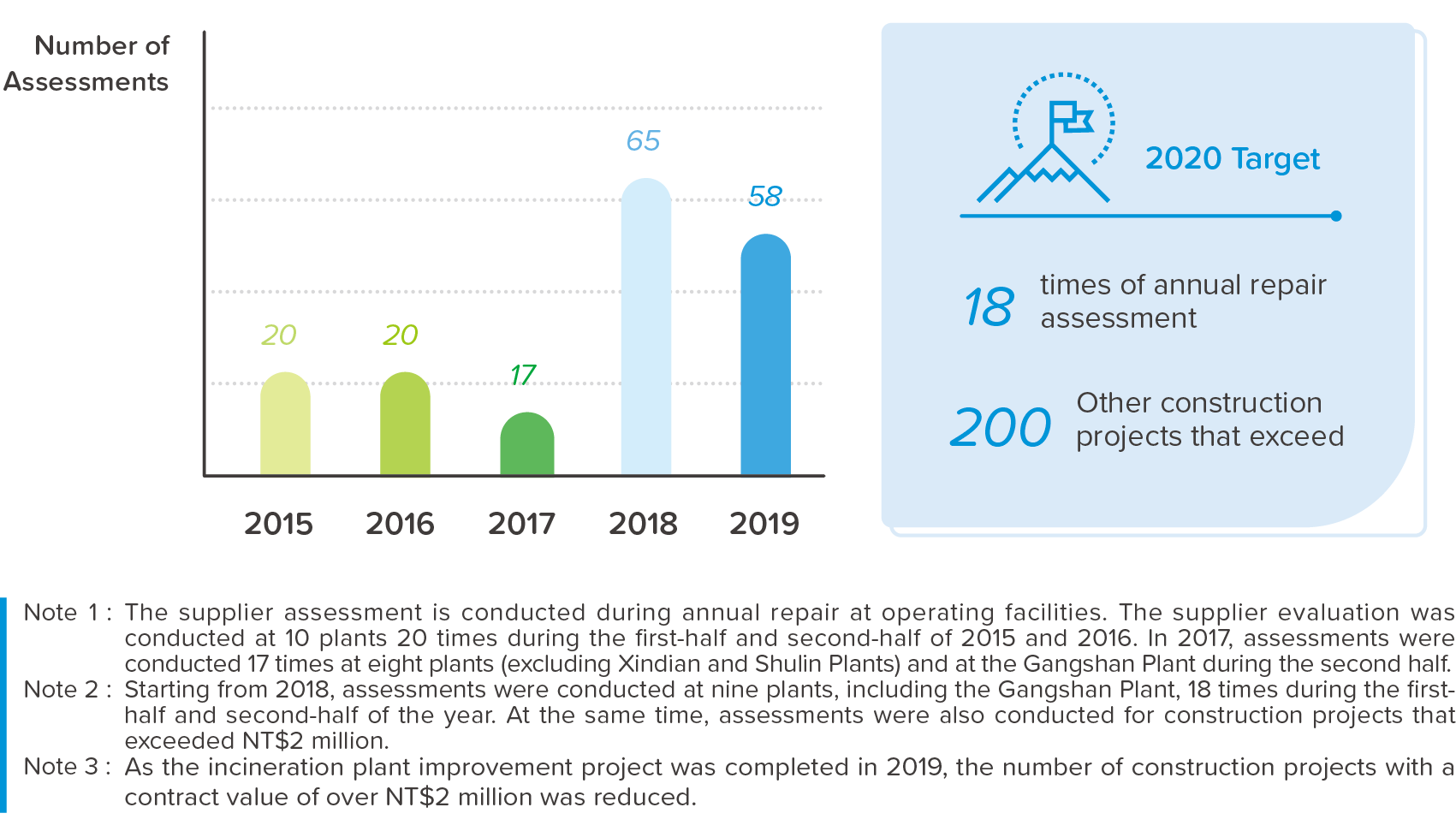 ● Contractor Visit and Engagement
At ECOVE, the construction manager of each department conducts the assessment on each construction project. We also exert positive influence on vendors in the procurement practices. In 2019, we conducted on-site visits and engagement activities for key materials suppliers/contractors to learn their internal operations and quality control on different occasions. For example, we conducted on-site visits during key equipment inspections, before the shipment of devices/materials purchased, and during annual repair and also at quality control sites. During on-site visits, we made inquiries and gave advice and guidance for improvement.
On-site visits also help ECOVE evaluate the new vendors' project implementation and management capacities as well as their operating sites, manpower, materials, quality, and warehouse management, and the results of evaluation can be used as a basis for trial orders. To keep track of and manage vendors' sustainability risks, ECOVE organized the third- party vendor forum and invited major construction project contractors or technical service providers to share their requirements and experience in the following five aspects: supply chain management, occupational health and safety, labor rights and human rights management, environmental protection, and business management. During the event, we also held the Excellent Quality and Safety Award Ceremony to demonstrate our encouragement and expectations to vendors. We spread the benefits of CSR at the forum, hoping to guide our vendors to the future of sustainable development.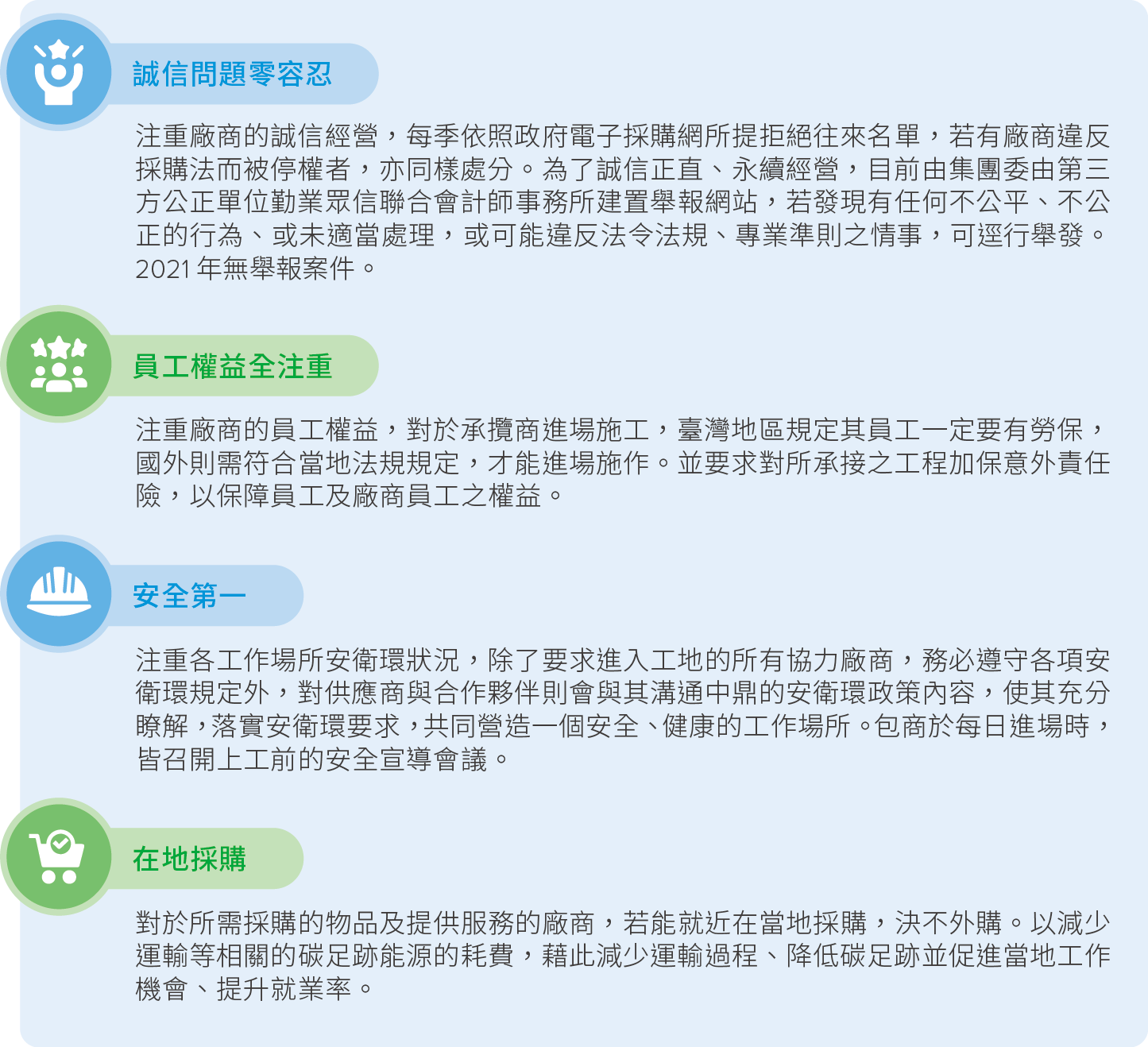 Vendor visit and technical exchange
Third-party vendor forum
● Green Procurement Performance
By working to mitigate climate change, ECOVE actively supports the SDGs and prioritizes energy-saving equipment and products that pose less environmental impacts during procurement. We also encourage the use of green products. On the one hand, we help to promote the trend of green consumerism, and on the other hand, we can also promote energy consumption efficiency and reduce environmental pollution from energy use, achieving benefits of energy conservation, carbon reduction, and environmental protection. ECOVE tries our best to select products with the environmental seal, water-saving mark, energy-saving seal, green material seal, type 2 environmental protection product or carbon footprint seal to better conserve energy, reduce carbon, and to save our planet. In 2019, in addition to selecting variable-frequency equipment, highly energy-efficient transformers, and LED lighting, ECOVE Waste Management Corp.'s waste clearing department replaced vehicles with more eco-friendly tractors in line with the new environmental protection standards under the Air Pollution Prevention Act. ECOVE Solar Energy Corporation also invested in the establishment of solar photovoltaic plants and selected energy-efficient solar cell modules and converters based on the government's renewable energy policy. The total amount of green procurement exceeded NT$124.47 million.
▼ Green Procurement Amount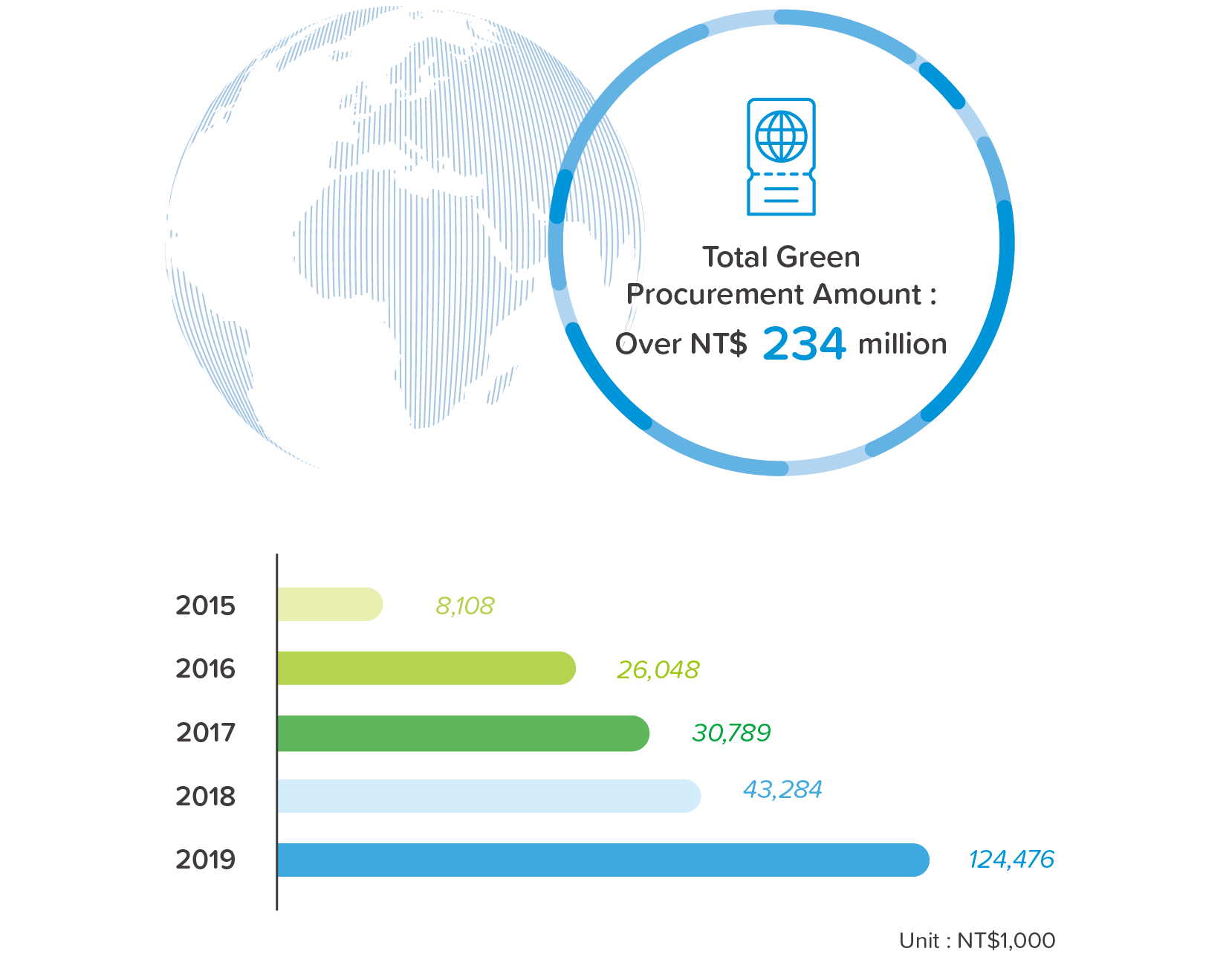 ● Local Procurement Performance
ECOVE implements the local procurement policy in compliance with the parent company's sustainable supply chain development strategy. We believe that local procurement is conducive to local economic development and can minimize the negative impact on the environment by reducing carbon emissions from transportation. Except for special machinery components, ECOVE strives to source locally without affecting the stable Operations and Management, safety, and fairness of procurement. We screen local vendors with potential for the re- engineering of worn parts and equipment and provide them the opportunities to win trial orders and improve autonomy. The spare part engineering is mostly contracted to local vendors to reduce carbon emissions and waste and to create local employment and business opportunities.