Safe and Healthy Workplace
Policies and Committees
ECOVE has established the Health Safety and Environment (HSE) policy and sees execution of environmental protection and building a safe and healthy work environment as the principle. Moreover, we are dedicated to maintaining the physical and mental health and well-being of employees and all contractors and partners and to ensuring a safe work environment.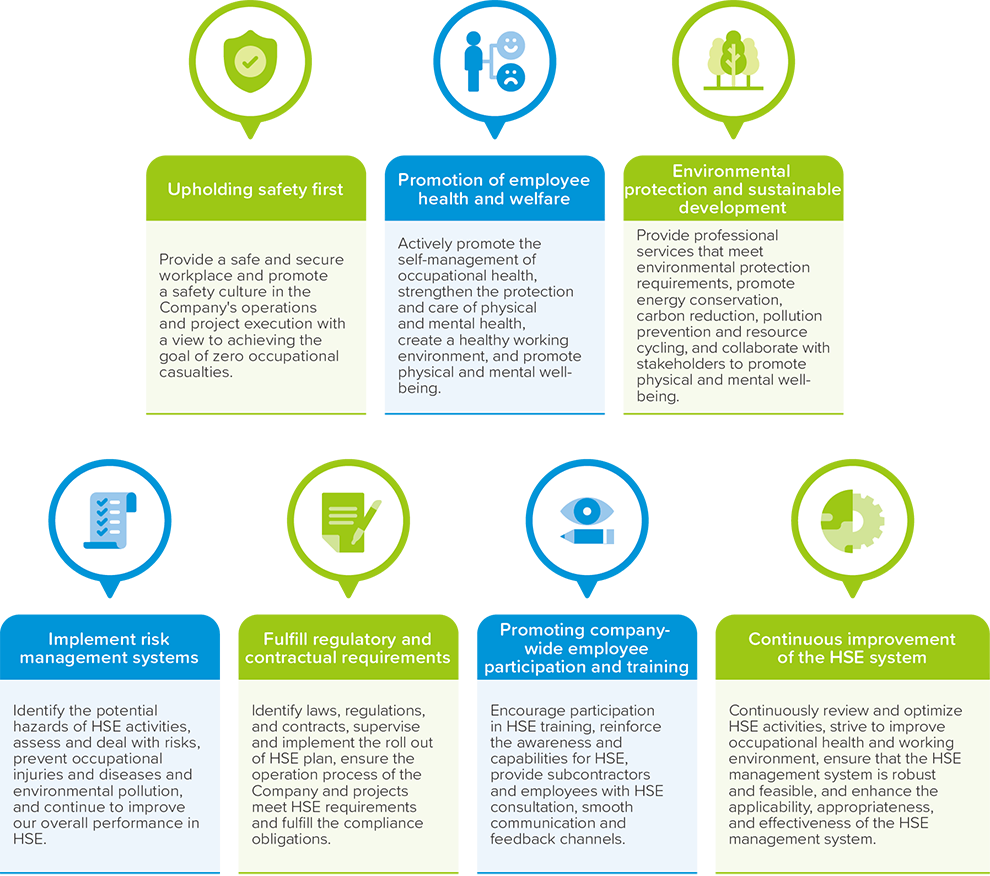 Quality and HSE goals are set up based on the HSE policy each year, and key performance indicators (KPI) are established based on the needs of onsite safety and health management. KPIs include the following seven major categories: contractor management, workplace safety control, mechanical equipment safety, fire prevention management, risk management, onsite 5S, and internal audit management. The Quality Assurance and Health and Safety Department will inspect each operation with no prior warning or scheduling each quarter, and the review results will be compiled and submitted to management meetings and the Occupational Safety and Health Committee.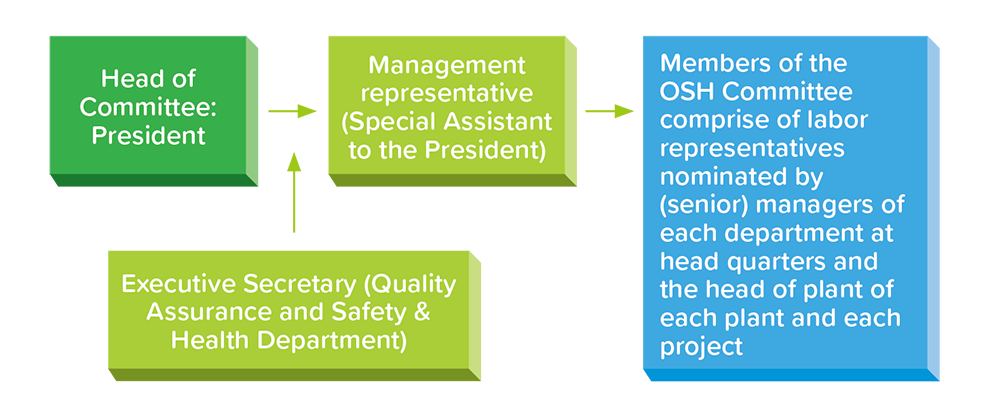 ▼ Organization of the Occupational Health and Safety Committee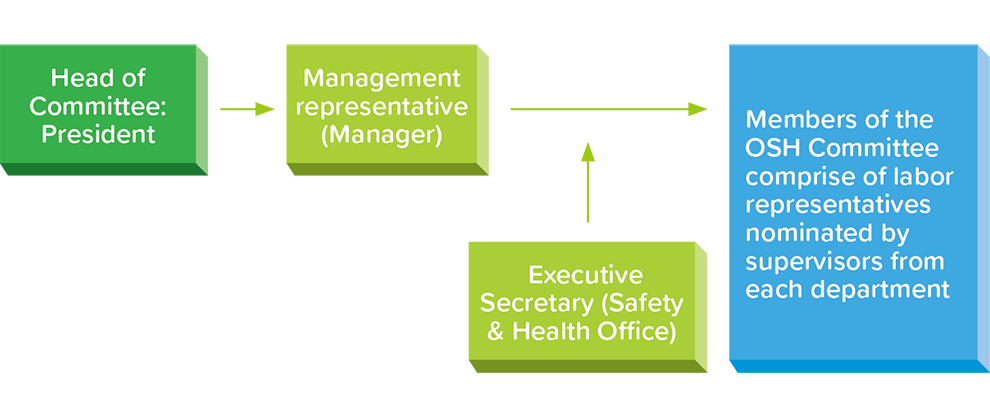 ● Risk Evaluation and Workplace Safety Control
In terms of risk control on occupational safety and health, the Company conducts risk evaluation on every work process, chemical substance, tools, and environmental exposure through the occupational safety and health management system, and separately establishes processing standards and regulations based on their levels of risk. At the same time, the Company also reviews the reasonableness of processing standards through onsite inspection to meet the appropriateness of processing standards.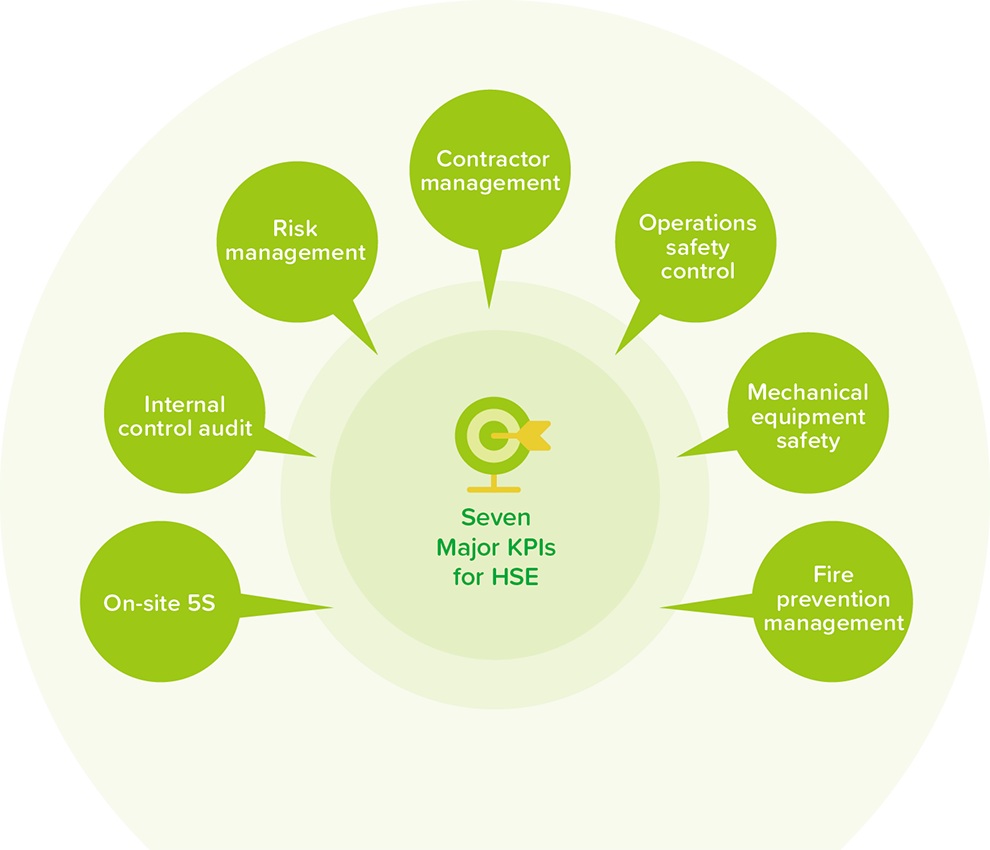 ● Mechanical Equipment Management, Key Inspection, and Job Checks
As for machinery and equipment management, the MMIS system includes each machine or equipment at each EfW plant that the Company manages into schedules, and maintenance planning and repair follow-up will be conducted on an Internet-based system to avoid any negligence. Moreover, automated inspection plan is established on equipment before processing, and pre-work inspection, onsite observation and inspection during processing, and after-work onsite confirmation and review are conducted in practice. To control processing safety, various safety control processes are adopted, and Internet-based permit and license query is also used to effectively confirm the validity of permits and the qualification of operators.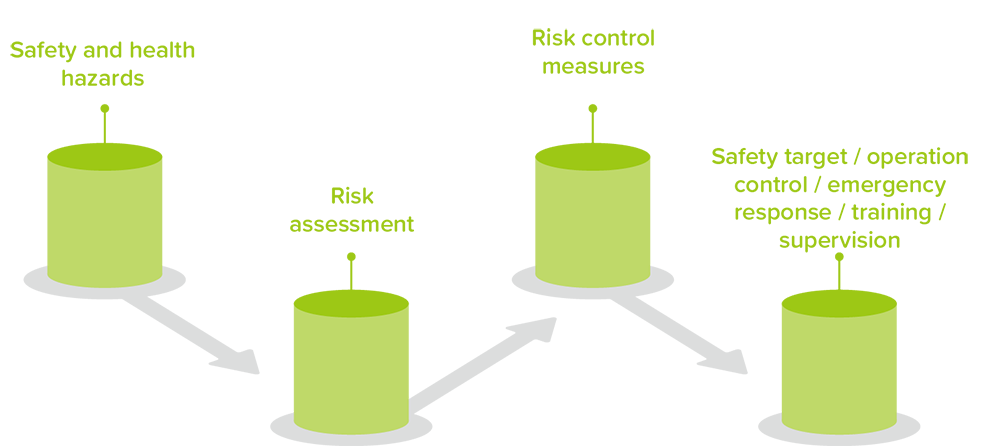 ● Reinforced Safety Management and Audit
To strengthen safety management, ECOVE gradually and continuously improves to achieve enhanced safety management through the auditing system. At the same time, employees' safety knowledge and competencies are also verified and confirmed via audit. Weaknesses are understood and incorporated into the training system and as reference for amendments to the work standards. ECOVE ESC actively conducts a three-tiered audit management system, in which onsite engineers will carry out the onsite safety and health level 1 management, the safety and health personnel and onsite managers will carry out level 2 safety and health audit (including self-evaluation from each plant), and the Company will subsequently conduct a level 3 safety and health supervision audit. By integrating the auditing system with evaluation, we can implement the safety management and audit system in practice.
▼ Three-level Management and Audit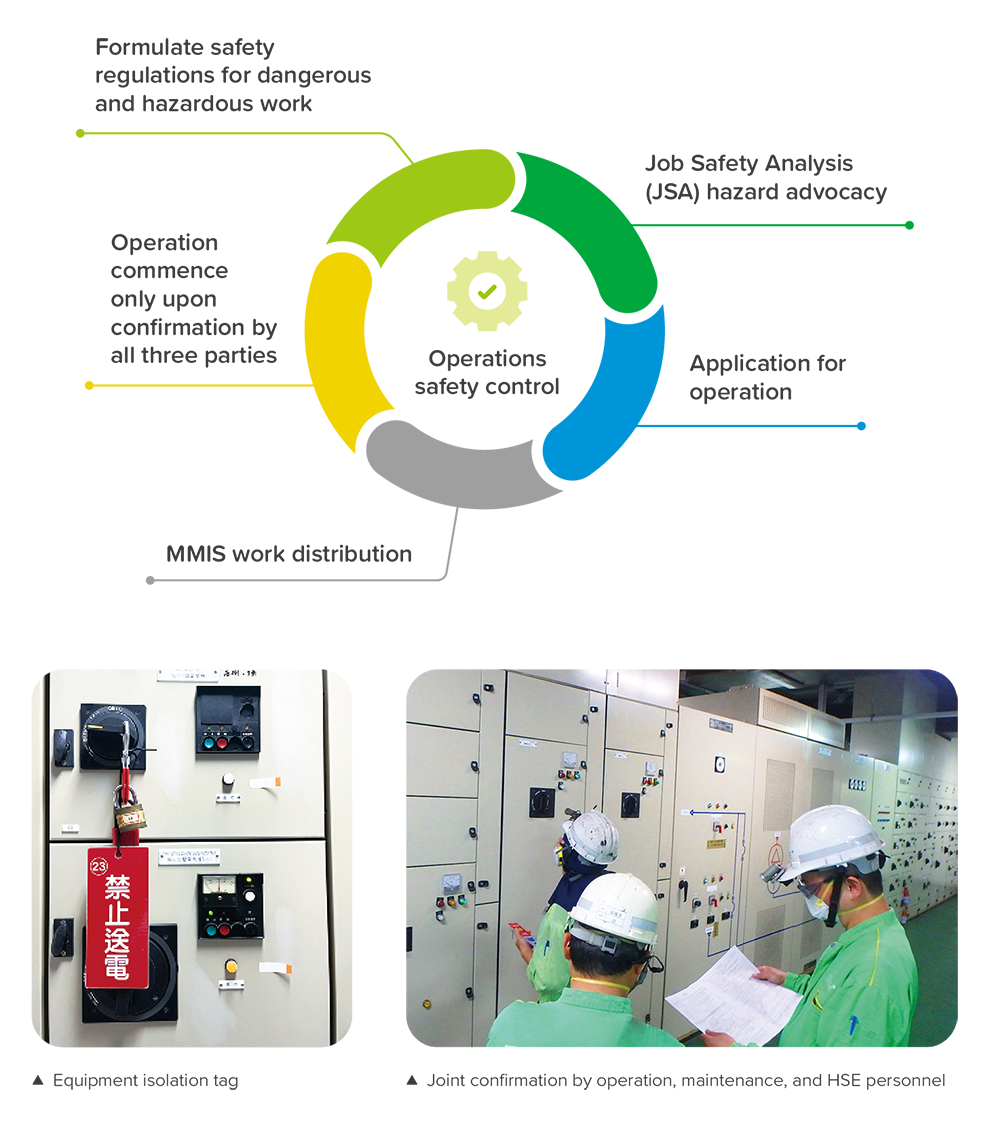 Occupational Disaster Prevention
ECOVE has always been very focused on occupational safety and health, and we actively invest related resources in providing a safer work environment for employees. All employees are deeply aware that safety is related to their personal well-being, and are dedicated to carrying out and seeing zero-disaster as the priority in our processes. By promoting various plans and systems and upholding the core value of being "people-oriented," we invest manpower and resources toward maintaining the safety and health of employees at work. We build a safe and healthy work environment and have set sustainable management as a vision in building an environment with zero-disaster.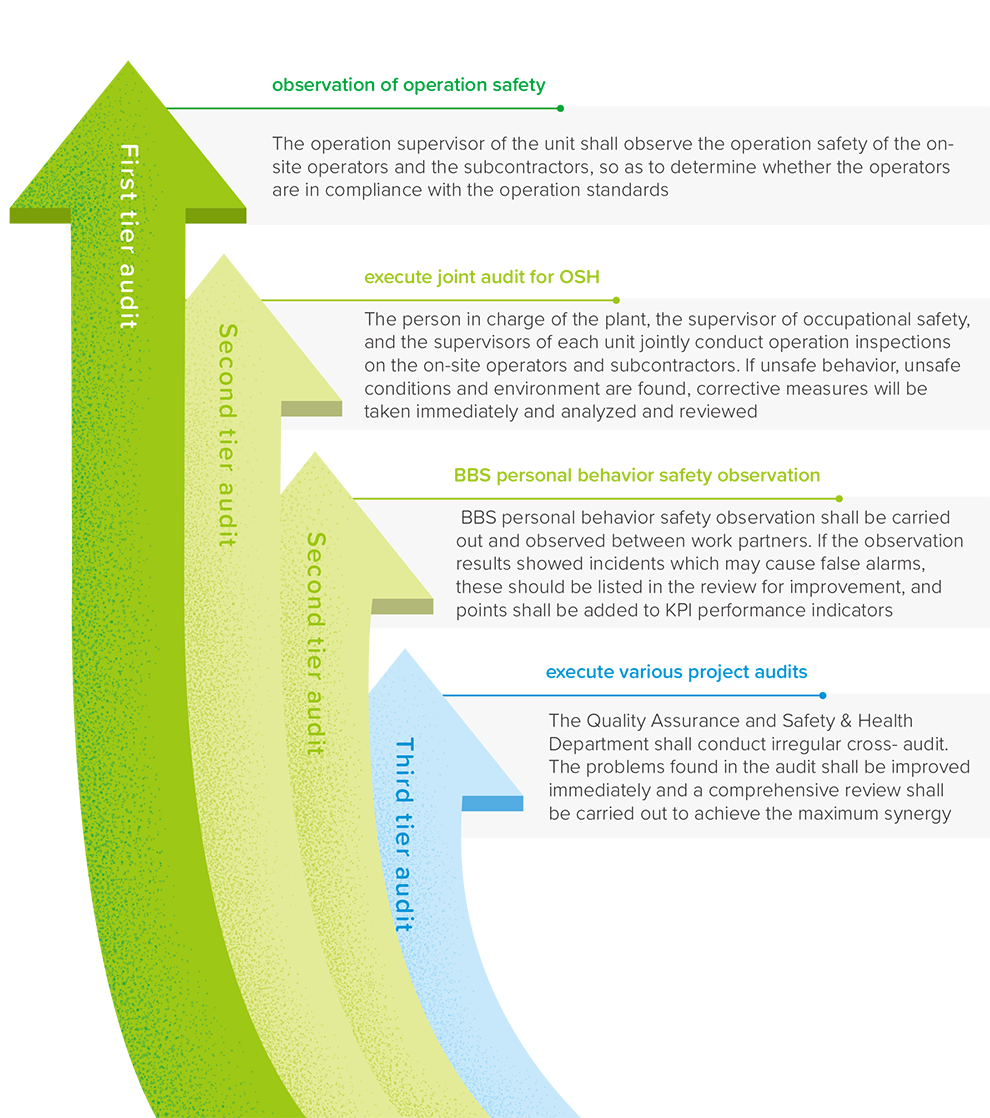 ▼ Work-related Injuries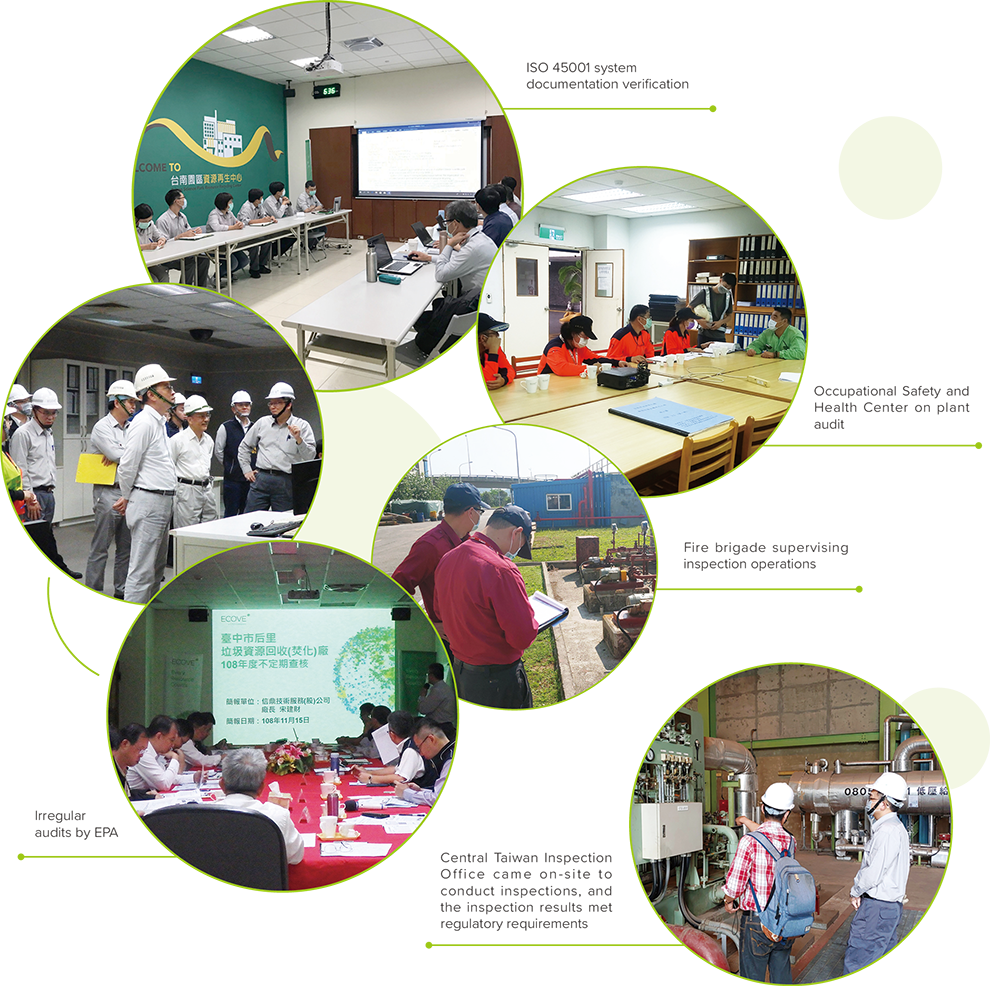 Obtaining ISO9001 Certification
In keeping true with the safety and health first mission, ECOVE has established risk management, legal compliance, communications training, and continuous improvement policies. ECOVE ESC and all of the eight energy-from-waste plants have received OHSAS 18001 and TOSHMS certificates in as early as 2009, and in response to policy from the Ministry of Labor in 2011, we have transitioned TOSHMS certification to CNS 15506; moreover, our eight operational sites also obtained the ISO 45001 certificates in 2018. All operational sites are 100% included in the verification process for the certification, along with all employees, contractors, outsourced vendors, and in essence, all workers throughout the workplace. In 2019, all of our operational sites, including the head office, obtained ISO 45001 certificates.
Occupational Health Management
In consideration of employees' work environment and conditions, ECOVE has planned comprehensive health management system and provides health checkup and specialized health checkup for every new employee. This is better than the minimum legal requirements and our gesture to care for employees. Currently, a general health checkup is conducted every 2 years, and specialized health checkup once every year. In addition, work environment detection is carried out regularly based on employees' work conditions and possible hazard exposures. To carry out environmental and employee health management, employees with possible hazard exposures, such as airborne dust, will undergo specialized health checkup. Currently, health checkups are carried out with positive effects, and no related occupational diseases have been found during specialized health checkups.
In 2019, 34 sessions of educational training (occupational health service and health promotions) were organized, in which nurses, occupational medicine doctors, and firefighters were invited to conduct risk evaluation and guidance at ECOVE plants; a series of seminars were also held to alleviate employees' work-related stress and to increase the health awareness levels for all ECOVE staff .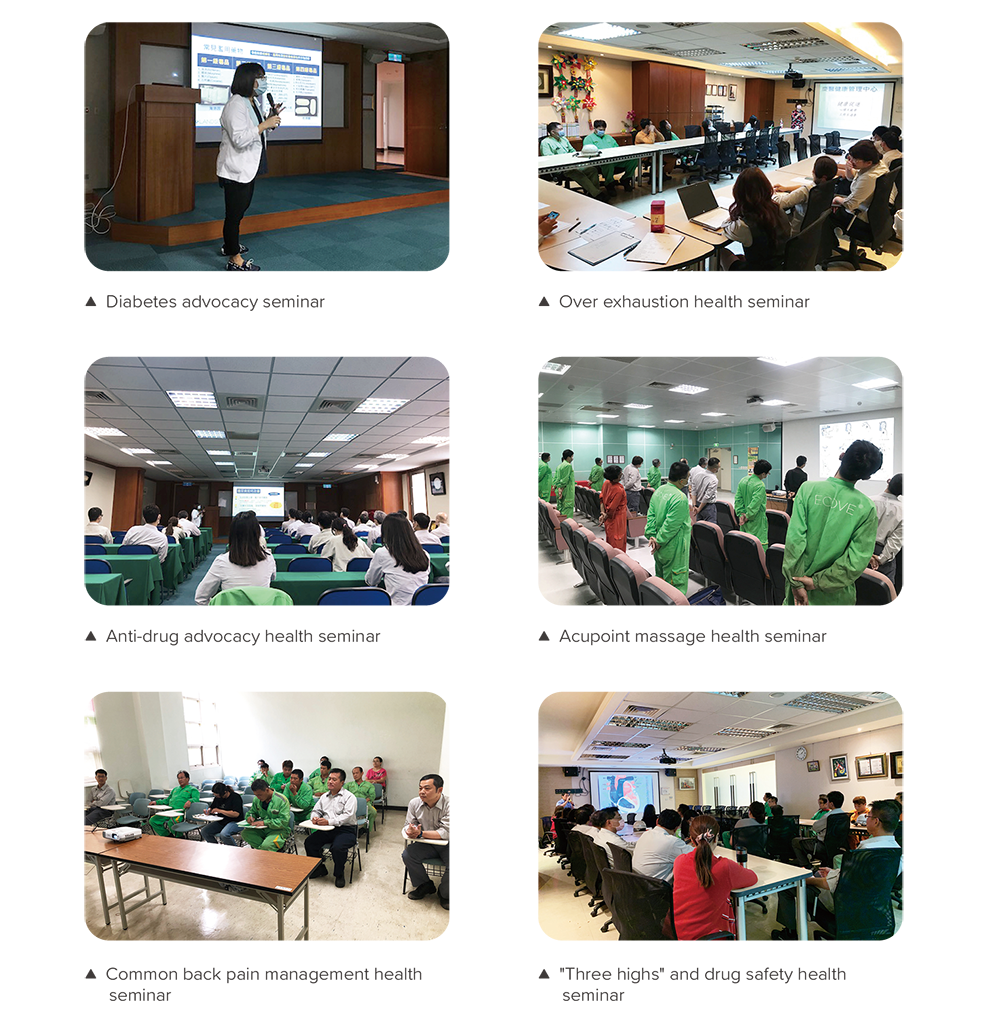 Dioxin Tracking Test for 16 Consecutive Years
Employees are ECOVE's biggest assets. The Company not only creates a safe work environment, but also safeguards employees' health. Since 2008, it has delegated the Research Center of Environmental Trace Toxic Substances of National Cheng Kung University, to base on job nature, exposed environment and job tenure, carry out analysis and select more representative employees for dioxin testing and tracing. Blood test and tracing are carried out every four years, and it has since conducted three tests (the fourth test is scheduled in 2020). Cross comparison is also carried out based on the evaluation questionnaire on employees' health, diet and occupational exposure. The results showed that the blood dioxin concentration of the employees tested was roughly the same as that of the general public and that recommended by the World Health Organization. This is because EfW plants operated and managed by ECOVE have complete and effective air pollution prevention measures. In addition, the Company has improved the implementation of employees' health and safety education, including providing appropriate personal protective equipment. The relevant results have been published in the academic journal. It is not only the first in Taiwan, but also one of the best in the world.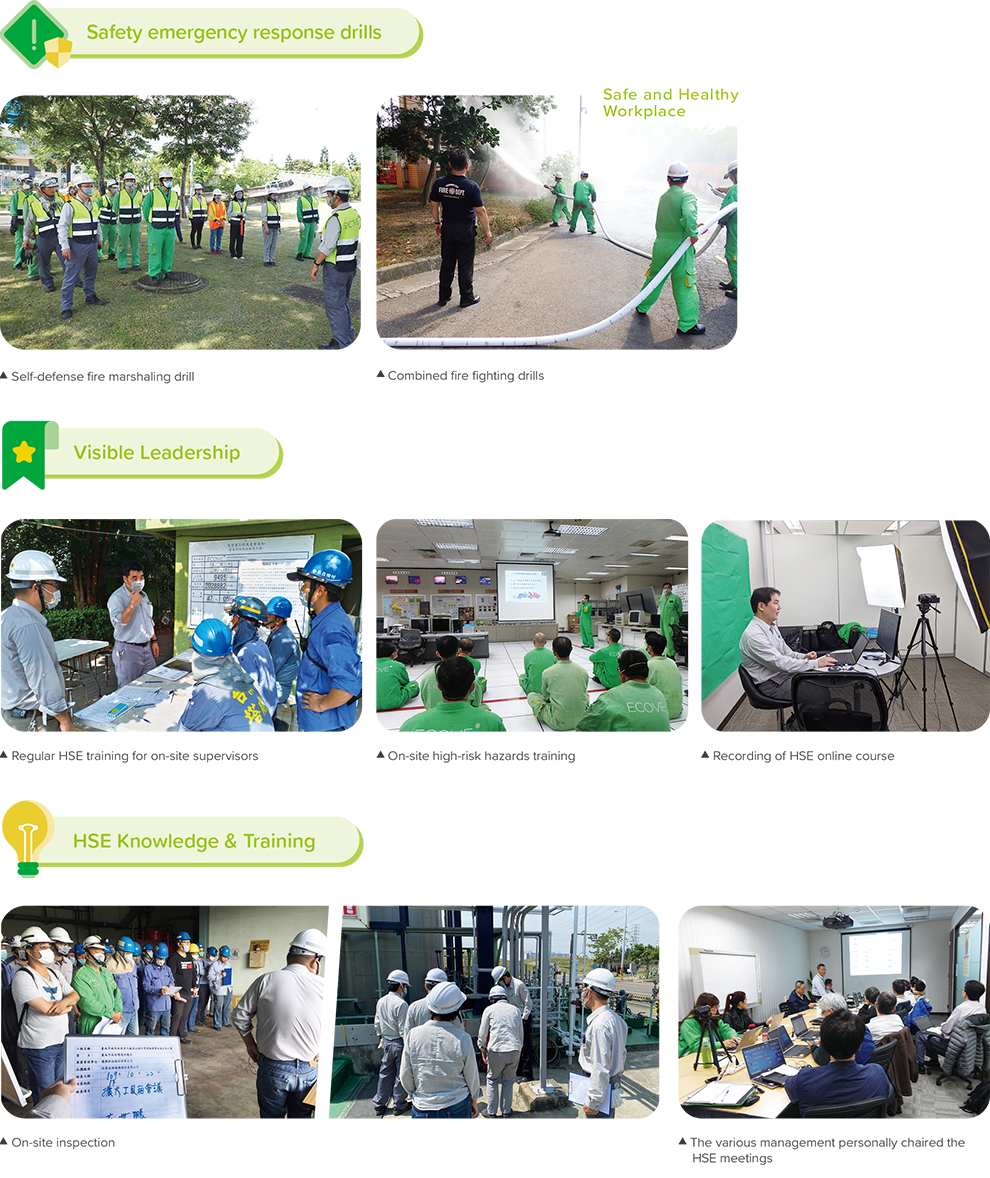 CSR Moment
CTCI has been initiating Safety Moment activities since 2017. Safety Moment needs to be carried out at the beginning of every meeting of five persons or above. Different from traditional classroom lectures or a top-down advocacy, Safety Moment allows every employee to share their experiences. We aspire that by sharing about safety awareness and reflecting upon recent work- related incidents or the news, the speaker and reader could remember about safety more clearly as well as to interact with everyone and to mutually remind each other of the importance of each aspect of safety, health, or environmental protection.
To improve the efficiency and coverage of Safety Moment activities, Safety Moment was changed to CSR (Corporate Social Responsibility) Moment in 2019, with the scope extending to contractors and stakeholders, incorporating CSR into ECOVE's corporate culture.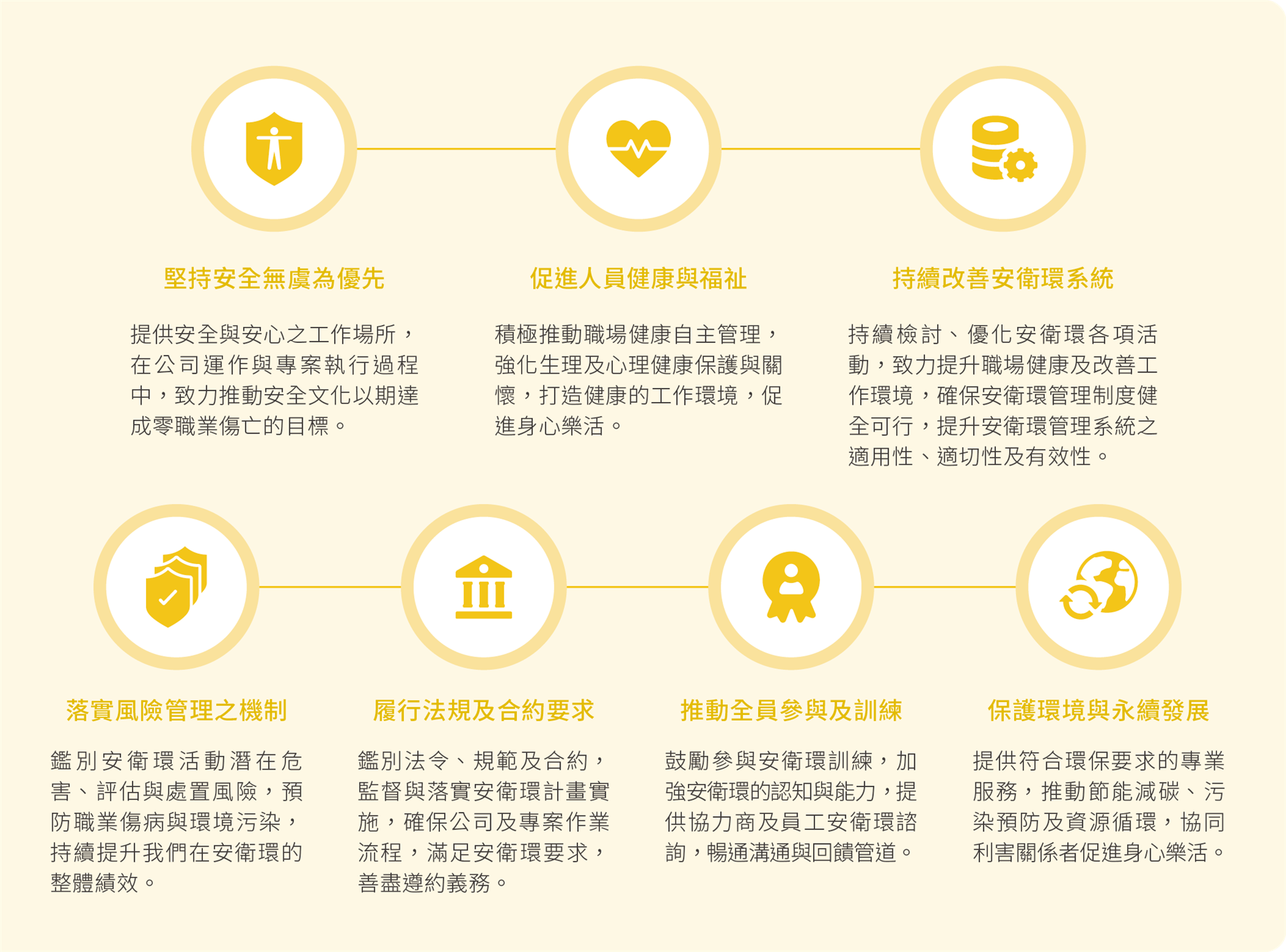 Third-party Vendor Forum Evaluation and HSE Slogan Contest
As one of the HSE activities, the third-party forum evaluation evaluates the health, safety, and environment of contractors on-site and selects those with outstanding safety performance as models for public commendation. We also invite contractors with outstanding safety performance to share their experience in HSE management so that all contractors can learn from each other and improve their HSE management practices. To incorporate safety into our corporate culture, we also organize the HSE slogan contest to vote for the best safety slogans proposed by employees.

Occupational Safety and Health Management and Future Outlook
Besides setting work standards to various processes and providing personnel training, ECOVE also confirms the feasibility of work standards through inspections of material activities to fulfill the objective of safe processes. In addition, to prevent the occurrence of any occupational disaster, the annual safety and health promotional objective from the Ministry of Labor is introduced to annual HSE activities, on top of reviewing all false alarms or work-related incidents. The themes for the Work Safety Week organized for the past five years have also focused on promoting a well-rounded culture of safety, including "the road to safety" and "the appropriateness of the system." Furthermore, pointing and calling has been introduced to our sites and first began at processes with higher risk and frequency. By confirming each key process, we can reduce employees' hazard exposure and promote safety and health at each turn.