Talent Caring
ECOVE continuously invests resources in building a happy, safe, and friendly workplace and providing a balanced work environment where employees can work at ease. On top of offering fair and competitive pay and benefits, ECOVE provides care and training for employees, allowing employees to grow with ECOVE toward sustainable development.
▼ Employee Numbers and Genders

▼ Number of Employees and Age Distribution

▼ Gender Distribution for Managerial and Non-managerial Roles in 2019

Promotion and Compensation
Tying compensation with performance, ECOVE conducts both internal and external reviews in setting compensation. Besides providing higher salaries than the local minimum wages, we also strive for internal, external, and individual fairness. The Company conducts an annual performance evaluation for all employees on a regular basis. Standards for salary adjustments and bonus payment do not differ based on the type of employment, gender, or age. In terms of career development, the Company provides employees access to learning opportunities for cross-departmental functions and development and always inquires employees on their willingness before internal rotation is conducted. In case that employees transfer due to business needs or are willing to be transferred, we and employees will spend time together to negotiate and discuss so that sufficient preparations and adjustments for business arrangements and employee preparations can both be achieved. In case of significant operational changes, we will notify the employees in advance within the time limit prescribed by law. All of the above efforts are made in pursuit of putting the right persons in the right places.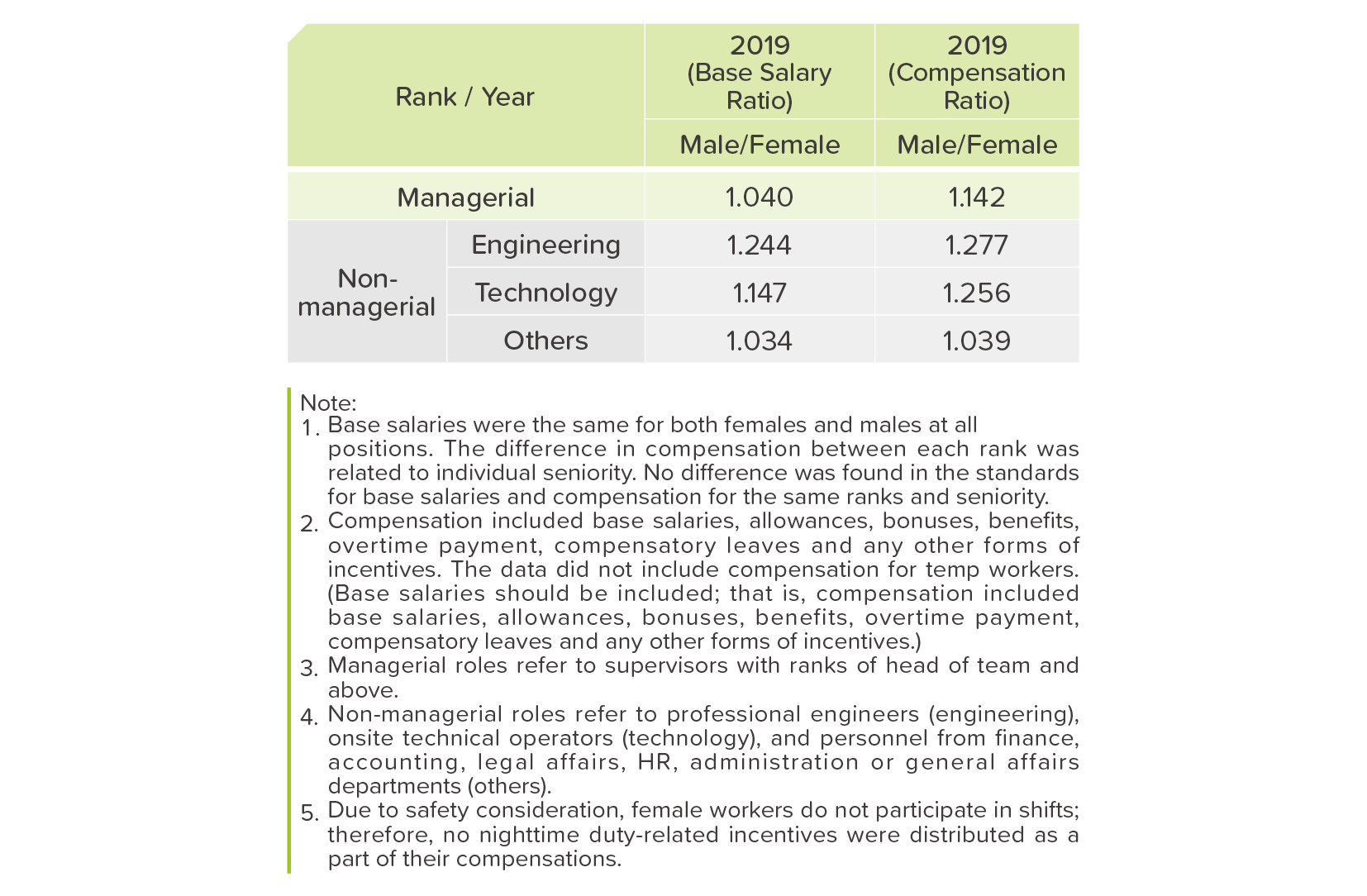 Human Rights Protection and Benefits
ECOVE has clearly established in the Employee Code of Conduct that no form of discrimination shall be made based on factors, including gender, race, religions, political inclinations, sexual preferences, occupational ranks, nationalities, and age. In addition, all employees shall collectively maintain a healthy and safe work environment, and no form of sexual harassment or acts of violence or threat will be tolerated. In 2019, we recruited 10 physically or mentally disabled employees more than the statutory requirements.

A ""Sexual Harassment Grievance Handling Committee"" has been set up at ECOVE to be in charge of handling related incidents. The aforesaid committee comprises of three members, and the head of the Group Shared Services (GSS) serves as its convener. Other members are selected from among employees by the head of each department in consultation with the Executive Vice President of the GSS. The ratio of female committee members shall not be less than one-half. The committee strictly adheres to confidentiality and non-disclosure policy. In addition, results of investigation must be submitted three months after a complaint is filed. Designated channels for handling relevant complaints include a complaint hotline (02)2162-1688 #56112 and a mailbox: HR@ecove.com.

ECOVE is dedicated to protecting the employees' freedom of association, and in addition, no child labor is used. We provide a fair work environment and unimpeded channels of communication through the missions of taking care of employees and sharing our profits. No sexual harassment complaints or illegal discriminatory incidents occurred in 2019.
Communication Channels
To fully communicate with employees, an ""Employee Opinion Platform,"" which contains channels for employees to speak their minds, has been established at ECOVE. Five types of channels exist on the platform: facility management, employee mailbox, proposal for improvement, sexual harassment complaint, and whistleblowing on violations against the Ethical Code of Conduct. All complaints are handled in confidentiality to protect the rights and interest of the whistleblowers. Furthermore, ECOVE has also nominated employer and employee representatives

according to regulations. Representatives for each side account for 50% of the committee, and in order to promote communications and harmony between the Company and the employees, labor relations meetings are organized in each quarter to discuss matters on labor conditions, benefits, and productivity. To solve problems on a timely and practical manner, senior managers of the Company also directly meet with employees from each department face-to-face on a regular basis each year. In addition, employees can also express their opinions through the internal complaint mailbox (HR@ecove.com) on a day-to-day basis. With unimpeded communications between both sides of the labor-management relations, no violation of the Labor Standards Act due to labor disputes and resulting in penalties occurred in 2019.

ECOVE makes good use of intelligence in management by launching a mobile phone application (myCTCI) group-wide to facilitate instant communication without time and distance limitation. myCTCI is a combination of personnel, training, and instant announcement systems. With myCTCI, employees at home and abroad can receive the latest information online to enjoy real-time communication. Amid the COVID-19 pandemic, ECOVE pays more attention to the health of employees and their families. With myCTCI, employees can receive the latest epidemic information or e-mails online and take leave or attend training courses without clocking in personally, greatly reducing the risk of mutual infection.
Employee Caring
Caring for employees and providing a workplace with balanced life and work are important parts of a business's robust growth. ECOVE continues to invest resources and never lags behind in terms of employee caring. In turn, our employees are passionate and committed to their work, thereby motivating the entire business toward continuous growth. ECOVE gives out bonuses for holidays, birthday bonus, childbirth funds, and also consolation funds for hospitalization, critical illnesses, and deaths. For employees on overseas assignments, besides providing information on local living environments, the Company also provides four round-trip tickets and holidays for them to visit their families in Taiwan. Employees on overseas assignments can also receive expat bonuses in acknowledgement of their hard work. Pursuant to relevant laws including the Act of Gender Equality in Employment, ECOVE has stipulated the regulations governing "unpaid parental leave." Two employees applied for unpaid parental leave in 2019, indicating that ECOVE has provided a workplace with balanced work and life and properly cared for employees.
▼ Employee Satisfaction Survey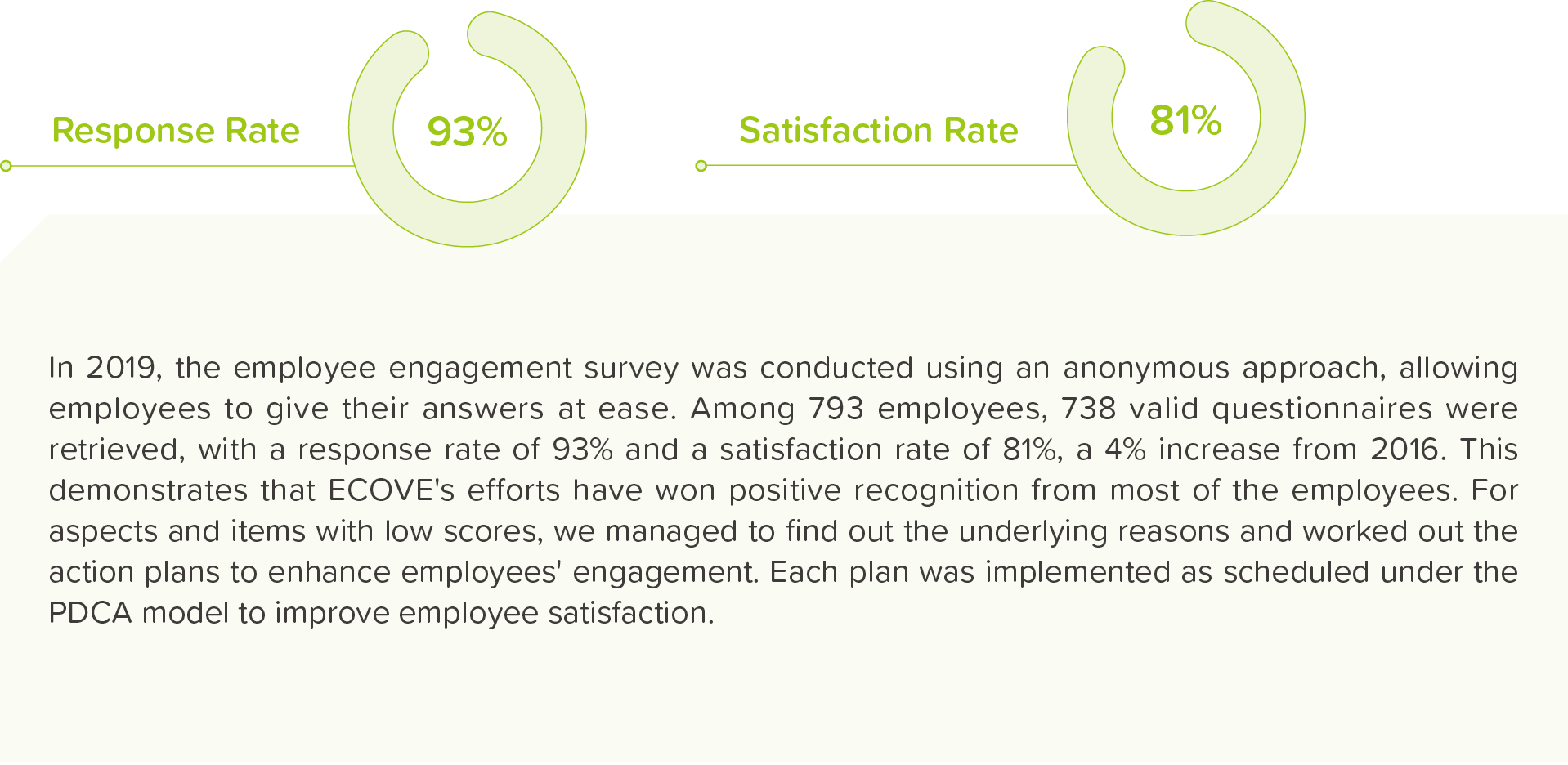 Retirement and Benefits
ECOVE has established the ""Labor Pension Reserve Supervisory Committee"" according with laws and regulations, and set up a designated account in a financial institution appointed by the government. After actuarial accounting, the pension funds under the older scheme comply with government laws and the full amount has been appropriated accordingly. The appropriation rate of the new scheme is 6%, in which 6% of the workers' salaries will be appropriated to the individual pension account at the Ministry of Labor. This is applicable for all employees who meet the criteria for the new scheme.

To attract and retain talent, as well as to inspire employees and to enhance cohesion, the Company has established the Employee Stock Ownership Trust Charter, stipulating that employees can voluntarily appropriate 5%~15% from their monthly salaries to subscribe to stock options, and the Company will give back 50% of the voluntary appropriations as reward for subscription. Employees are encouraged to hold the parent company's stock for a long time, so as to share the business results with the Company.

ECOVE reviews the health checkup items offered by contractual hospitals every other year and provides free health checkup for employees. We continue to care for employees and promote health management. In addition to the fundamental labor insurance and National Health Insurance, group insurance, health checkup and employee stock ownership trust, the Company will file for insurance and the full amount of life and accidental insurance on the first day of job for all employees. Employees and their families are also offered the alternative and allowances for other insurance items. This helps employees to perceive the additional protection that the Company offers to their family income.

Moreover, ECOVE has also set up an Employee Welfare Committee (EWC). In addition to the President being a member de facto, the other 13 committee members are elected by the employees. The committee organizes employee travel within Taiwan, on top of birthday gifts, holiday gifts, and various incentives and allowances so that employees can rest assured and be more committed to their work. Following ECOVE's employee-centric spirit, the EWC puts the employees' health first and also takes care of employees' family members. By organizing the Family Day featuring environmental,knowledgeable, and cultural activities, we invite employees and their family members to travel to escape from work temporarily and have a great time together.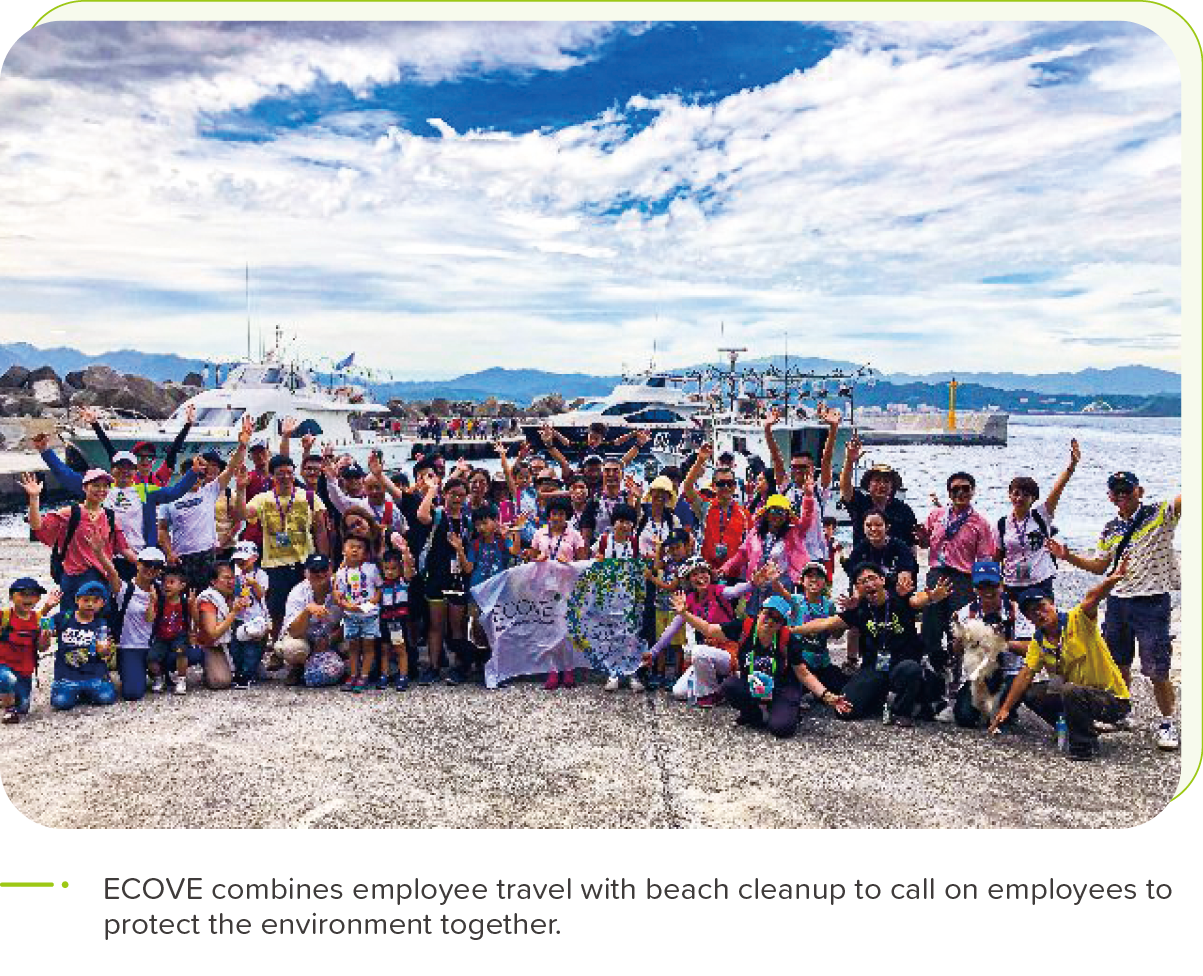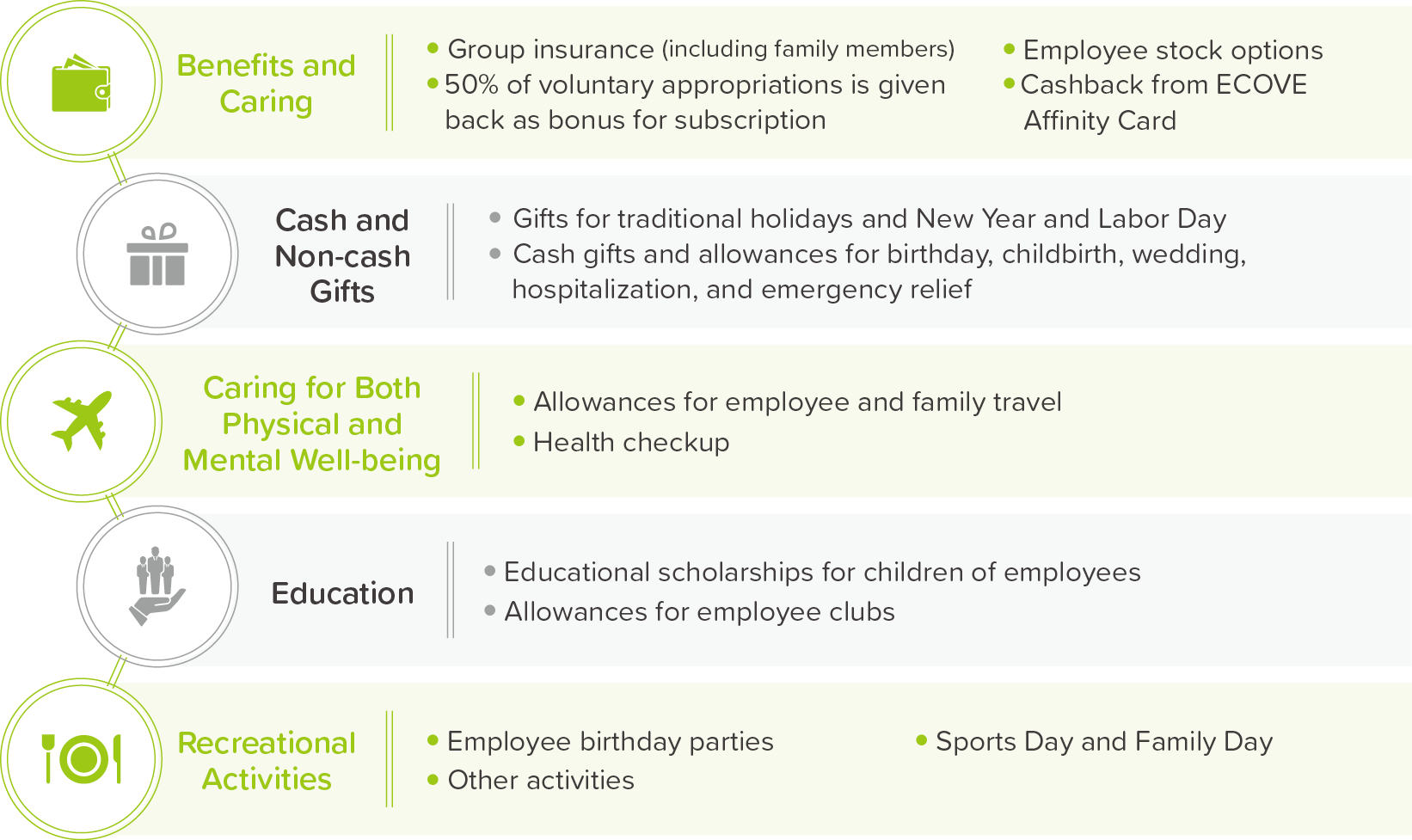 Talent Development
In response to the unique nature and professionalism required of our business, ECOVE has established the "Employee Continuing Studies Management Procedures" to train and foster professional competencies in employees. These procedures are used for planning and executing annual employee training programs and subsequent performance review. In addition, to enhance competitiveness and global perspective, the Company provides online English channel for all employees to strengthen their language competencies.

Total employee training hours amounted to 17,667 hours in 2019 and included professional skills training such as incinerator Operations and Management and maintenance, safety and health training, self-guided health courses, and general and management training. Total annual training expense was approximately NT$2.74 million.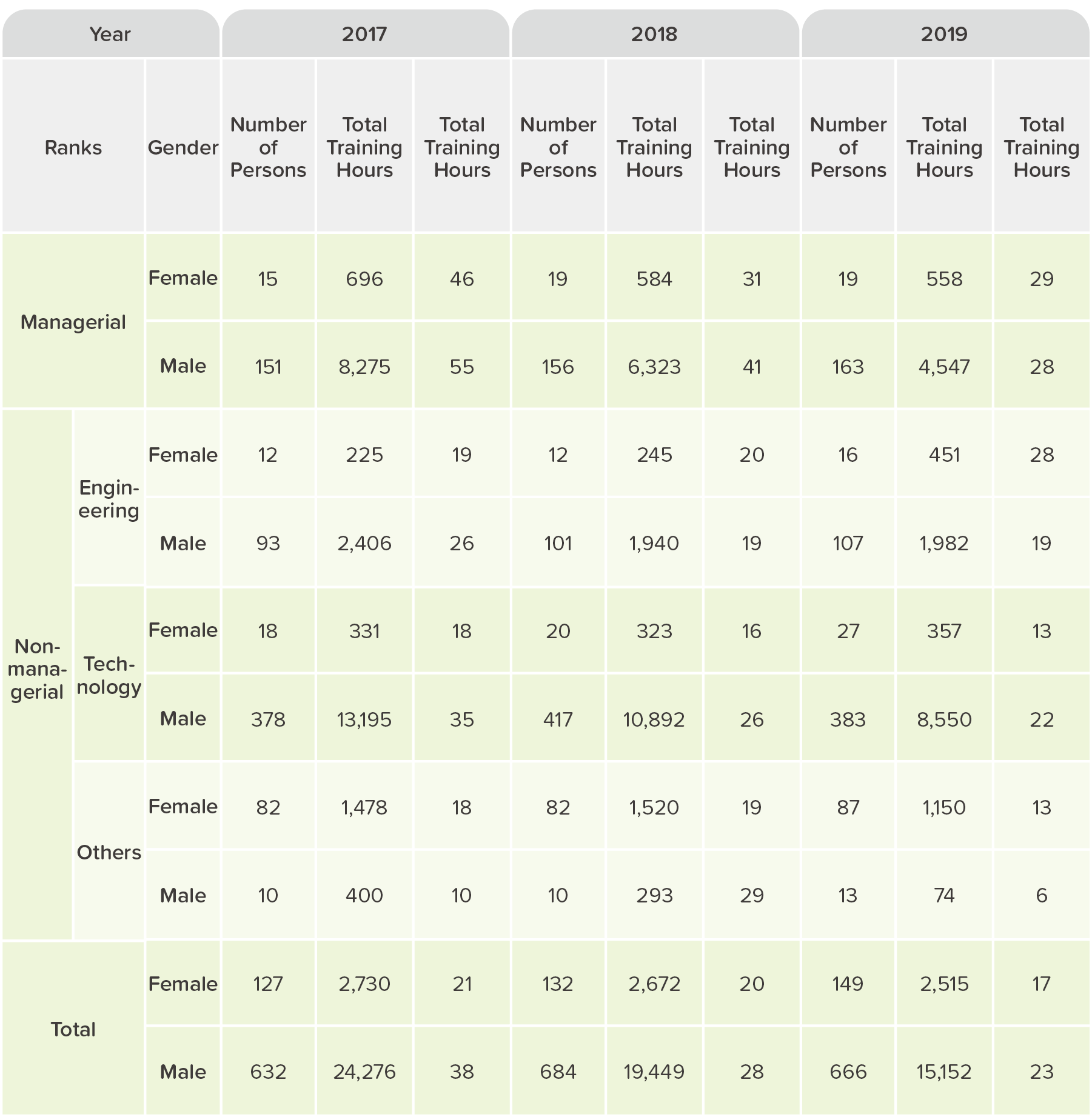 Talent Cultivation
ECOVE actively invests resources in talent cultivation, hoping to attract like-minded professionals. We make overall planning on comprehensive education and training, train new talents, and provide professional training for different categories. In addition to tailoring every employee's individual development plan (IDP), we continue to invest resources in the management ability development, the mentor system, and online learning course so that our employees continue to learn and grow and agree with ECOVE's corporate culture and heritage even more.

Through establishing individual development plans for those primed to assume key positions, employees can establish ways for development through training, experience, honing in on their strengths, and singling out needed skills by communicating with workplace mentors and based on their own advantages and disadvantages. This will enhance our overall employee competitiveness and a win-win result for thedevelopment of our employees and the Company. The Company's key positions, high-potential talent, and young potential talent are all identified according to future development needs. We list employees' capabilities first, and then consider their past performance in the stage of screening.

The first stage is to conduct 360-degree and leadership potential evaluation to understand the candidate's strengths and weaknesses in order to train and provide the mentoring and coaching program. With the help of external consultants, the tailor-made development projects include elite career planning and development by his/her highest supervisor.

In 2019, to improve the relatively weak items of the 360-degree evaluation report - strategy and innovation ability, we held intensive courses with the goal of internalizing management tools with Harvard case study and situational training, and supplemented by reading clubs to strengthen management knowledge and learning.