Integrity Management
ECOVE is committed to improving the efficiency of resource recovery and reuse, so that the precious resources on this planet can be reused and create value, thereby enhancing the value and utilization of resources. We will continuously strengthen our three major core areas (waste management and energy-from-waste, recycling, and renewable energy) to build a business model on circular economy. This will push us forward to becoming the most reliable provider of industry-leading 'resource cycling' services and making corporate sustainability a reality.
Corporate Governance
ECOVE sees ethical business management as the basic principle of corporate governance, and it is our objective on top of focusing on robust organizational growth and satisfying investors and various stakeholders. In addition to focusing on resource cycling in our investment strategies, ECOVE places even higher emphasis on the execution of sustainable business development. Founded on a transparent, professional, and healthy corporate governance principle, we have scored among top 5% in the Corporate Governance Evaluation from the FSC for six consecutive years and was also named top 10% among the listed companies on the TPEx for "non-financial and non- electronics companies with net worth over NT$10 billion" for a second year in 2019, securing our place as a responsible corporate citizen as well as the benchmark for business information disclosure and ethical business management.
▼ Areas Covered by Governance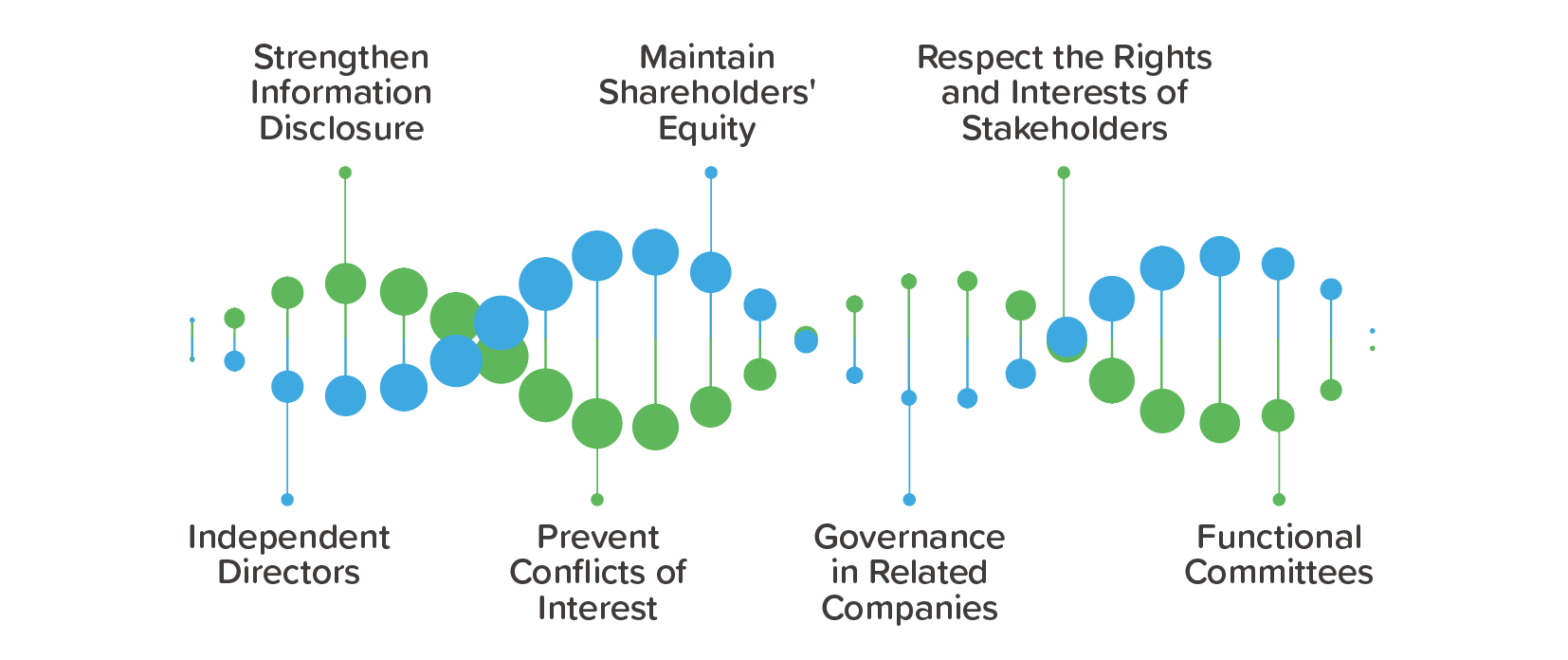 Composition, Functionality, and Performance of the Board of Directors
The Board of Directors is ECOVE's highest level of decision-making unit. Each term of the Board will serve for three years and election of directors adopts a nomination system. Directors can be reappointed if they are re-elected. The Board is formed by election of nine directors (including three independent directors) and is responsible for drafting the Company's business objectives and important strategies. The Board of Directors operates in accordance with the Rules Governing Procedure for Board of Directors' Meetings and convenes at least one meeting each quarter. The Board meetings abide by the interest recusal system, where in case a director's personal interest is involved in a proposal, the director should automatically seek for recusal and should be prohibited from exercising voting rights on behalf of other directors. Currently, all members of the Board of Directors are males over the age of 50. In 2019,the average attendance rate of all Board members was 92%.

Members of the Company's Board of Directors have the professional knowledge, experiences, and characters to perform their duties, and include personnel from financial sector, attorney and related fields as well as from the business sector. They have in-depth international perspective, decision-making, leadership, and crisis management skills to respond to changes from various economic, environmental, and social aspects. The directors undertake continuing studies pursuant to ""Directions for the Implementation of Continuing Education for Directors and Supervisors of TWSE Listed and TPEx Listed Companies"" to continuously enhance the Board's understanding for emerging issues as well as to continuously enhance the effectiveness of governance. In 2019, all directors completed the required continuing education pursuant to the ""Directions for the Implementation of Continuing Education for Directors and Supervisors of TWSE Listed and TPEx Listed Companies."" Each director participated in at least six hours of such training.

To implement corporate governance and enhance the functionality of the Board of Directors, as well as to build performance objectives and reinforce the operating efficiency of the Board, ECOVE amended the Regulations Governing the Board Performance Evaluation at the 13th meeting of the 7th-term Board of Directors in May 2019, stipulating that the evaluation of the Board performance shall be conducted by external, professional independent institutions or external experts and scholars at least once every three years and that the results of internal and external Board evaluations shall be reported by the end of the first quarter of the following year; in addition, the scope of evaluations has expanded to cover the Board of Directors as a whole, individual Board members, and functional committees. The methods of evaluation include the self-evaluation of the Board and functional committees (including Remuneration Committee and Audit Committee), self-evaluation of individual Board members, external evaluation conducted by external, professional independent institutions or external experts and scholars, and other appropriate methods. The evaluation results of the Board performance and follow-up improvements should be reported to the Board of Directors and disclosed in the annual reports. The self- evaluations of the Board and functional committees (including Remuneration Committee and Audit Committee) and the self-evaluation of individual Board members were completed in 2019 and reported to the Board of Directors in March 2020.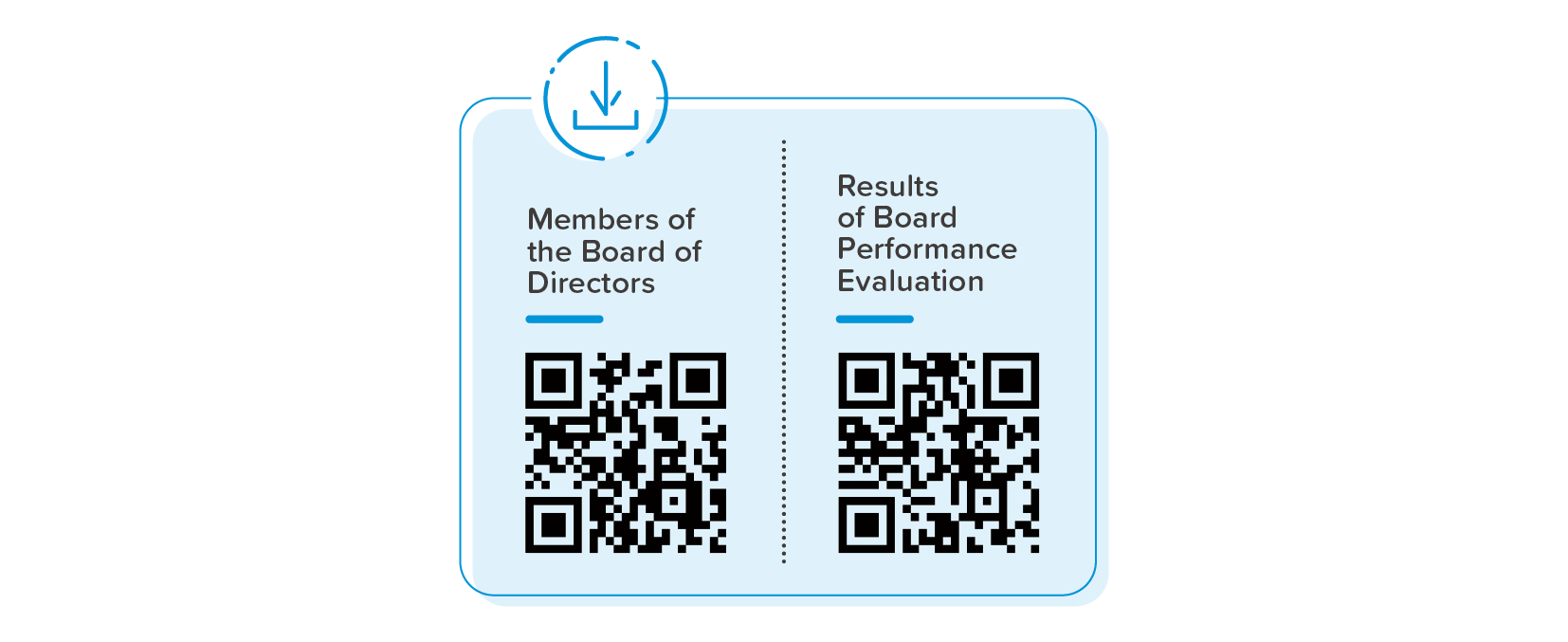 Strengthening Functions of the Board of Directors
To prompt the Board of Directors to fulfill supervision, audit, and management mechanism in practice, ECOVE has established an Audit Committee and Remuneration Committee under the Board of Directors. In addition, an internal audit unit has been set up to comprehensively plan and carry out audit tasks. Besides regularly reporting audit tasks to Independent Directors, they also attend Audit Committee and Board meetings for reporting duties.
Director and Manager Remuneration Structure
ECOVE determines appropriate remunerations paid to directors and managers in accordance with the "Guidelines for the Performance Evaluation and Remuneration of Directors and Managers" approved by the Board of Directors. By referencing the industry standards, ECOVE also considers the Company's business performance and each director/manager's personal performance and contribution to the Company. The Remuneration Committee and the Board of Directors are responsible to review the appropriateness of remunerations paid to directors and managers on a regular basis, and should timely modify the remuneration system based on business Operations and Management and relevant laws and regulations. The remuneration system should not guide directors, the President, and Executive Vice Presidents to engage in business activities beyond the Company's risk appetite, so as to avoid suffering losses after paying remunerations to directors and managers.
Internal Control System
EVOE's internal control system is designed by managers based on the FSC's ""Regulations Governing Establishment of Internal Control Systems by Public Companies"" and executed by the Board of Directors, managers, and employees upon approval of the Board of Directors. The purpose of the internal control system is to promote the healthy management of the Company, and to reasonably ensure the effectiveness and efficiency of Operations and Management, as well as reliability, timeliness, transparency, and legal compliance for information reporting.

ECOVE has an internal audit unit under the Board of Directors and a dedicated chief audit officer in place. The internal audit unit and the chief audit officer mutually assist the Board of Directors and managers to examine and review the defects in the internal control system and operating performance as well as provide recommendations for improvement in a timely manner along with the Audit Committee, so as to ensure that the internal control system can continue to be effectively implemented and as basis for review and improvement.

The Audit Department implements audit Operations and Management in accordance with the annual audit plan approved by the Board of Directors, discloses the missing and abnormal items found in the internal control system in the audit report, traces them after the report is submitted, and compiles tracking reports at least quarterly until the issue is solved to ensure that the relevant units have taken appropriate improvement measures in a timely manner. In addition to the monthly report on the implementation results of the audit plan to the Independent Directors, the audit supervisor also attends the Audit Committee and the Board meetings to submit an audit report to implement the audit results.
Compliance
Based on the ethical business management principle, ECOVE has established separate basic codes of conduct for directors, managers, and employees to ensure that day-to-day Operations and Management all comply with business ethics and integrity. These codes include "Corporate Governance Principles," "Code of Business Conduct for Directors and Managers," "Employee Operations and Management Ethical Code of Conduct," "Ethical Corporate Management Principles," "Guidelines for Ethical Conduct," and "Accusation Management Regulations." At the same time, work rules are also established as basis for compliance during day-to-day activities for all employees of ECOVE. Furthermore, to uphold fair trade and prevent bribery and corruption, ECOVE requires that employees should not give discounts when conducting trading activities with stakeholders, and cannot ask for, make deals with, give, or accept gifts, entertainment, kickbacks, or bribes for him/herself or on behalf of others when carrying out his/her responsibilities.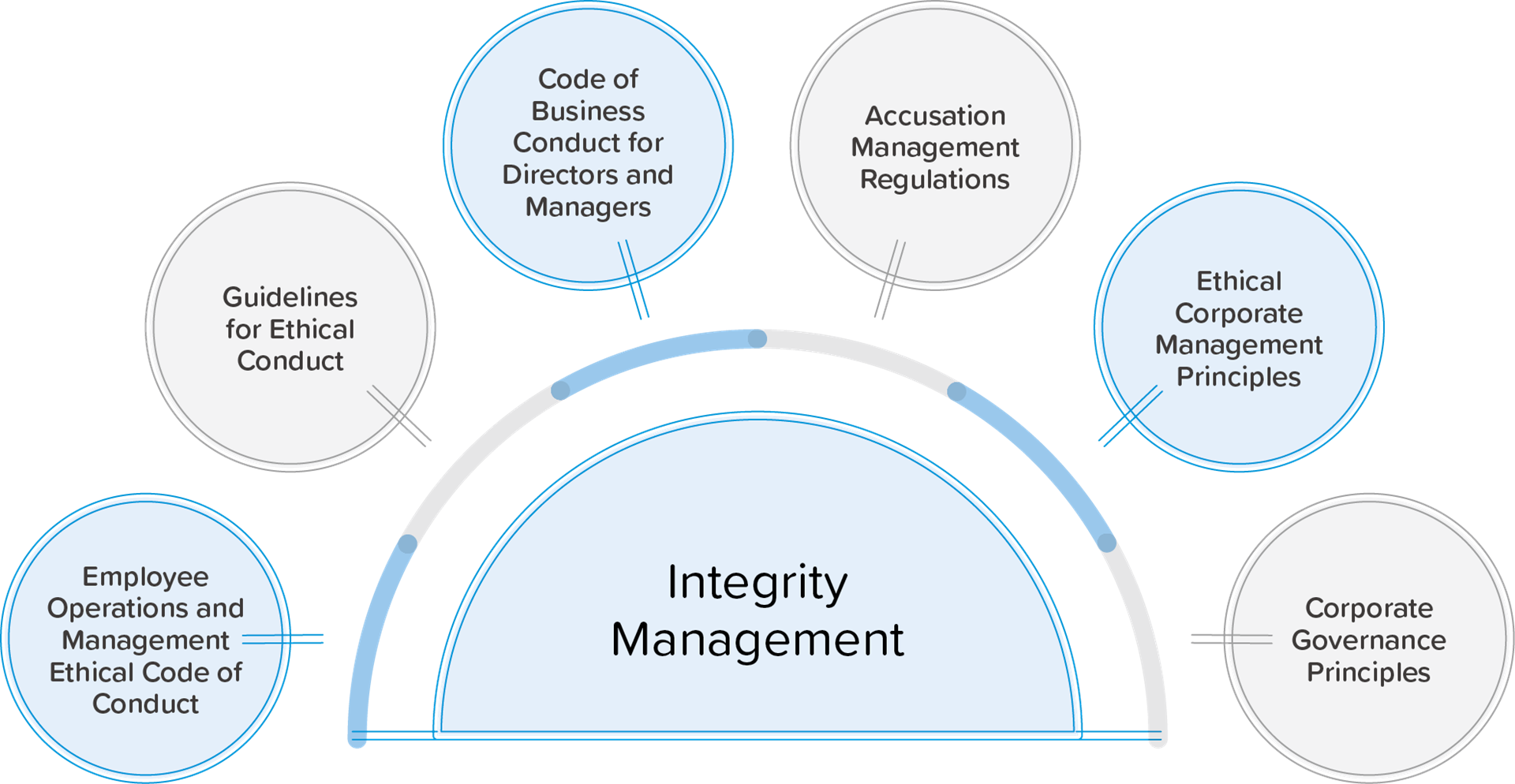 ECOVE is a member of CTCI, which sees ""Most Reliable"" as its brand positioning. To ensure that all employees clearly understand ethical business practices, the ""Guidelines for Ethical Conduct"" were stipulated in 2016 as the basis for compliance for employees' conduct. Moreover, a reporting website has been established on the Employee Opinion Platform. The website is established by third-party, independent Deloitte Taiwan to ensure that incidents reported are properly investigated and dealt with. In case anyone within the Group has found any internal inappropriate conduct to be causing or has caused negative effects to the Group or infringed the rights of all employees, the incident can be reported on the aforesaid platform.

ECOVE and major subsidiaries have organized internal and external educational training related to ethical business management for all employees. Such training includes promotional activities for communications with employees and corporate culture workshop, as well as online courses for employee ethical conduct. When assuming office, each employee of ECOVE is required to take training on the ""Guidelines for Ethical Conduct."" 100% of the Board members have also taken courses on ethical business management to strengthen the awareness of ethical business management at the governance level.

Furthermore, to protect the rights and interests of stakeholders, ECOVE also requests all employees from related companies to sign ""Declaration of Confidentiality Agreement, Prohibition on Participation in Competitive Business and Protection of Intellectual Property."" ECOVE pursues sustainable business management and protects the rights and interests of the Company, on top of seeing ""integrity"" as a part of the Company's corporate culture. We actively promote ethical management policy, and no corruption or bribery incident occurred in 2019. Our conscientious business image has received widespread recognition from our partners.
Information Disclosure
ECOVE emphasizes transparent information disclosure and provides symmetrical information for investors and stakeholders, fulfilling integrity and transparency in corporate governance. Various channels have been set up to provide relevant information for diverse stakeholders.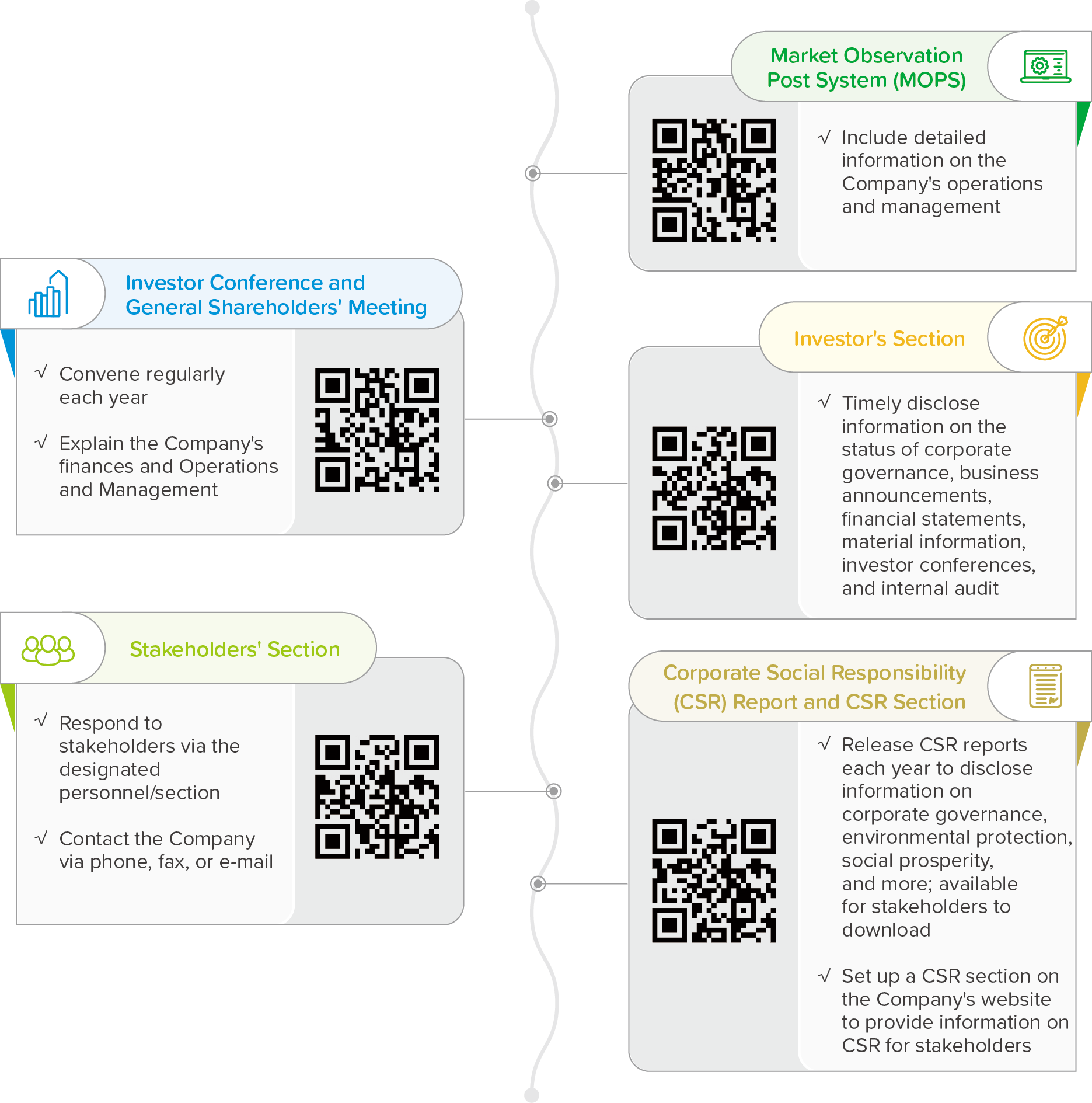 Risk Management
To strengthen the operational system and competitiveness of the Company and subsidiaries, so as to systematically identify and evaluate possible risks during Operations and Management, the ""Risk Control Guidelines"" were published in 2017, and the Risk Management Executive Committee has been established. The Risk Management Executive Committee comprises ECOVE's department supervisors and Chairmen, Presidents, and senior managers from subsidiary companies. The Executive Secretary is an executive appointed by the Chairman to be in charge of coordinating meetings and compiling and following up related information, so as to ensure the continued effectiveness of the risk management mechanism.

The Risk Management Executive Committee controls various operating risks. At the same time, the Risk Management Committee was established based on the Risk Control Guidelines. Meetings are held regularly each year, and risk topics are prioritized and ranked after discussion from the Risk Management Committee, and control measures will be proposed. ECOVE will continue to stay current on the implementation of control measures by reviewing audit to help the Board of Directors and managers ensure that risks are effectively controlled.

As an investment holdings company, ECOVE maintains control on various aspects of subsidiaries and requires subsidiaries to submit monthly Operations and Management reports, so as to review and analyze management strategies and risk management. The results of such reviews and analysis are compiled into treatment principles or recommendations for amendments, and will be approved by responsible managers and the Chairman before being carried out by subsidiaries. In addition, the Company conducts supervision tasks over subsidiaries that the Company invests in. Risk management is undertaken for the subsidiaries based on the nature of their respective industries to maintain appropriate risk separation and to maintain balanced and stable Operations and Management.
▼ Organizational Chart of the Risk Management Committee
▼ Scope of Risk Consideration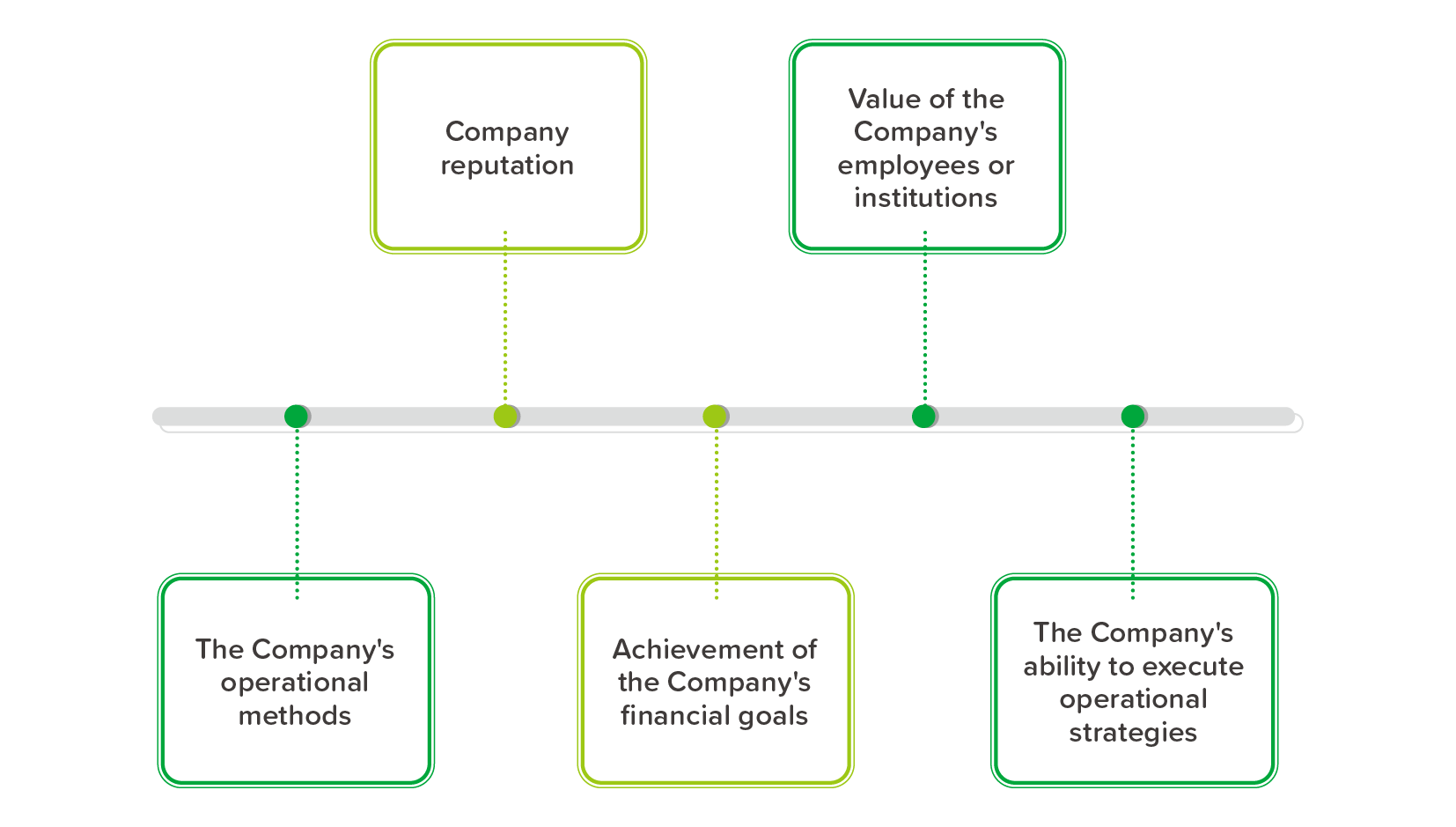 Information Security
Insisting on protecting customers' intellectual assets, ECOVE strengthens the reliability and quality of project execution to enhance customer trust. Through a sound information security management system, regular security risk assessments, and information security management mechanisms, we take the initiative in identifying and reducing information security risks in compliance with owners' requirements or legal requirements such as the Trade Secrets Act, Personal Data Protection Act, and Cyber Security Management Act, so as to improve the quality of information security management in all aspects.
● Information Security Management System
Referencing the spirit of ISO/IEC 27001, ECOVE established the ""Information Security Management Principles"" in 2012 in readiness for all kinds of cybersecurity threats. These principles specify the information security management system that is established to ensure the confidentiality, completeness, and availability of information controlled by the Company, further protecting the rights and interests of the Company and all employees. In 2012, the Company adjusted the offsite backup operations based on independent directors' suggestion that ""the primary engine room should be more than 30 kilometers away from the offsite engine room per National Information & Communication Security Taskforce's instructions in 2003."" In response to the Personal Data Protection Act, relevant measures and monitoring management mechanisms were added in 2013.

We understand that it is important to continuously implement the P-D-C-A (plan-do-check- act) cycle to strengthen the control over information security risks. By implementing, regularly reviewing, and constantly improving information security management, ECOVE is able to secure the sustainable business operations and development across the group. This is also crucial to the future of ECOVE's IT implementation.
Management Performance and Industry Outlook
Management Performance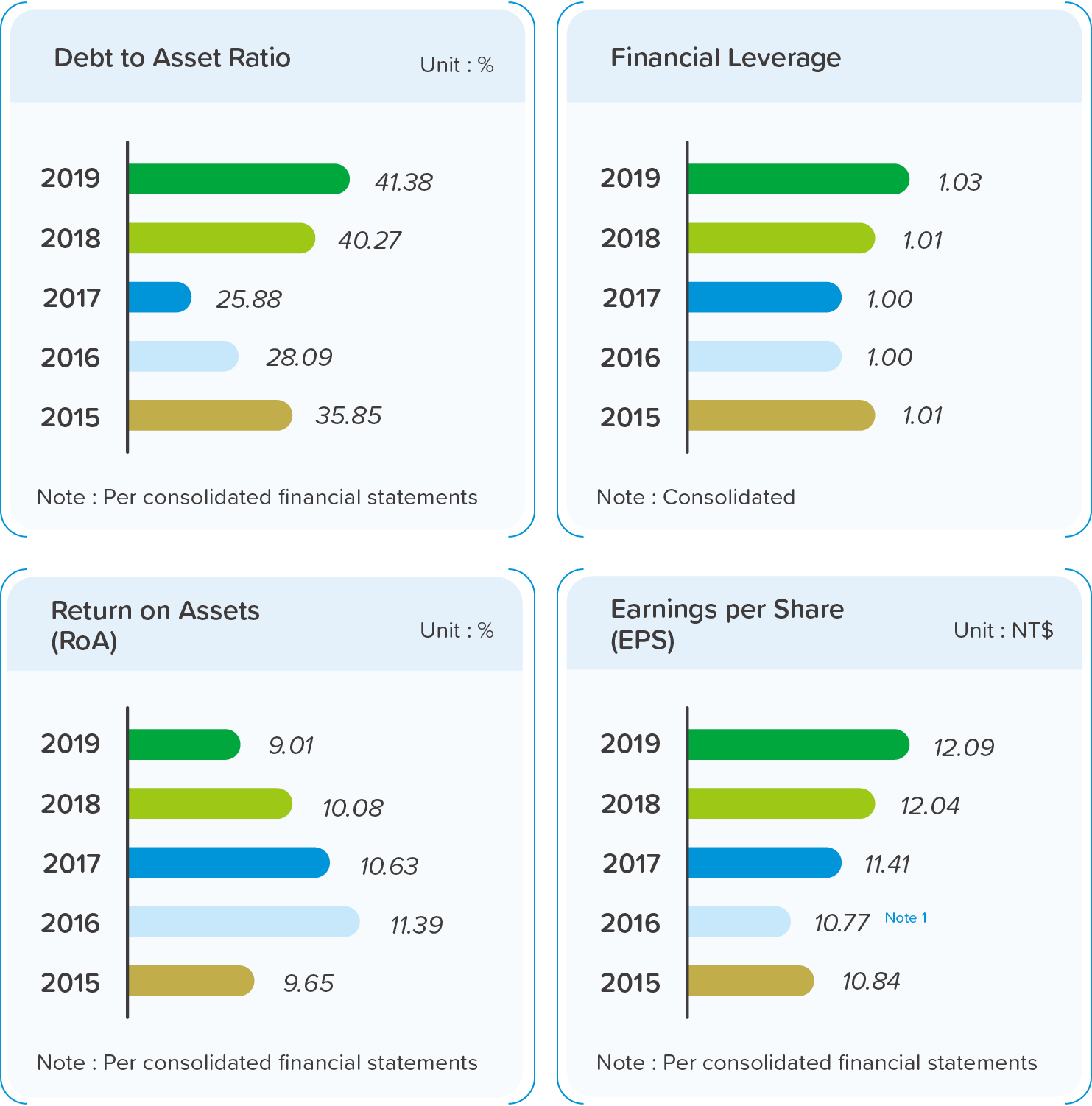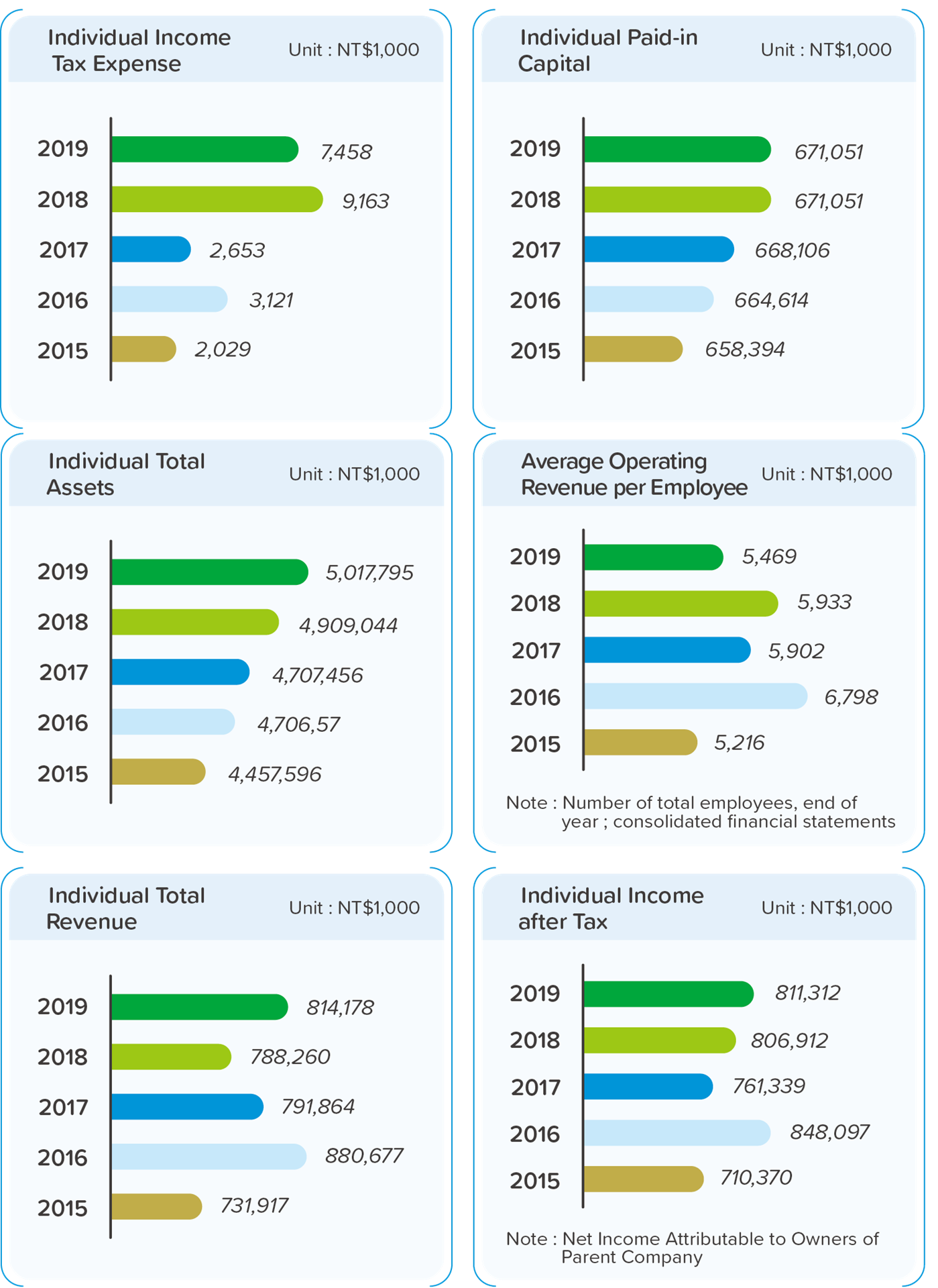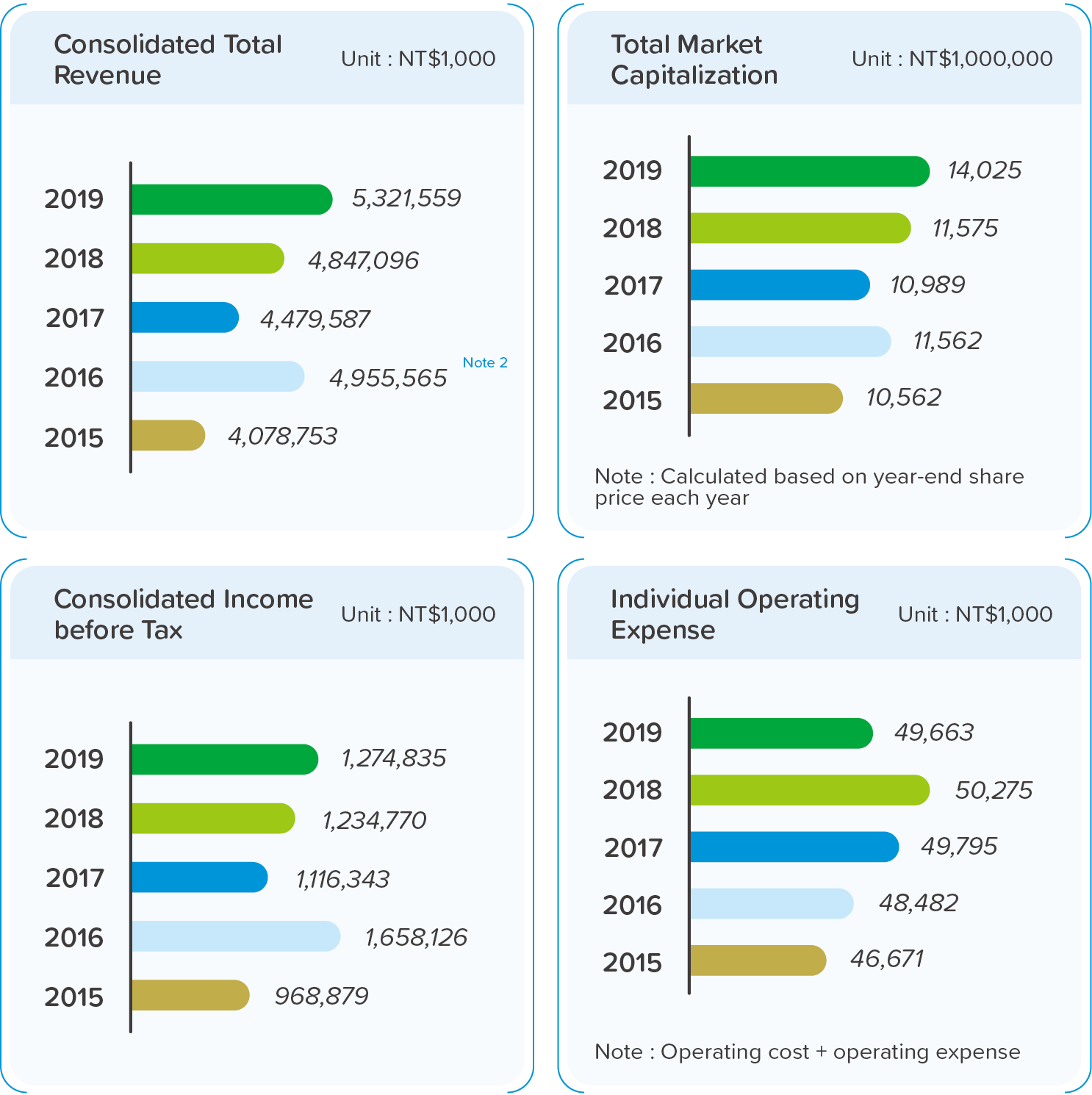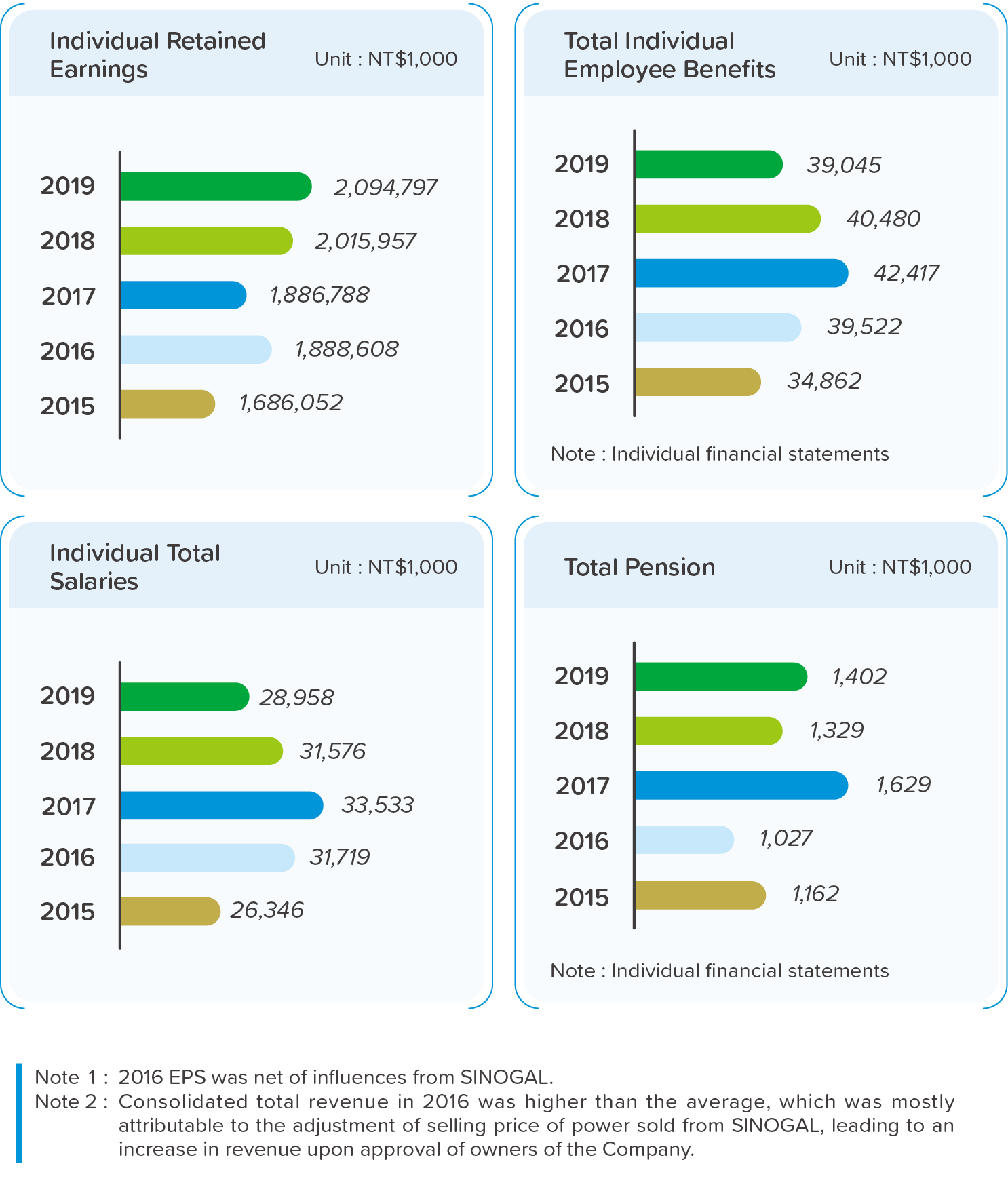 Industry Outlook
Looking forward to 2020, ECOVE will continue to integrate SDGs into business activities in the domestic market while expanding overseas Operations and Management to seek for more opportunities for project cooperation. In readiness for the market trends in circular economy, ECOVE is actively seeking for waste that can be recycled to enhance the "resource cycling"efficiencyTM. In the future, we will continuously expand the scope of business based on our core competencies in the fields of energy-from-waste (EfW), renewable energy, and recycling, showing the world Taiwan's resource cycling technology and strength.