Social Participation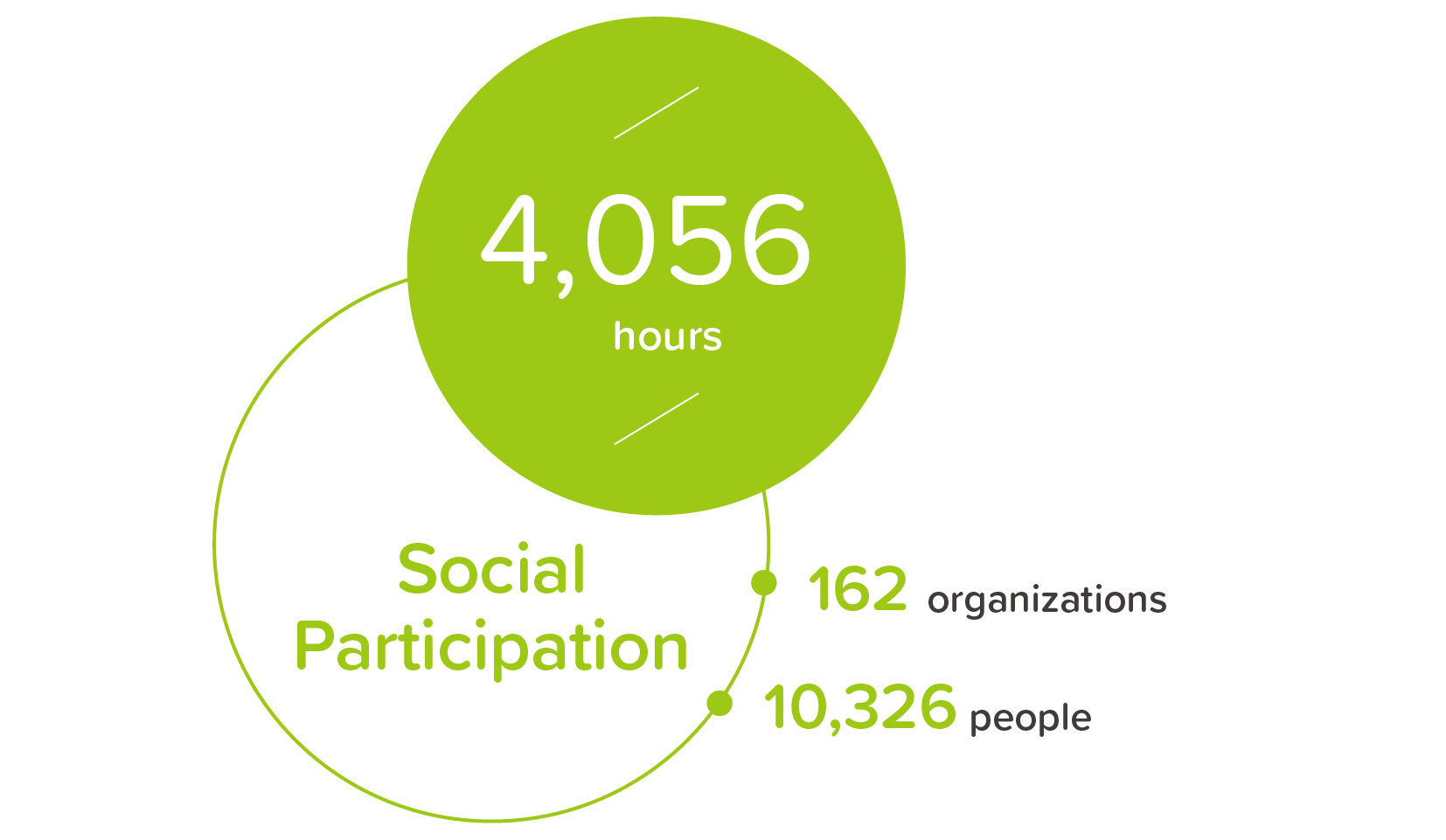 As a corporate citizen, besides being committed to the Company's Operations and Environmental protection requires Management, giving back to the society and fulfilling corporate social responsibility have always been the philosophy and goal ECOVE adheres to. Hence, apart from advancing in its main business, the Company is committed in long-term social participation with specific themes. The three main themes are, linking Operations and Management with community activities, building a lasting community, and friendly and common good corporate volunteering. It encourages employees to participate in happy and meaningful volunteer activities, and contribute to the society through actual action, striking a balance between work and life. In 2019, 1,209 employees participated in volunteer service, with a total of 4,056 hours, and there were 208 environmental education courses conducted, with a total of 10,326 participants.
Operations and Management-related Community Activities
Environmental education and environmental channels to promote public participation. Hence, ECOVE actively promotes environmental education, and five of its operation plants have obtained Environmental Education Facilities Certification. They are entertaining and educational centers for environmental protection, as well as designated visiting facilities for the international event, "Taiwan in My Eyes-120h." Together with CTCI Education Foundation (CTCI EF), ECOVE launches the 3-year "Step by step: Factories for Sustainable Environmental Education" project, taking the initiative to reach out to Taiwan's elementary schools, teaching our future leaders about sustainable lifestyle.
Consecutive three Years - 「 Taiwan in My Eyes-120h 」
CTCI Education Foundation (CTCI EF) and Center for Corporate Sustainability (CCS) have been organizing the international event, "Taiwan in My Eyes-120h," in response to the United Nations' Sustainable Development Goals (SDGs). In 2019, students of 11 universities/colleges form 22 countries participated in the 5th Taiwan in My Eyes- 120h (winter and summer actions). Each year, participants are scheduled to visit leading enterprises in Taiwan. The Miaoli Plant has been designated as the visiting site for three years in a row. Operating in coordination with the incineration plant, Green DreamWorks, its environmental education facility, demonstrates the concept of sustainability. Under the guide of our environmental education volunteers, participants learn Taiwan's environmental achievements and new knowledge in resource cycling and waste disposal. After the visit, they express their thoughts to the world via social media such as Facebook so that the world can see Taiwan's sustainability accomplishments.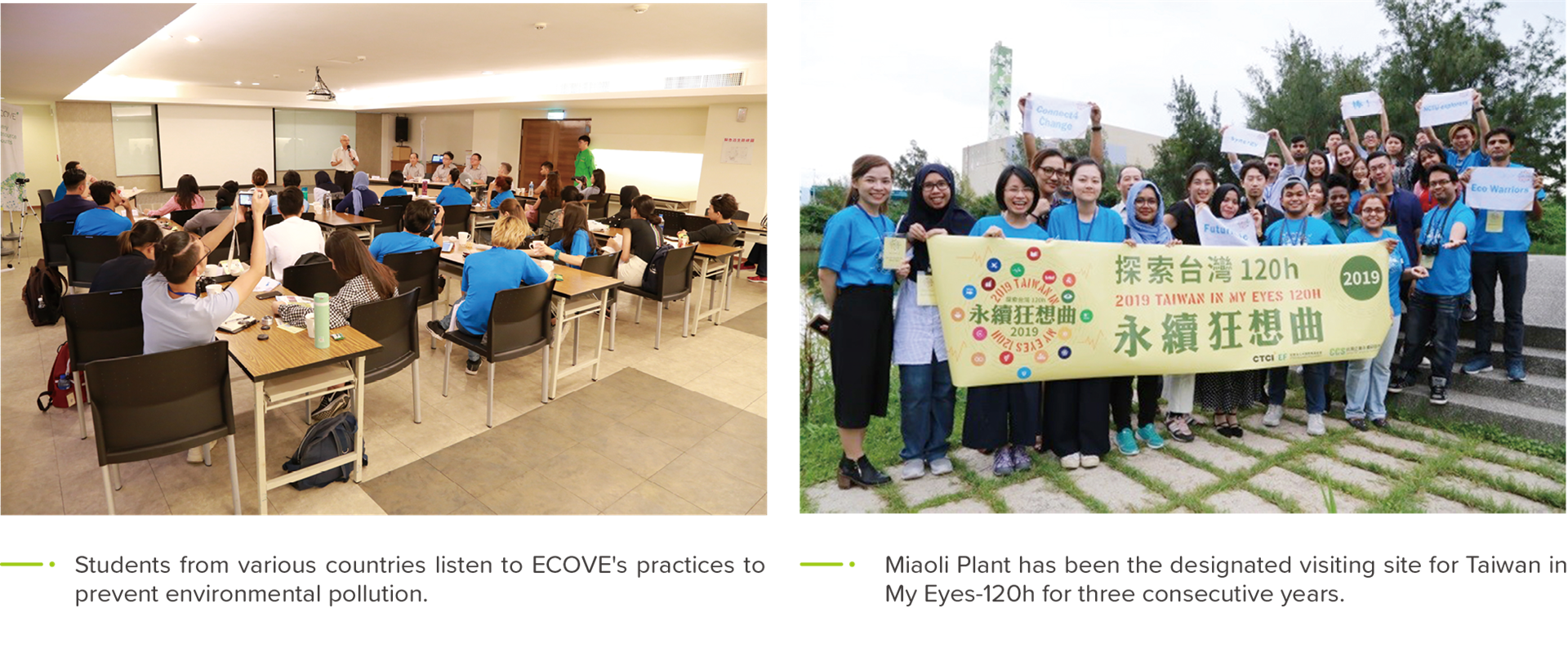 Three - year Plan - Step by Step : Factories for Sustainable Environmental Education
To allow the next generation to learn about the relationship between human and natural environment, and between human and man-made environment (include society, economy, etc.) and to cultivate the basic concept, values and appropriate sustainable lifestyle for the environment, ECOVE has been cooperating with the CTCI Education Foundation (CTCI EF) since 2018, targeting at elementary schools in the country, in organizing the 3-year ""Step by Step: Factories for Sustainable Environmental Education"" project. It deepens its roots in Taiwan and reaches out to campuses to promote environmental education, teaching the children about a sustainable lifestyle. In 2019, the event was well-received, and 30% of the sessions were held at the schools participating in 2018.
The teaching materials of this event are based on ECOVE's main business energy (i.e., from waste and recycling), with content designed for different ages. It has DIY courses, including handmade fans using recycled paper and reuse of seeds, which incorporate environmental protection concepts, and are promoted in line with current environmental topics. Students can learn about the concept of Energy-from-Waste, Eco Label, garbage classification, etc., in an entertaining and educational learning process. Another theme in 2019 is ""Love the Earth: Say No to Plastics."" Through a movie, the children learned that there were 100 million tons of plastic waste in the ocean, inspiring the children to refuse plastic bags. In 2019, a total of 22 sessions were conducted at elementary schools across Taiwan, including Huaxing Elementary School in Keelung and Kanding Elementary School in Pingtung, and 3,153 students participated. ECOVE hopes that through the three years of continuous promotion, environmental education can influence the families through the students, and expand to the neighborhood and society, attaining a beautiful living environment.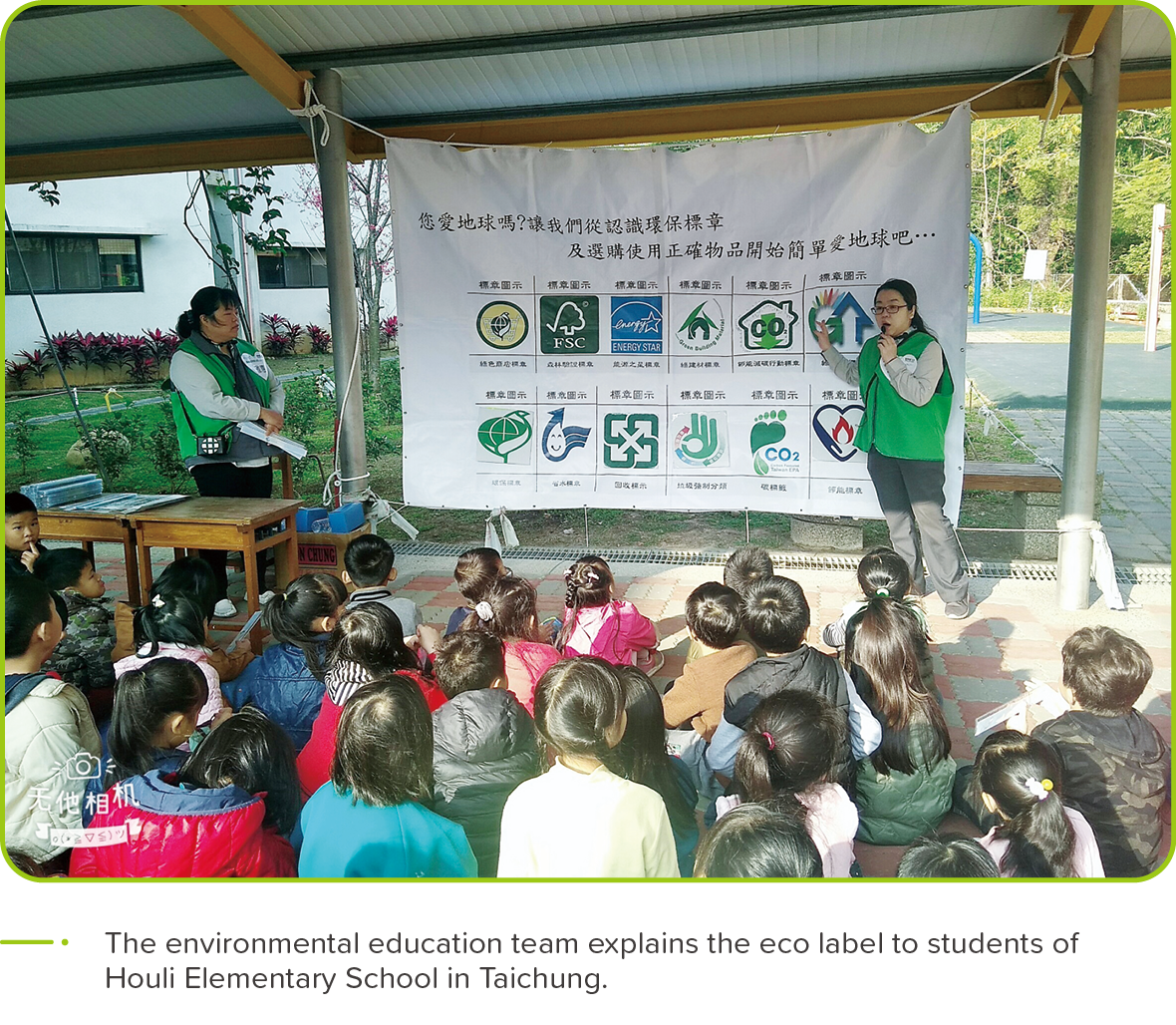 ▼ Social Benefits of 3-year Plan: Step by Step: Factories for Sustainable Environmental Education (2018~2020)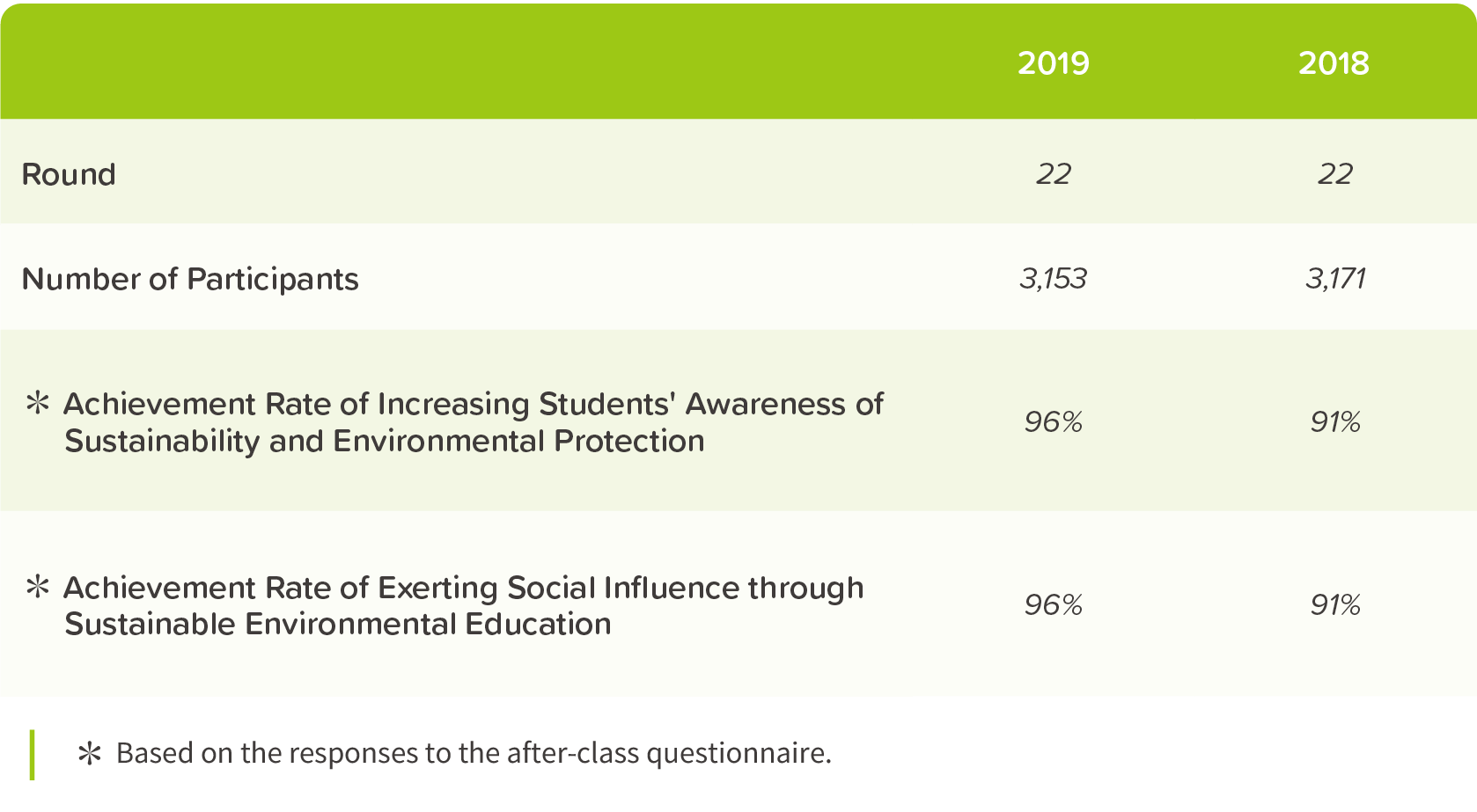 Fives plants - Environmental Education Facilities for a Green Future
Environmental education facilities refer to professional facilities on land regions with environmental education resources, incorporating professional environmental education capabilities, professional courses and appropriate environmental education resources, to provide professional environmental education for school students and general public, in attaining the goals of education, research, conservation, culture and recreation. This is in line with ECOVE's aim of cooperating with and contributing to the community. Hence, ECOVE actively participates in environmental education facilities certification, and base on the humanity, geographical and ecological characteristics of its plant, designs diversified courses by incorporating the concepts of energy-saving, water-saving and carbon-reduction. It has currently obtained five environmental education facility certificates, where Miaoli and STSP Resource Recycling Center were awarded the highest "5-star" certification. ECOVE's environmental education facilities not only have employees who are trained and certified as lecturers, but also have rich and interactive courses. Its environmental education attracts more than 1,700 people every quarter. In 2019, ECOVE provided 186 sessions of environmental education services, attended by 7,173 people. Among these sessions, 396 participants in 27 sessions came from Beijing, Guangzhou, Vietnam, Laos, Malaysia, and Nepal. With environmental education facilities, ECOVE not only fosters a green future, but also maneuvers the power of civil diplomacy to make Taiwan's environmental achievements seen and recognized internationally.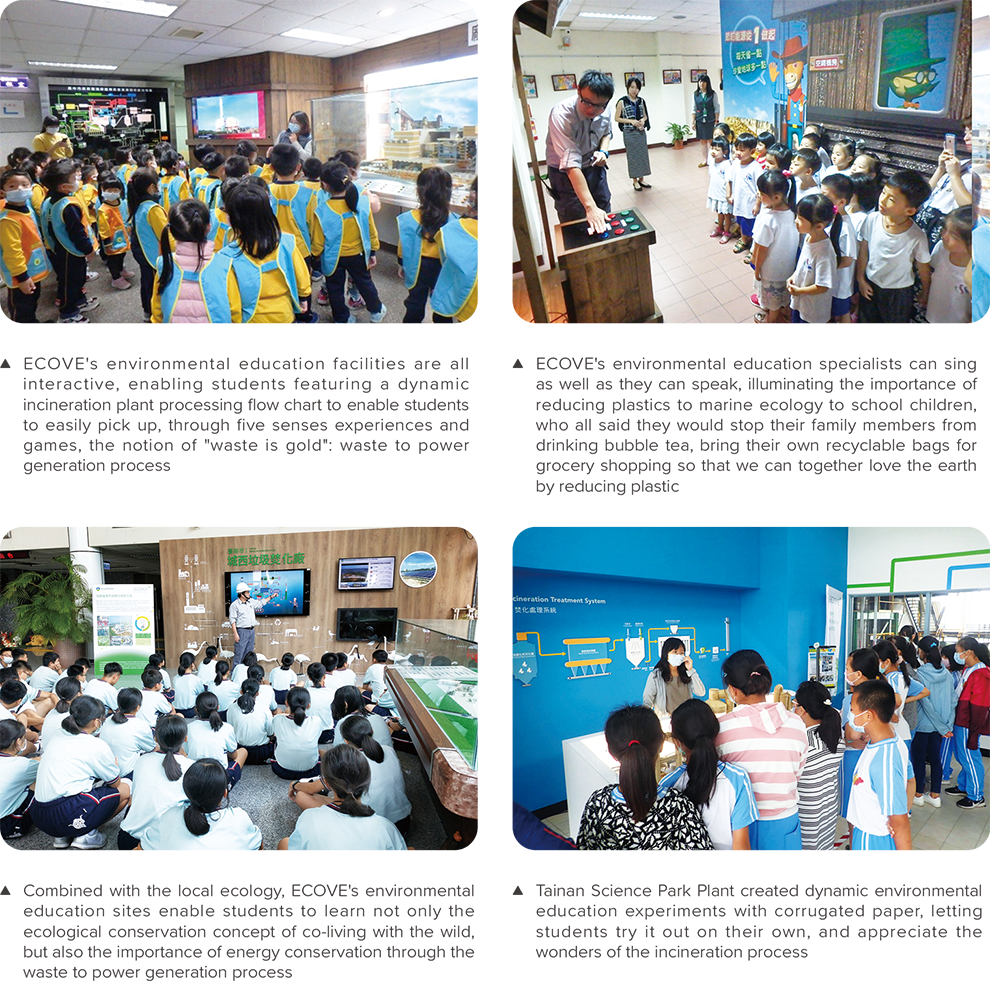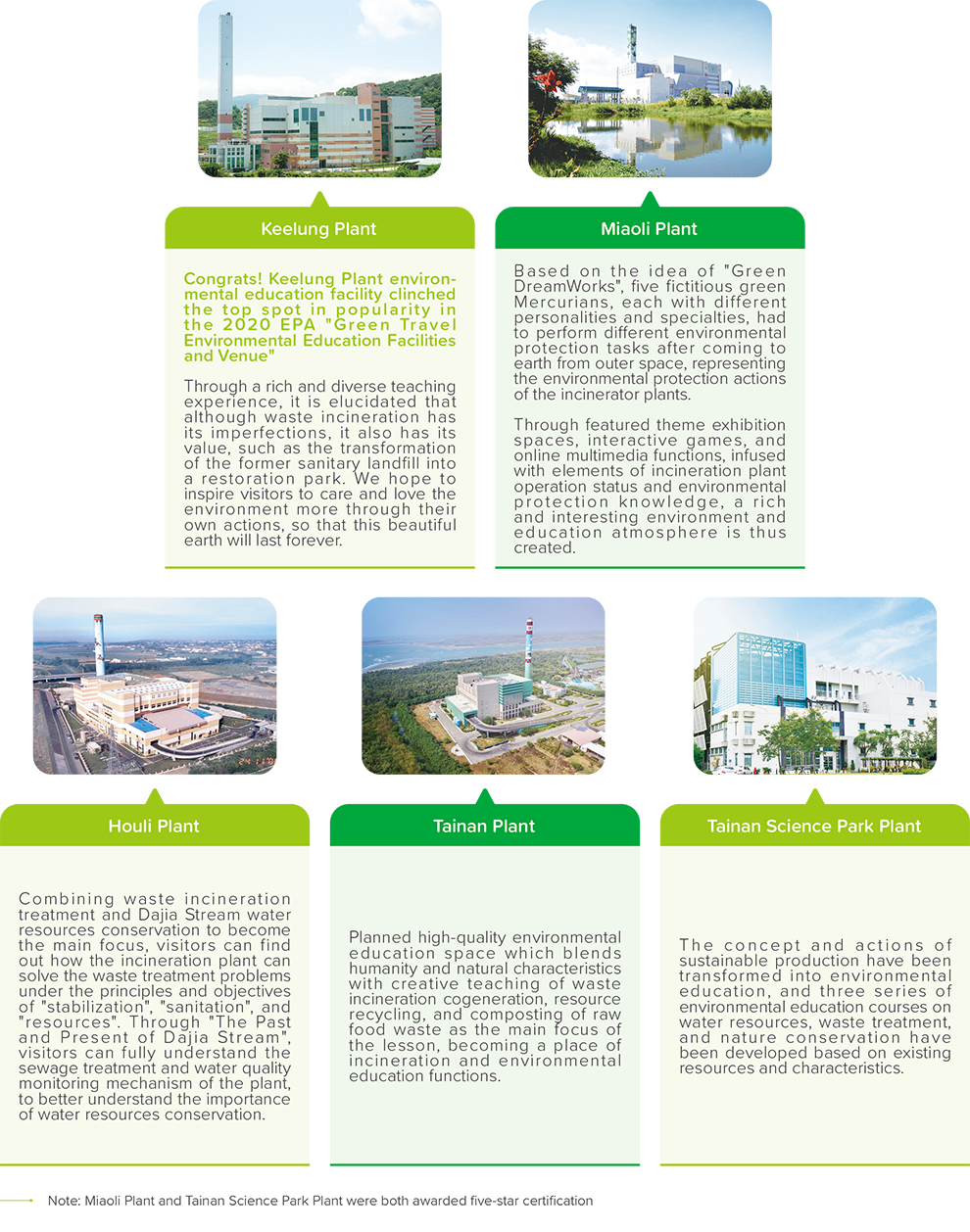 Tainan Science Park Plant explains the incineration process with teaching aids made of corrugated paper.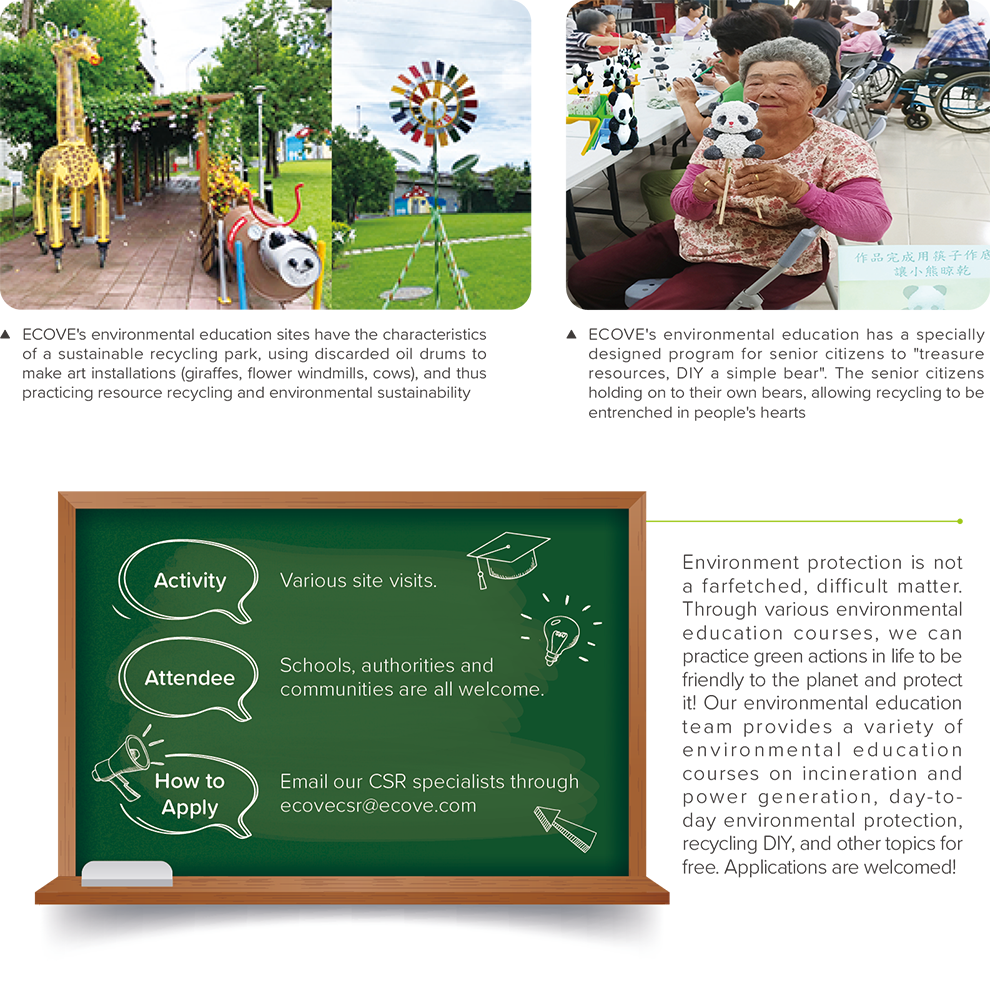 Group photo of the delegation from European Bank For Reconstruction and Development and Miaoli Plant's environmental education facility ambassadors
▼ ECOVE's Environmental Education Facilities Certification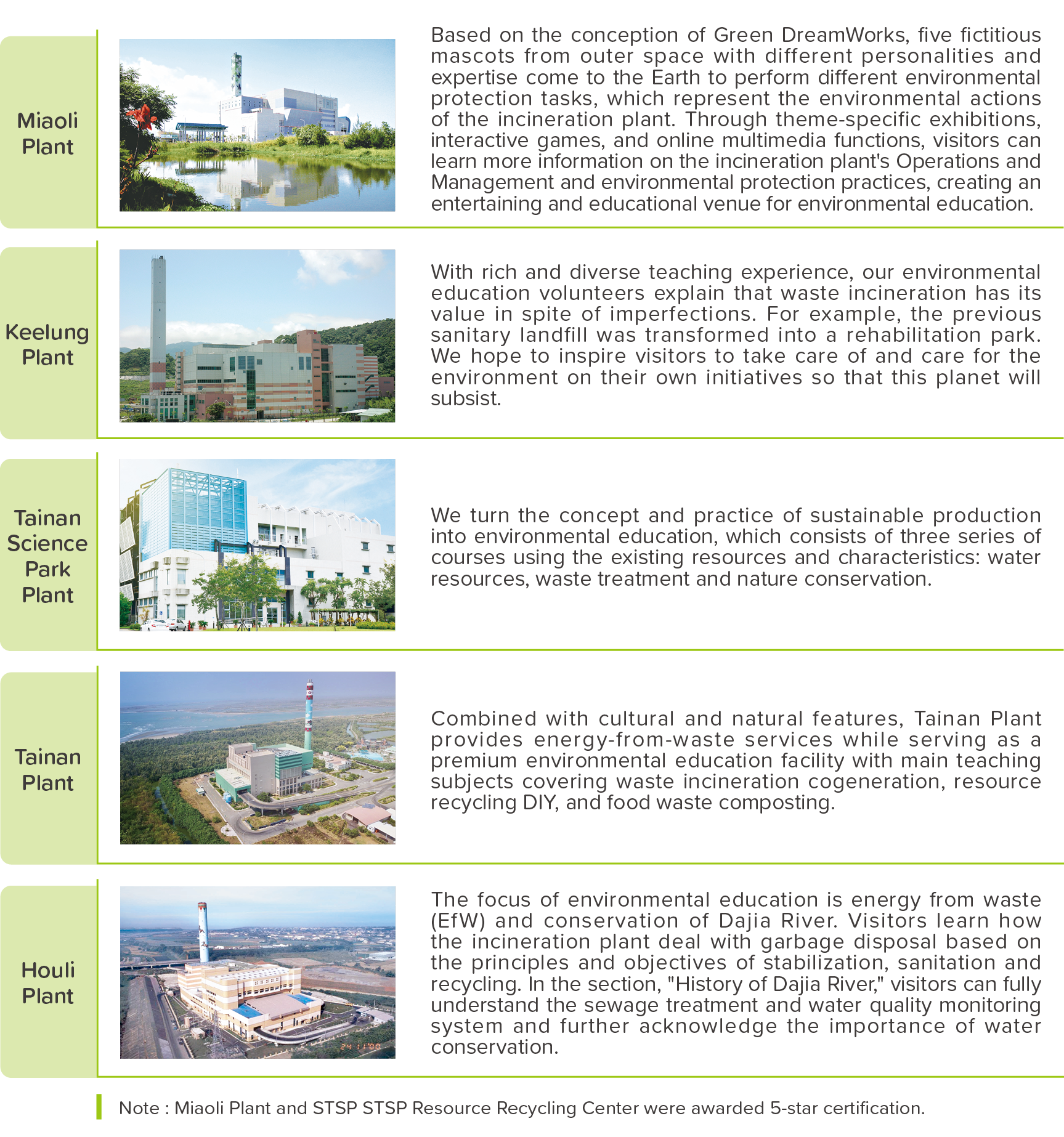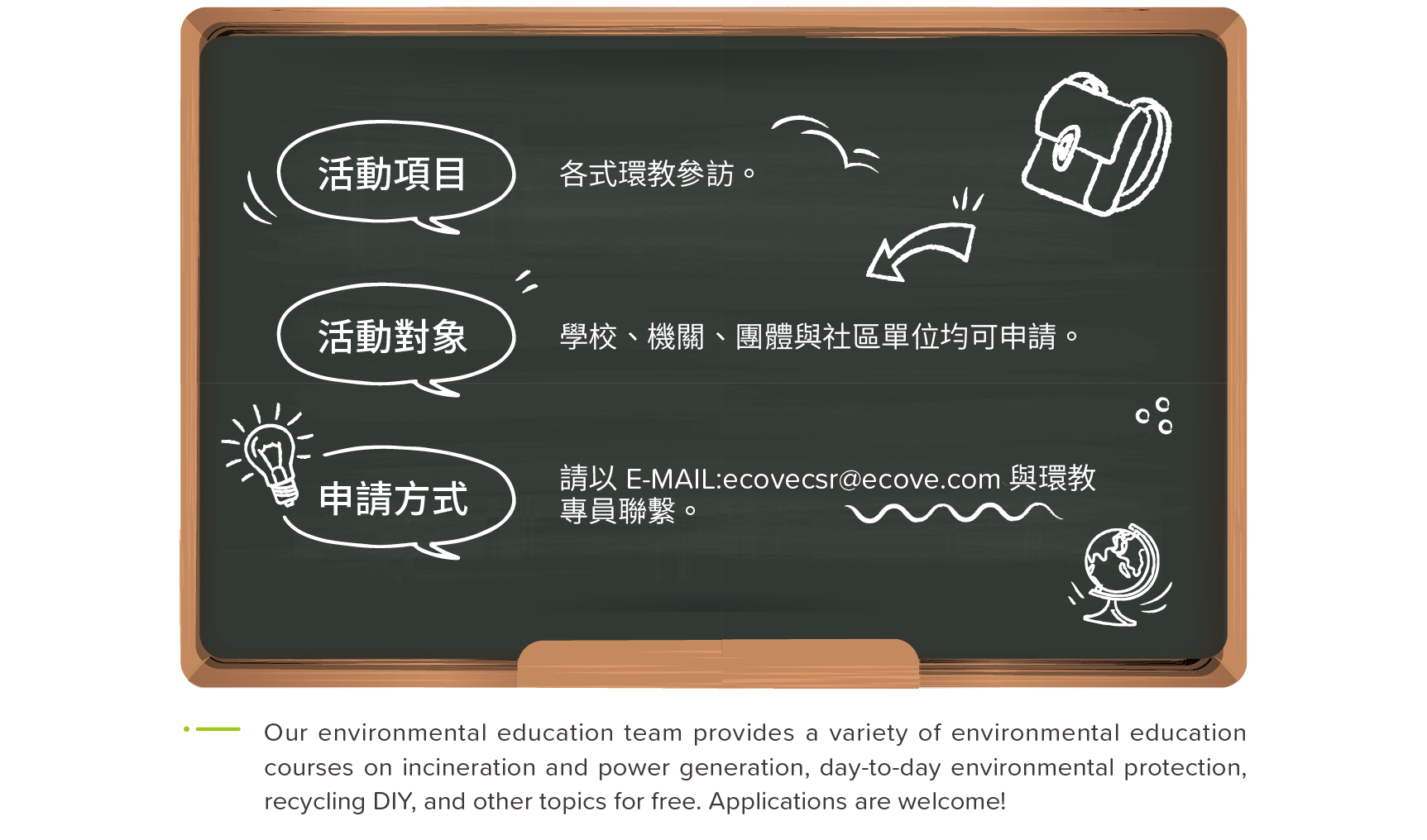 Long-term Community Building
Several operating premises of ECOVE used to be places where the neighbors keep away from, as they give local residents a sense of disgust and insecurity. ECOVE takes the initiative in showing concern for the locals, and strives towards pollution reduction, energy-saving and carbon-reduction, and environmental beautification and greening. It also makes the effort to get along with the neighbors, safeguards the community environment, organizes coastal cleanup, participates in community activities, builds environmental protection facilities, and maintains a quality and safe living environment, transforming the place which people keep away from, into a facility welcome by everyone.
Get Along with Neighbors, Integrate into Community
As a corporate citizen, ECOVE emphasizes interactions with the community and seeks common good with the neighborhoods. This year, Linkou Water Resource Center incorporated 3C technologies into environmental education to introduce a smartphone microscope. Through interactive games, the public could observe microorganism in the water, learn about domestic wastewater treatment, and cultivate the concept of conserving water resources. Houli Plant, which is situated in an old community in Taichung, has been organizing the annual "Cultural Festival in Old Neighborhood" for 16 years. The event combines inherent traditional culture and new environmental protection concept, making it a characteristic of exchange and heritage. Surrounded by abundant environmental resources, the Tainan Plant has proactively participated in the "Sustainable Ecology and Renewable Energy Industry in Annan District" to support the development of ecology and renewable energy industries in Annan District, Tainan City and to increase the residents' awareness of local ecology and industrial development.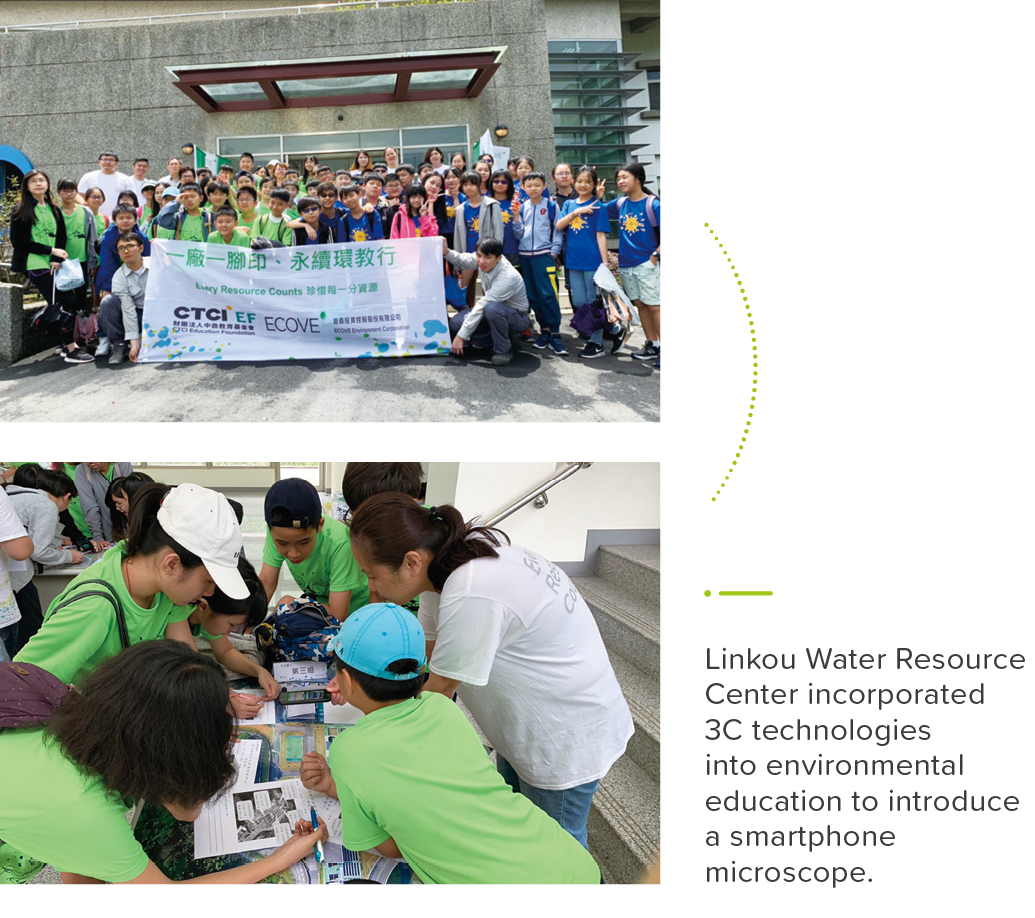 Safeguard Community Environment, Be a Good Neighbor
ECOVE is a pioneer in green enterprises, as well as a good neighbor. Throughout the years, it has been sparing no effort in maintaining the environment of the plant and its surrounding by conducting regular and unscheduled road cleaning, reducing dust, planting flowers and trees and restoring lawns to increase greenery, and recycling waste for installation art, creating a quality living environment and cityscape. ECOVE's operating plants located in coastal areas such as Keelung, Miaoli and Tainan organize coastal cleanup activities. Though the e ffect of coastal cleanup activities is limited in reducing ocean garbage, it stimulates employees' environmental awareness, implementing plastic reduction and refusal of plastic in everyday life. In 2019, ECOVE accumulated 768 hours of community service, organized four coastal cleanups, and collected 397 kg of garbage.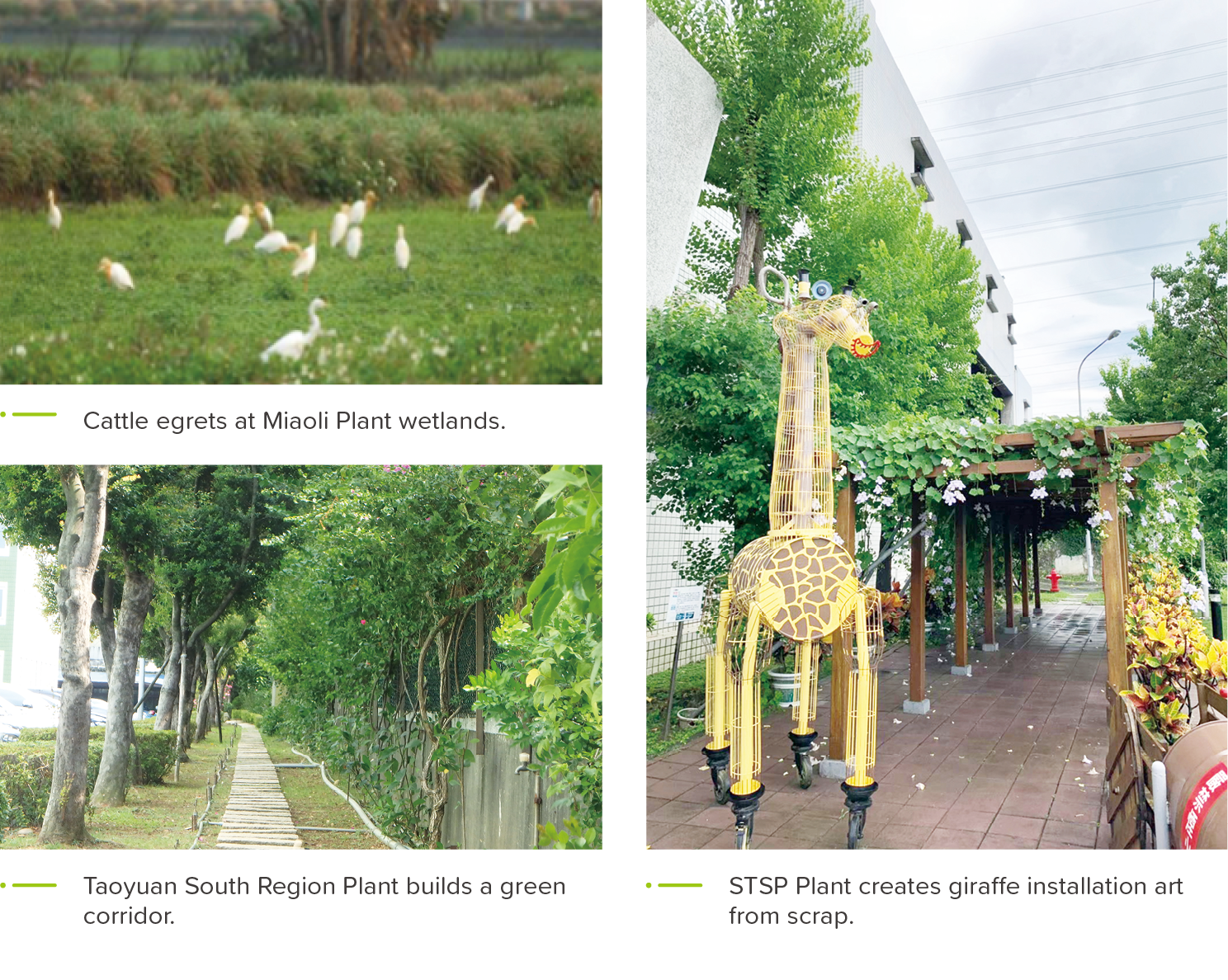 Friendly Corporate Volunteering
Employees from ECOVE set up "Friendly Charity Society" and take the initiative in organizing charitable activities. To further emphasize corporate social responsibility on the employees, ECOVE actively cooperates with external parties in practicing "green living" in everyday life.
Friendly Charity, Concern for the Disadvantaged
ECOVE established the Friendly Charity Society in 2017, and this platform is open to employees to propose care actions and to share ideas on public welfare and innovative charitable activities. Two projects were conducted in 2019, namely, computer donation for under-served neighborhood and welfare for mentally challenged children. In addition, ECOVE continued to organize activities to make donations such as receipts, second-hand clothes, and used books.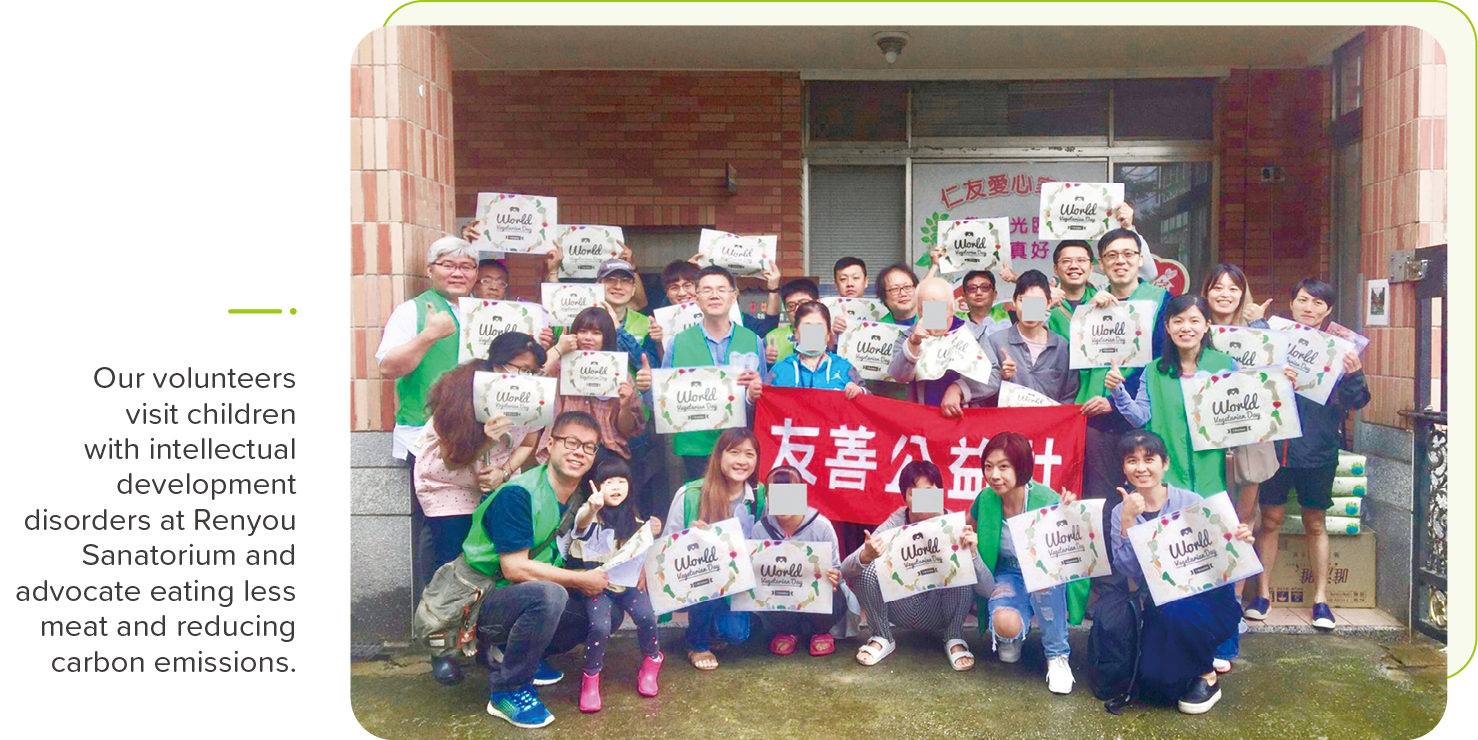 Response to International Initiatives
ECOVE takes the initiative in responding to international initiatives. Our employees act as initiative ambassadors to raise colleagues' awareness of issues such as climate change and environmental protection. We also organize activities to incorporate environmental issues into employees' daily lives. Faced by global climate change, we emphasize that each employee has the ability and responsibility to change the world and should take action to care for our homeland and protect this planet.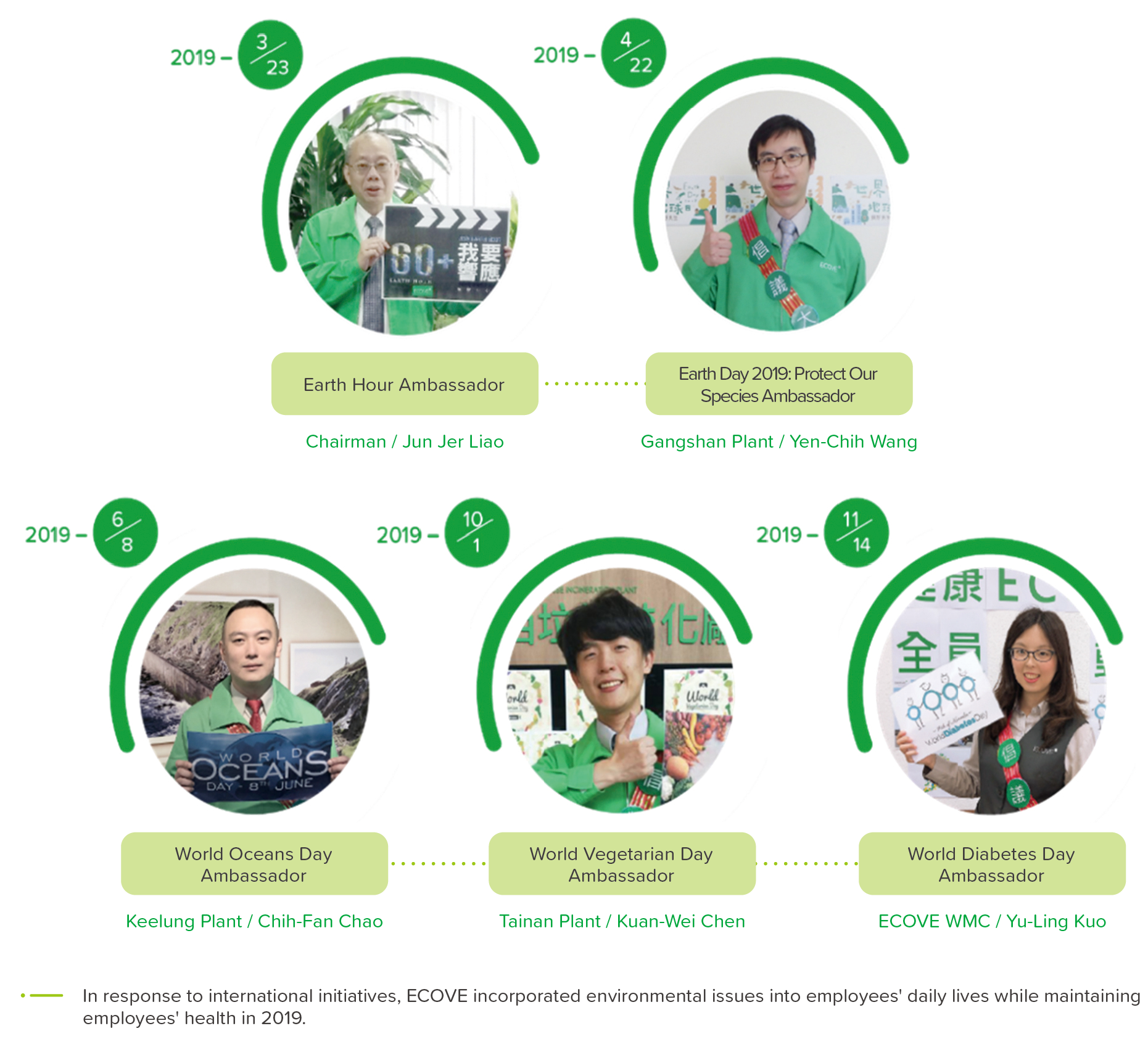 ▼ Response to International Initiatives for Energy Conservation and Carbon Reduction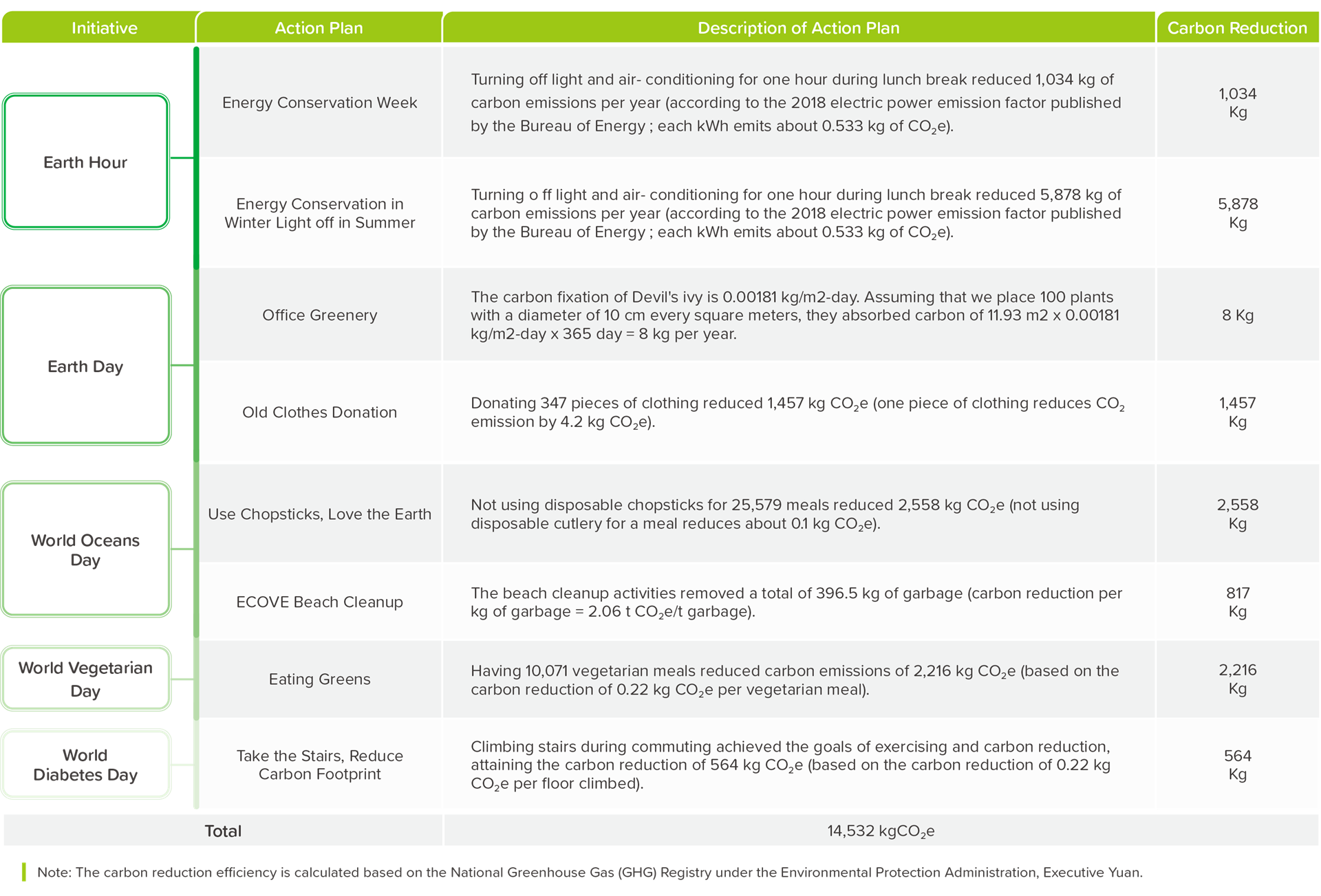 Sports Day
ECOVE attaches great importance to the physical and mental health of employees. We hold the Sports Day every two years, allowing employees to put work stress away and simply enjoy the benefits of exercise. The 2019 Sports Day was grandly held at the Taipei Heping Basketball Gymnasium on October 5. All participants went all out in the games and stayed friends outside the venue. Everyone had a lively and fulfilling day. The award ceremony and lucky draw ended the event joyously. By holding various games, ECOVE hoped to ignite employees' morale and consensus, so as to achieve remarkable success in the following year.